Here's a little secret. Labor Day throughout fall is a great time to get out and about and visit Golden. Why? Well, first you have Labor Day weekend – three glorious days to enjoy the end of summer in Colorado's closest mountain town without the mountain traffic. And then, as we head into autumn, Golden comes alive with fall colors, fun events, fantastic sales, harvest dinners and more.
Here are 7 reasons to fall in love with Golden!
Autumn Colors -What could be prettier than a walk alongside fast rushing Clear Creek lined for miles with blazing yellow, orange and burnt red cottonwoods and maples? Enjoy the crisp air in Golden and take in the fall colors. Or visit nearby Golden Gate Canyon to view beautiful fall colors while hiking near alpine lakes.
Fall Sunsets on Washington Avenue or from North Table Mountain –
Before we turn back the clock, you can still get to Golden in time for a pleasant weeknight stroll through downtown, dinner at a delicious local spot and a sunset on Washington Avenue. Or – head for the nearby hills for a post-work hike and sunset, followed by a craft beer in town.
Bikes & Brews – Through October, you can check out a bike at the Golden Bike Library and pedal around town to the local breweries for samples of their autumn seasonal beers. The Bike Library will even give you a handout that will direct you to all six local breweries.
Treasure Hunt for a Glass Orb - Each day in September, a beautiful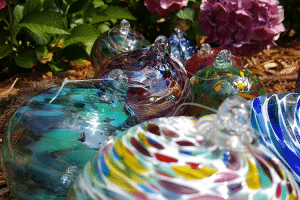 one-of-a-kind glass orb will be placed somewhere in plain sight in Golden city limits. "finders" are "keepers" of these treasures, handcrafted by local artisans. Each orb is marked with a special tag and instructions of how treasure finders can register their orb at the Foothills Art Center, where they will receive a certificate of authenticity and be entered in a drawing on Oct. 2 to win a $200 gift card to be used at select spots in Golden.
Sidewalk Sale – Don't miss the Golden Sidewalk Sale on Sept. 9 –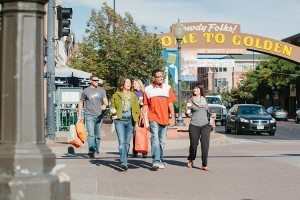 enjoy some of the best deals on the Front Range for fashion, sporting goods, art, ski equipment, water sports, outdoor gear, fly fishing, jewelry, and so much more on this "One Day Only!" sale.
Eat Outside in Golden – Golden's patios offer fabulous patio dining or plan to join in Golden's Community Harvest Dinner, on October 1st. Enjoy a delicious four-course meal masterfully prepared by local chefs from the harvest bounty of local farmers and served al fresco in Parfet Park.
Take on Lookout Mountain – With cooler temps, many cyclists favor an autumn ride up Lookout Mountain. Or make the drive up Lookout to get an outstanding view of the fall colors in the Clear Creek Valley.
So what are you waiting for? Fall in love with Golden during the fall season!