In Golden, Colorado, it's not unusual to see hang gliders floating down Lookout Mountain, while world-class mountaineers free climb up it.  The closest mountain town to Denver, Golden is just 12 miles from the state capitol building but is a world away in atmosphere, terrain, and adventure.  Here's an itinerary to get your adrenaline pumping in Golden.  
Day 1
BREAKFAST:      You don't want to add too much weight before flying in the air, so what could be more appropriate than a custom coffee and pastry at the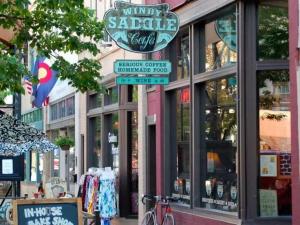 appropriately named Windy Saddle Café in historic downtown Golden.  While they have delicious breakfast burritos and croissant sandwiches, maybe keep it simple with a Berry Windblast Smoothie of raspberries, strawberries and blueberries with plain Greek yogurt and apple juice.
MORNING ADVENTURE, PARAGLIDING:  Meet your pilot from Paraglide Tandem at the base of Lookout Mountain, and then drive to the parking area on top for a 15-minute lesson on launch, landing and fundamentals of paragliding.  Then it's up, up and away and with a few quick steps, you and your instructor will take a tandem flight over Golden.  This is free flight, not parasailing like you see at the beach.  During the flight, you will be seated in a comfortable harness with 360-degree views of Golden and spectacular Clear Creek Valley below.  When you get back to the ground, you can revel in the fact that you are among the first generations to successfully explore unpowered flight. 
LUNCH:   To get ready for your next mountaineering adventure, why not eat like the best mountaineers in the world at the Sherpa House Restaurant.  Opened by Lhakpa Sherpa and his family, the restaurant offers authentic Himalayan cuisine in a representation of a typical Sherpa house in the Solu-Khumbu region of Nepal. When Lhakpa wanted to offer a beer from Nepal to go with his authentic dishes like yak stew, naan bread, vindaloo and curry, he discovered there was none.  So he got with his neighbor, Charlie Sturdavant (owner of Golden City Brewery) and they opened the first brewery in Nepal.  You can taste their creation at the Sherpa House.  The beer's name?  Why, Sherpa Beer, of course, made with water from the Himalayas.
AFTERNOON ADVENTURE, ROCK CLIMBING:    Clear Creek Canyon begins in Golden and offers some of the best rock climbing in Colorado. It is largely known for sport climbs with a few trad climbs interspersed. The rock varies from gneiss and schist to a sandy granite with a variety of ratings. Beginners head to the Canal Zone, which can be accessed by foot from downtown Golden using the farthest west footbridge over Clear Creek.  Little Eiger, Red Slab and High Wire Crag also offer beginning routes to work you up to Primo Wall, Anarchy Wall and New River. 
If you've never climbed or just want to sharpen up, head to Earth Treks Golden.  This is the premier indoor rock climbing and bouldering gym in Colorado.  The 28,500 sq. ft. facility has 45-foot high walls with 300 roped routes and some 100 bouldering problems to twist, stretch, and pull yourself over.  The walls were designed by rock climbing legend Jason Kehl, the eclectic climber who was the first person to ever boulder a 5.14d grade route. 
Or schedule an appointment with Golden Mountain Guides or Denver Guides.  These expert rock climbers will escort you on personal rock climbing adventures in G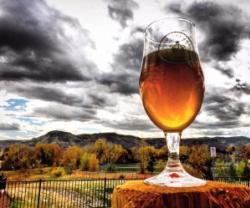 olden or in nearby Eldorado Canyon State Park, regarded as one of the top rock climbing spots in the nation.
HAPPY HOUR:   Golden produces more beer than any other town on earth, mostly because Coors Brewery  (the planet's largest single source brewery) is located here.  But Golden also has seven craft breweries, each with a delightful outdoor beer garden.  Try New Terrain brewery for their excellent views from outdoor tables over Clear Creek Valley.  There's even a trail leading from the brewery up North Table Mountain, where after a short climb, you can see all of the Front Range foothills stretching for miles, and or great views of Denver in the other direction.
DINNER:   Make it a true Colorado meal at the Buffalo Rose.  Located under the famous "Howdy Folks – Welcome to Golden" arch, these buildings have been the center of Golden since 1859.  Generals Grant and Sherman once stayed at a hotel here.  Today, you can dine on Bison Short Ribs, chicken enchiladas, pan seared salmon, or their specialty, a bison burger.  After dinner, the Buffalo Rose has a music hall featuring top national and local bands.
DAY 2    
 
BREAKFAST:  We've got a full day of adventure so fuel up at the traditional Golden Diner, an old-fashioned, locally-owned diner with a huge menu of eggs, pancakes, omelets and breakfast burritos.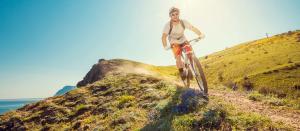 MORNING ADVENTURE:  CYCLING   The climb up Lookout Mountain from downtown Golden is one of the most iconic cycling routes in Colorado and one of the very few to be featured twice in the U.S. Pro Challenge with some of the world's top riders.  The paved road snakes, twists and turns, climbing 1,300-feet in 4.3 miles, from historic downtown Golden to the 7,379-foot summit of Lookout Mountain.   The scenic road was built in 1914 as part of the Lariat Loop Trail, a series of early scenic paved roads that connected the famed Denver Mountain Park system.   You can rent a bike at Golden Bike Shop or if you feel you need a boost, rent an electric bike from Adventure West.   E-bikes are the "great equalizer" that lets anyone get out for fresh air and exercise with a little less effort.   Besides Lookout Mountain, Golden is surrounded by mountain biking opportunities, or cycle all the way to Denver on the paved Clear Creek Trail.
LUNCH:  Get ready for your afternoon on the river by dining along the banks of Clear Creek at Sassafras American Eatery, which specializes in Southern American cooking with shrimp & grits, crab cake Benedict, shrimp, oyster & catfish po'boys, and many other classic Southern dishes.  
AFTERNOON ADVENTURE:  KAYAKING   Golden River Sports is your one-stop-shop for any water adventures in Golden, from kayaking and standup paddleboards to fly fishing. Already know how to Kayak?  Rent one and head to the Clear Creek Whitewater Kayaking Park. Built for recreational canoeing and kayaking, the course is one-quarter of a mile of adventurous, splashing fun! This innovative recreational experience is divided into sections. The top is a series of drops and pools of different experience levels and has some fast eddies. The middle portion consists of flat, broad, shallow surf waves with huge random boulders–a prime workplace for gates. The bottom section entertains paddlers with more extreme surf and wave drops. The class of this course will require paddlers proficient on fast-moving, cold water, particularly during high flow season. There are no fees for drop-in usage and the course is unsupervised. Before you kayak, always check to make the creek is open for kayaking as closures are common when the conditions are dangerous. Additionally, Golden River Sports can connect you to their partners at Whitewater Work Shop or Colorado River School for lessons, rescue clinics and more.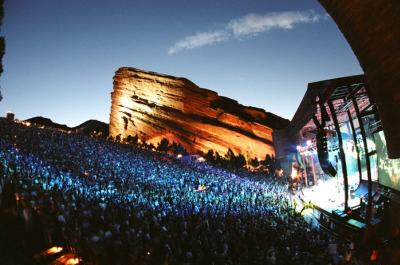 HAPPY HOUR & DINNER:  Begin your evening at the Over Yonder Brewing Company for a selection of handcrafted beers on their patio with mountain views, then walk across the street to the Origin Hotel (the official hotel for Red Rocks Amphitheatre) for dinner at the Nomad Taqueria & Beer Garden featuring a selection of signature tacos, the Nomad Quesadilla or tasty Three Sisters Enchiladas with more than 20 craft beers on tap.  
EVENING ENTERTAINMENT:  RED ROCKS AMPHITHEATRE   Grab a ten-minute shuttle from the Origin to the world-famous Red Rocks Amphitheatre where everyone from the Beatles to Bruce Springsteen has performed.  It is the only completely natural amphitheater in the world with a natural "bounce back" rock behind the stage and a magnificent setting of towering sandstone flanking rocks and all the lights of Denver on the horizon.  Of course, COVID is playing havoc with scheduling, however, as of March 2021, dozens of concerts are scheduled including Jimmy Buffet, Chicago, Barenaked Ladies, Goo Goo Dolls, Black Crowe, Rufus du Sol and many, many others.  No matter what band is playing, the setting guarantees an unforgettable evening and a spectacular end to two days of adventure in Golden, Colorado.