If you like restaurants and recreation, Golden is the town for you! With an abundance of hiking and biking trails, a gorgeous creek flowing through the town center and Stage Three of the upcoming Colorado Classic, the nation's top women's cycling event, Golden is full of adventure. And thanks to a recent restaurant boom, there are more dining options to satisfy the appetite you'll surely work up as you tackle the trails in Denver's closest mountain town. 
Recent Golden restaurant openings include: the city's first food hall, Tributary Food Hall & Drinkery, which features seven Colorado food and drink purveyors and a full-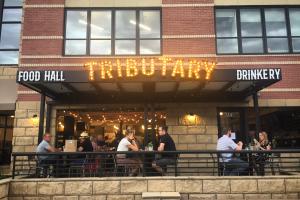 service bar; the jaw-dropping renovation of long time Golden classic The Buffalo Rose; Smiley's a critically acclaimed new barbecue joint; and more set to open in the coming weeks including a Ramen shop and upscale Italian.
And because who doesn't like to celebrate their latest hike, climb or paddle with a great meal, here are six ways to eat and adventure your way through Golden.
Kayak Clear Creek & Devour a Bob's Atomic Burger – Kayakers work up some serious appetites navigating the rapids of Clear Creek. Afterwards, Bob's Atomic Burgers is the perfect spot for a post-paddling lunch. Bob's offers a homemade, fresh take on the classic American burger and don't forget fries on the side. Surely you deserve this after tackling Golden's kayak park!
Bike through Golden & Grab & Go at Tributary Food Hall & Drinkery – For an easier adventure, pick up a cruiser from Golden's free Bike Library. Each bike comes with a basket that will be perfect for grabbing a lunch to go. Point your bike towards Tributary Food Hall & Drinkery where you can sidle up to several celebrated restaurant counters, including Working Title & Raw Bar, Woodgrain Bagels, Kona Bowls and more for a grab and go lunch. Pedal to a picnic spot – we recommend Parfet Park - and enjoy!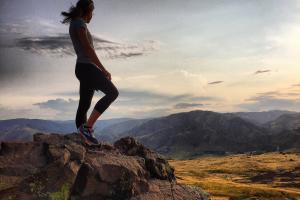 Hike North Table Mountain & Indulge at Indulge – Climb North Table Mountain's Lichen Peak to enjoy 360 degree views of the surrounding mountain ranges and Denver skyline. Afterwards, continue to enjoy gorgeous views with lunch at Indulge Bistro & Wine Bar where you can savor the view while enjoying their signature appetizer, Ahi Tuna Guacamole.
Mountain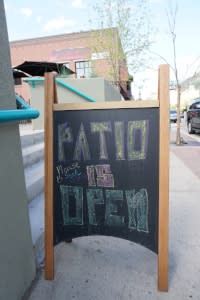 Bike Apex Park & Devour at Vice  – Apex is among the most popular mountain biking spots and with good reason. The trails are technical with big rocks, streams and forests.  Afterwards, settle your nerves at VICE, known for its wine and whiskey, and enjoy a savory meal to celebrate your mountain biking success.
Golf at Fossil Trace & Savor the Views & Meals at Schnepf's – Golden is fortunate to be home to Fossil Trace, consistently ranked as one of the region's top public courses and home to amazing vistas of the surrounding foothills.  Afterwards, Schnepf's at Fossil Trace offers a perfect patio to nosh with a menu featuring all the golf club classics.
Stroll Clear Creek & Savor Lunch on a Golden Patio – Sometimes the easy adventures are the best. Strolling the Clear Creek walking path is a favorite Golden activity. So is sitting on a downtown patio and soaking in the town's charm. Thankfully, there are plenty of spots to do so. Among our favorites are Café 13, the Windy Saddle, Trailhead Taphouse & Kitchen, Old Capitol Grill & Smokehouse, and Woody's.
Why not visit Golden soon to adventure and eat! For more ideas on dining and recreation, check out visitgolden.com.