A driving trip with aspens, rivers, historic towns and cemeteries, buffalo, beer gardens and plenty of beautiful easy walks to stretch your legs.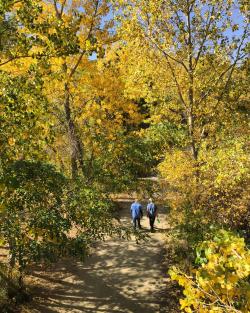 Start you day with a tranquil stroll along Clear Creek in downtown Golden.  The paved Clear Creek Trail winds along the banks of this pretty stream, with lots of places to walk down to the river's edge and listen to the rustle of leaves overhead.  The banks are lined with colorful cottonwoods which turn brilliant gold all the way through October and into November.
From the creek, it's just a few minutes stroll to the historic main street of Golden where you can fuel up with coffee and pastries at the Windy Saddle, Cafe 13, Pangea Coffee, or Higher Grounds or pick up a picnic lunch at D'Deli, the Tributary Food Hall or many other restaurants.
Then head for the first exciting drive up Highway 6 into Clear Creek Canyon.  This was the route the railroad followed to the gold fields and you'll drive through tunnels, beside towering canyon walls, and on bridges over fast rushing Clear Creek.  Ten miles west at the Big Easy or Mayhem Gulch parking lots, you can stretch your legs on a paved path that runs along the river for four miles.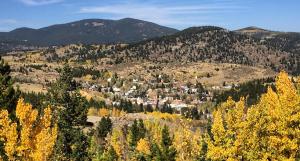 Turn north when the road meets Hwy. 119 (the "Peak to Peak Highway" and drive seven miles to Black Hawk, a huge resort with 18 casinos.  We'll leave this for another day.  Turn left at Gregory Street in Black Hawk and drive one mile and you are in the 19th century in Central City.  Once called "The Richest Square Mile on Earth," the town looks like it did in the 1870s. Take Eureka Street out of town to four old cemeteries that are surrounded by aspens.  Each has their own parking lot, but the gates are closed with a simple chain.  Just unwrap the chain, park, and lock the gate again.  There are sweeping views of aspens and mountains in every direction as you walk around historic headstones, some more than 150 years old.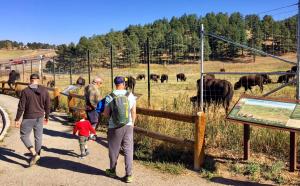 Double back to town and follow signs for the Central City Highway to I-70, a super new highway that connects you in 8 miles to the interstate.  Here, you are 20 minutes from Golden.  Head east on I-70, but make a quick stop at Chief Hosa (Exit 253) and follow signs to the buffalo overlook.  Denver Mountain Parks maintains a herd of 40 buffalo and they can be quite spectacular in this mountain setting.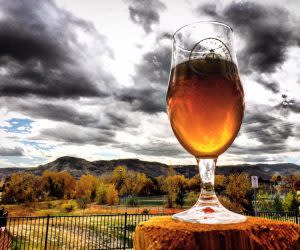 Continue east to I-70 Exit 259, and you're just a few minutes away from downtown Golden for a rewarding beer at their nine outdoor craft beer gardens or snacks at the many restaurants that line this historic town.