The historic town of Golden, Colorado is a delightful place to experience annual fall colors. Golden's spectacular location in Clear Creek Valley, surrounded on one side by treeless volcanic mesas and on the other side by the foothills of the Rockies, makes it the place where the mountains meet the plains. Combine that with one of the prettiest creekside walks in Colorado, and there's no better place to be this autumn than this historic little city, located just minutes from practically anywhere in metro Denver.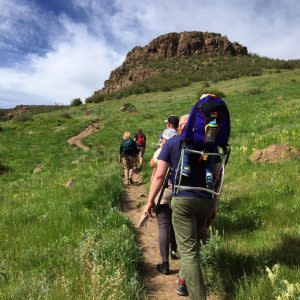 Plus, on the hikes listed below, you're never too far from civilization—just in case the tiny people in your life meltdown along the way.
Go for the Gold With a Hike
Hike through golden fall colors, then choose a tasty treat from town. Here are some family favorites.
North Table Mountain Trail takes hikers for five miles around North Table Mountain, often with gorgeous cliff views of the Golden Valley. This moderate to advanced trail is easily accessible off of Highway 93 just north of Pine Ridge Road. True, there's not many trees on this route, but there's plenty of gold sunshine streaming down on this wild-looking, volcanic mountain of rock. And the views of aspen-covered foothills can't be beaten. Afterwards, stop at Golden Sweets for ice cream, milk shakes, chocolates, and more.
Clear Creek Trail is Golden's most popular trail and offers all forms of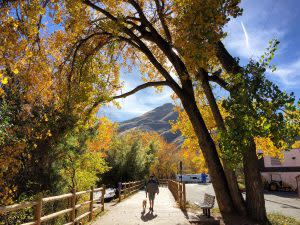 recreation, from strolling to biking. The paved, mostly level recreational trail stretches from the beginnings of Clear Creek Canyon in the Foothills of the Rocky Mountains, all the way down to the South Platte River in Denver, 19 miles away, offering a tree-lined path with fishing, horseback riding, kayaking – and even gold panning along its banks. But don't go too far from town; you're going to want to give Gold Mine Cupcakes a try when you're finished.
Lookout Mountain Nature Center and Preserve offers the perfect starting point for gentle hiking trails at the top of Golden's favorite peak. Families can wonder through meadows and achieve great views of both the city and mountains. Little ones love to explore the nature center too. For something sweet after stretching your legs, head for Goozell in downtown Golden for delicious frozen yogurt by the ounce.
Beaver Trail in Golden Gate Canyon State Park starts across from the park's visitor center and winds its way through aspen groves and open grassy meadows. On this 2.8 mile loop, hikers earn breathtaking views of Indian Peaks and the Continental Divide. A fairly steep hike, the Beaver Trail earns you at least one pastry from Windy Saddle Café—and maybe a latte to boot!
To complement your golden hikes, Golden hosts a handful of great fall events. Some of our favorites include:
The Legend of Sleepy Hollow at Miners Alley Playhouse (Children's Theatre), October 1-29, 2022
Showing Saturdays at 11 am and 1 pm throughout October 2022. If your kiddos haven't yet seen this classic halloween show, now is a great time to take them! In case you don't already know the story, Ichabod Crane has come to Sleepy Hollow to teach, but what he learns there nearly frightens him out of his wits!  Watch as Ichabod learns of the legend of Sleepy Hollow and tries to escape the clutches of the Headless Horseman.
Mines Museum Spooktacular, October 15
Join the Mines Museum for a fun, FREE, blue pumpkin trick-or-treat event. Come in your favorite costumes and enjoy STEM themed hands-on activities (and treats), win prizes, and take pictures with Ms. Colorado herself! Also not to be missed: Mr. Bones, face painting, blaster the burro, and spooky exhibits.
Colorado Railroad Museum's Harvest Haunt, October 22
Come in costume to enjoy this annual Halloween-themed steam up featuring the Olde Railroaders Silly Graveyard, "not-so-spooky" Haunted Railcars, a hay bale maze, and musical ensembles performing throughout the day in the outdoor pavilion. An authentic, coal burning Colorado steam locomotive will pull trains for this event. 
Visit Golden Offers Savings on Your Perfect Golden Fall Day
With inflation and high gas prices, many of us are looking for ways to save this fall while still enjoying fun with friends and family; the new and FREE Golden Savings Pass will allow visitors to do exactly that. Shop, dine, and explore Golden with discounts from over 50 local attractions, retailers, and restaurants. What a great way to get out and support local businesses! 
And – it's never too early to mark your calendars for Golden's beloved holiday events. More details coming soon…
Looking for more fall leaf-peeping locations? Check out our blog "Five Cool Places for Fall Colors in Golden."
For a full listing of fall events in Golden, head to www.visitgolden.com/events