With its iconic "Howdy Folks! Welcome to Golden!" arch spanning its main street, Golden, Colorado is one of the friendliest towns in the West. It's also the perfect place to celebrate one of the friendliest dog breeds in the world, Golden Retrievers. In years past, the city hosted a record-breaking gathering of Goldens on International Golden Retriever Day, February 3rd. Unfortunately, due to COVID-19, there will not be a "Goldens in Golden" gathering in 2021. Instead, Golden owners are encouraged to visit Golden with their Golden throughout February.
"Any time of year, Golden is a perfect destination for dogs – and their humans – to enjoy hiking trails, walking paths, dog-friendly beer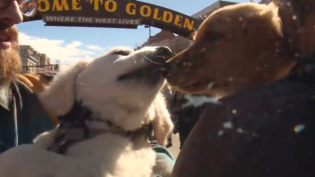 gardens, and fun times with friends and family," said Megan Pinson of Visit Golden. "This year, to encourage social distancing, Goldens and their humans are invited to enjoy Golden on their own, all month long. Our Visitors Center will have a "do it your selfie station" where you can snap a photo of your dog under a mini "Welcome to Golden" arch.  Many merchants are offering specials, including dog-friendly overnight packages at the Golden Hotel and dining deals and "pup cups" or "pupaccinos" from some local restaurants. Follow @VisitGoldenCO on Facebook and Instagram for online giveaways from KONG and fun Goldens in Golden videos and social contests."
Activities to enjoy in Golden on your own, include:
A "Do it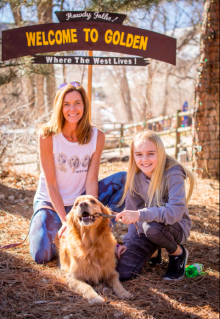 Your Selfie" Station – Bring your camera and take a photo of your pup in front of the mini "Welcome to Golden" arch at the Visitors Center, 1010 Washington Ave., from February 1 – 7, from 10 a.m. – 3 p.m. Post and tag online for your chance to win prizes from KONG.
"Pup Cups & Pupaccinos" & Dining Deals – Several Golden restaurants and coffee shops are offering pup cups or pupaccinos (whipped cream treats for dogs). 
Pet Friendly Overnight Getaway Deals – Make a night of it at the Golden Hotel which is offering a $139 dog-friendly rate that includes a Deluxe Guest Room, house-made dog treats, a Golden Hotel latte mug with drink and dining credits and lots of doggie TLC including patio dining deals. More info here: https://www.thegoldenhotel.com/.
Online Activities:
Goldens in Golden Social Frame & Online Giveaways – Show your Golden love by creating your own Goldens in Golden framed photo. Tag #GoldensInGolden to be entered to win prizes from KONG. Watch @VisitGoldenCO on Facebook and Instagram for details.
Online Gallery and Videos of Golden-Retriever Walks & Hikes – Goldens from the Golden Retriever Rescue of the Rockies will be featured in online videos of Golden hikes and walks popular with Goldens and their humans.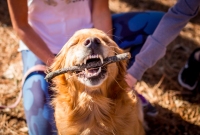 Special thanks to Golden's own KONG. The KONG Classic is the gold standard of dog toys and has become the staple for dogs around the world for over forty years.
If you plan to bring your well behaved Golden to Golden, please keep your pooch leashed and be sure to clean up after your dog. Also, please follow all social distancing guidelines and wear your mask. For more information, visit www.VisitGolden.com.
NOTE: First arch photo from KDVR and dog arch portrait and dog w/stick from Golden photographer Holly Strebel. 
####