Written by the Colorado Mountain Club
From catching the sunset from the top of North Table Mountain to mountain biking through Apex Park, recreationists can find trails in and near Golden to suit all of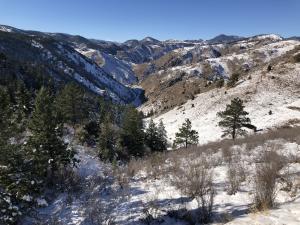 their needs. The historic town maintains 402 acres of open space and a 24-mile interconnected trail system, and it's surrounded by almost 8,000 acres of regional open space. When recreating, remember to respect both the land and those around you so that everyone can have a positive experience.
New to the area or visiting? Refer to Jeffco Open Space for maps and information about the area parks. Always make sure the park is open (seasonal closures due to trail conditions and wildlife are common) and make sure you're following all of the posted regulations for park entry.
Here are a few tips and things to keep in mind when exploring the great outdoors:
Be polite when passing others.
If the group in front of you is moving slower, verbally make your presence known and quickly move past. Parties moving uphill always have the right of way. Treat other hikers as you want to be treated so that we can all stay safe on the trails.
Stay on the trail.
If it's getting pretty toasty outside and you're getting tired of all the switchbacks, you might be tempted to take the lightly worn shortcut that goes off trail. Unfortunately, going off the established trail is extremely damaging to the environment. Protect the places you love to visit by helping prevent erosion. Please obey the signs and do your part by staying on the trail.
Be aware of your surroundings.
Be aware of your surroundings so that you aren't a hazard to others and help keep yourself safe. Keep an eye out for passing hikers, bikers, and horses, and yield properly. Public land is often interwoven with small (or sometimes large) areas of private property, so obey any signage and be respectful. Think of yourself as a guest.
Keep your furry friend on a leash.
Please keep your dog on a leash no matter how well trained you believe they are. Not every dog you encounter may be as friendly as yours. Some people aren't comfortable around dogs, so respect other hikers and keep yours close. Bring a poop bag and dispose of pet waste properly at home or in the trailhead trash cans and not along the trail. Pets can also disturb wildlife, which in certain situations puts your pet's life at risk. Hidden rattlesnakes are a common risk in the summer. Pets will also instinctively chase after wildlife, which is illegal. Trails are not the dog park, so protect your pet and the environment by bringing a leash.
Do not feed or disturb wildlife.
When animals are fed, they become desensitized to the presence of people and are more likely to become a nuisance, which is a danger to both people and the animal. Giving a chipmunk half of your granola bar might lead to ten of them trying to crawl into the next hiker's backpack! There's plenty of food for wildlife out in nature. Keep yours to yourself.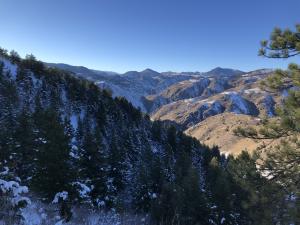 Leave No Trace.
It's a classic saying but still undeniably important: The only thing you should leave on the trail is your footprints. Don't leave trash anywhere other than in a designated trash receptacle (usually found at trailheads). Leave wildflowers for the next fellow hiker to enjoy. Don't carve anything into a tree – it's unnecessary vandalism and against the rules at every park. The only thing you should take back with you is pictures and memories. Please obey signage, and stay out of sensitive areas.
Be mindful of others.
Many people look to recreation as a way to disconnect and unwind. Please don't play loud music or cause disruptions. These areas are for everyone to enjoy and not everyone wants to listen to music while they're on the trail.
Take care of yourself.
Remember to take care of yourself! Always bring the essentials: sunscreen, extra water, snacks, a map, and a good pair of shoes. Check the weather and pack extra layers. Colorado's weather is moody, and sunshine can shift to rain quickly.
Join the Colorado Mountain Club.
The Colorado Mountain Club community inspires adventure, empowers progression, and protects the lands we love. Based in Golden, the CMC has welcomed and connected thousands of adventure-loving novices and experts since 1912. All ages and levels of experience are welcome to join the club, learn new skills and build on existing ones, and connect with other people who are passionate about the outdoors.
To become a member of the community, visit www.cmc.org/Join.aspx.
Photos by: Isabella Biondini