On May 25, 2001, Golden resident Erik Weihenmayer became the only blind person in history to reach the summit of Mt. Everest. He has since been on the cover of Time Magazine, climbed the Seven Summits (the highest points on each continent), written 3 books, kayaked the entire 277-miles of the Colorado River through the Grand Canyon, and co-founded No Barriers, an organization that helps people with challenges face barriers head on and live rich and meaningful lives. Their motto is: "What's Within You is Stronger Than What's in Your Way," something that Erik has proved over and over since retinoschisis robbed him of his vision when he was 13.
No matter where he's traveling, at the end of each adventure, Erik comes home to Golden. "Seventeen years ago, when my wife and I were looking for a place to live in the West, we decided we wanted to have it all," he says. "We wanted to be in the mountains, be near an airport and city, and yet have a small town feel. We found it all in Golden."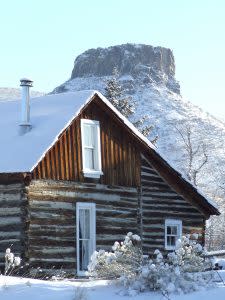 When Erik comes back from an adventure around the world, he can't wait to get out in Golden. "It's more than just the location, it's the kind of values and lifestyle that Golden offers," he says. He loves the Olde Golden Christmas parades and the Candlelight Walk, he loves feeding the chickens at the Golden History Park, he enjoys the people walking and biking along the creek, and kids playing in the parks. "Golden is like a weird little Brigadoon, it's a magical community with bike paths and kayaking through the center of town. I love that my kids were in a musical play as reindeer and I like the Western feel of the town."
Erik's perfect day in Golden would be a multi-sport adventure, beginning with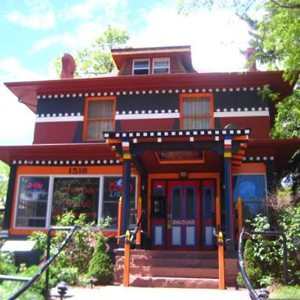 a little surf kayaking in the Clear Creek White Water Park, followed by a quick latte at the Windy Saddle. Then it's time for a tandem bike ride around North Table Mountain behind his house. Lunch is at the Sherpa House, of course. This is a tiny bit of Nepal transferred to Washington Ave. in Golden with photos and exhibits about Mount Everest, as well as an incredible selection of authentic Nepalese dishes.
Maki Sushi & Grill and Thai Gold are other favorites of Erik. Then it's up into Clear Creek Canyon where a 100-yard trail takes you to Little Eiger trailhead and the beginning of 30 amazing rock climbs. In the evening, he and his wife would walk down to Cannonball Creek Brewing and see what food truck is available for dinner. They especially love food truck lobster rolls.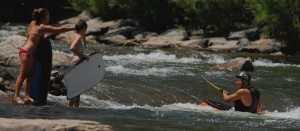 "Golden didn't have to put in a world class kayaking park, and they don't have to have to build bike paths and parks and stage parades and events. But because they do, they make this a special place to live and work. We all just feel so lucky to be here," he says.
You can learn more about Erik here: touchthetop.com