Miners Alley Playhouse is a 130-seat theater with a full bar and lounge that offers critically acclaimed productions in the heart of downtown Golden. Executive Director Len Matheo plays many roles at Miners Alley. He's the Artistic Director and also operates Miners Alley, along with his wife, Lisa DeCaro, and partners Jim Billings and the late Brenda Worley Billings.
We asked Len to set the stage for his "Perfect Golden Day."
"I love having breakfast with my wife, so after dropping our daughter at Shelton Elementary School, we would probably start with breakfast at Table Mountain Inn's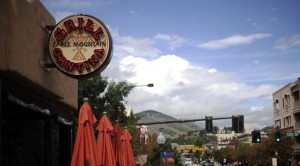 Cantina. I used to live in New Mexico and I appreciate that Table Mountain Inn offers authentic New Mexican food. The green chili is a favorite.
Afterwards, I'd walk through downtown and along Clear Creek. It's so beautiful and I really enjoy the sound of running water.
I'd meander back toward Miners Alley to meet with our managing director, Jonathan Scott-McKean, drink coffee and discuss programming or work on a show
I'd break for lunch and am lucky that Abejas is right across the street. They are a great addition to Golden and our patrons enjoy dinner there before the show – they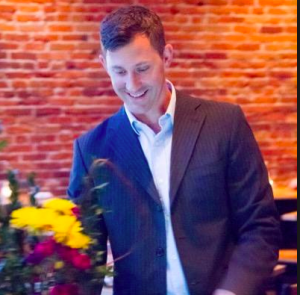 even offer 15% percent off when you show your theater tickets. Brandon, Nick, and the staff are top notch and the food is simply wonderful. Or sometimes, because I live in Golden, I'll head home to have lunch with my wife and work from home in the afternoon enjoying the quiet atmosphere.
I usually pick up my daughter from school. She likes to play with her friends after school – Golden is a great place for families.
Next I head to rehearsal, which we usually hold in Calvary Episcopal who generously has donated its space. It's wonderful how this community has embraced the arts. The actors and crew enjoy the space at Calvary and again, we're right in downtown Golden. The small town feel of our city can't be beat.
I'd grab dinner before the show at one of the many excellent Golden restaurants. Favorites besides Abejas include Miners Saloon and the Sherpa House. There are just so many to choose from and what's better for our audience than dinner and the theater in Golden?
Afterwards, it's show time! Miners Alley puts on six performances a year. Many theaters try to specialize in a particular genre, but we like to say our specialty is a high quality production – might be a comedy, might be a classic, could be a musical. But, it will be an excellent production with some of Denver's best actors and designers, and a top rated crew.
After the show, we'll all enjoy drinks at the bar in Miners Alley and decompress from the performance. The cast mingles with the audience and family and friends and we toast to another fantastic show."
For more information on the current shows at Miners Alley, visit: https://www.minersalley.com/.