As the Colorado weather turns cooler, keep warm in Golden with a craft cocktail or autumn ale. Several Golden bars, restaurants, and breweries have rolled out new drinks to welcome the changing season. Of course, the Golden Tap Trail runs year-round, rain or shine, and is a fun way to sample new Golden spots and earn points for prizes. 
Here are some Golden ideas to celebrate the cooler season…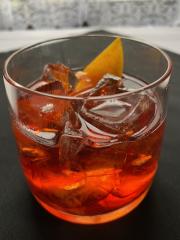 Feel Fancy with a Negroni Spagliato from Bella Colibri. Made with Campari, sweet vermouth, Regan's bitters and topped with Prosecco, you are sure to be feeling very 'bella' indeed as you enjoy Bella Colibri's newest sipping sensation, the Negroni Spagliato.
Gather 'Round a Fire Pit at the Mountain Toad. Recreate that Colorado camping feeling with a visit to Mountain Toad to sit around the fire pit and enjoy conversation and craft beer with friends.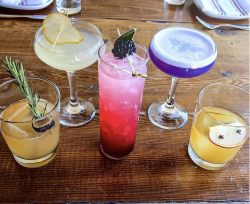 Sip a Sophisticated Craft Cocktail at Abejas. The craft cocktail game at Abejas has to be strong to stand alongside the restaurant's phenomenal farm-to-table fare. For the fall season, Abejas offers specialty cocktails featuring apples, pears, blackberries, and figs. 
Serve Yourself at the Golden Mill's Self-Pour Tap Wall. Featuring 50 local Colorado craft beers, wines, cocktails, and NA beverages, the Golden Mill's Tap Wall is the perfect place to sample new flavors. Grab a seat by a fire pit on the rooftop patio and sample away!
Check Out Why The Denver Post Calls Cannonball Creek "Colorado's Best Kept Beer Secret." With a treasure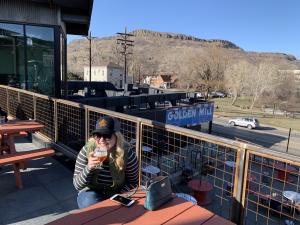 trove of medals, Cannonball Creek Brewery has been well-awarded for its Golden suds. Stop in to see why The Denver Post calls Cannonball Creek "Colorado's Best Kept Beer Secret."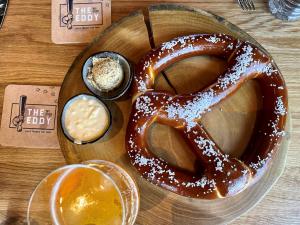 Savor the Taste of Fall at The Eddy Taproom & Hotel. Golden's newest hotel and restaurant, The Eddy, unveiled their fall menu with new drinks and dining options. Take in the fall colors of Golden while sitting on their patio, sipping an autumn ale and enjoying The Eddy's famous pretzel, along with beer cheese and house mustard or perhaps their pumpkin bread pudding.
Go Straight to the Source at a Golden Tasting Room. Several Golden distilleries feature tasting rooms, including State 38, where you can find fantastic locally crafted spirits sure to warm any winter chill. Also, check out Atost,  where you can sip on their acclaimed American aperitivos, and Golden Moon has a tasting room at its distillery, or you can saddle up to the bar at the Golden Moon Speakeasy in downtown Golden. 
There's no shortage of fun places to drink in Golden. Whether you are gluten-free, want a wine slushie, or prefer a Coors specialty Barman Pilsner, Golden has just the spot for you! Check out a full listing of Golden bars, breweries, and restaurants.
Here are more blogs with Golden ideas for fall activities:
- Golden is the Gateway to Fall Foliage by Foot or Car
- The "Golden" Rule: Take the Kids to See Fall Colors in Denver's Closest Mountain Town
- Five Cool Places for Fall Colors in Golden - Don't Get Stuck in Traffic with Leaf-Peepers