At any time, historic downtown Golden has one of the prettiest Old West main streets on the Front Range, filled with flower displays,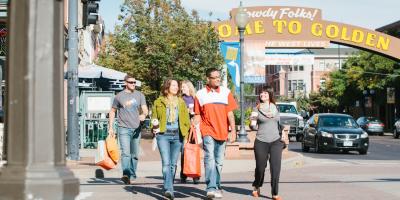 outdoor cafes and sculptures. But it is especially entertaining during the Golden Sidewalk Sale on Saturday, September 28th, when there are bargains and deals on every corner. Start at the 47-foot long "Welcome to Golden" arch and work your way up both sides of Washington Avenue and down the side streets for treasures ranging from backpacking, mountaineering, rock climbing and kayaking gear at Vital Outdoors to natural skin care at Spinster Sisters Co. Stop for a treat at the hometown soda fountain at Golden Sweets and stock up on candy to bring home at Golden Goods. Browse new and gently used women's fashion items at Truly BoHotique and the Clothes Mine, or find your Rocky Mountain self at Toad & Co. 
And don't forget downtown Golden is filled with great post-sale dining options, from burgers at Bob's Atomic Burgers to vegan at DeRive.
So get yourself to Golden, support your local merchants and get a jump on holiday shopping with deals, deals, deals! This year's Sidewalk Sale participants include:
Avenue Gifts
Baby Doe's Clothing
Big Dr. Eam's Exotic Arts & Music
Blue Moose Trading Company
Bumps & Bundles Consignment
Creekside Jewelers
Earth Sweet Botanicals
Golden Goods
Golden Rock Shop
Golden Sweets
Into the Mystic Healing & Arts
Marrygrams Boutique
Mountain Lux Candles
Oh Susanna Vintage Photo Parlour
Period Six Studio
Rockin' Horse Antiques
Spinster Sisters Co.
Spirits in the Wind Gallery
Taspens Organics
The Clothes Mine
The Hair Lounge
Red Wagon Boutique and Garden Shoppe
Toad&Co
Truly BoHotique
Vaia Salon & Spa
Vital Outdoors
Wings of Eagles Native American Art