Ahh – a Colorado ski vacation. While you may be eager to settle in on the slopes, many travelers start – or end - their vacation with an overnight in Golden. Located where the mountains finally hit the plains, and all traffic eases up, the town of Golden is just minutes from I-70, yet the historic town still has a mountain village vibe to it. The closest ski resorts to Golden are Loveland, Eldora, Keystone, Arapahoe Basin, Breckenridge, Copper Mountain and Winter Park; most of which are just over an hour away.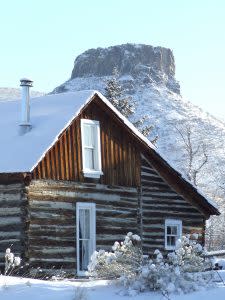 Here's why a quick stay in this charming town is the way to jump-start or end your ski getaway:
Acclimate to the altitude. Before you schuss down those towering peaks, you may want to enjoy a night at only 5,675 feet. Drink plenty of water, walk the charming town of Golden, enjoy a good meal at one of our restaurants. You can find everything from farm-to-table fare at Abejas to amazing pizza at Woody's.
Time your drive to avoid traffic. Spend the night in Golden and get up early to beat the morning rush. Or enjoy a Cajun brunch at Sassafras and head up after rush hour. Sitting in traffic on I-70 is a drag so why not avoid it?
Gear up with better deals – You won't find sky-high resort prices in Golden. So grab those rentals or buy your gear from one of Golden's gear shops like Powder 7. You can also hit the grocery store and local bakeries like the Windy Saddle to stock your ski condo with the essentials at a much better price.
Visit the world's largest single site brewery. A visit to Coors is a bucket list item for any beer lover. And Coors offers free tours, samples and has a phenomenal gift shop where you can find fun gifts sure to delight the folks back home.
Visit Golden's many museums and attractions. Parents can easily break up a long trip with a fun overnight in Golden. Little ones will love a visit to the Colorado Railroad Museum or Buffalo Bill's Grave. Or browse the best in local art at Foothills Art Center or step back in time at Golden's History Museum & Park.
Avoid the hectic airport rush – After-ski traffic can be a nightmare. And the only thing worse is when you're fighting it to try to make a flight. Instead, book your final night in Golden. Walk the creek, enjoy the town and when you're ready to head to the airport, do so without the stress of mountain traffic.                                                     
Settle into your ski vacation or ease out of it with an overnight in Golden!