Spring is one of the most fun times to be in pretty Golden, Colorado, and even with COVID-19 restrictions in place, that is still true today. Many Golden attractions, museums, restaurants and trails offer fun and interactive ways to explore the first territorial capital of Colorado – either digitally or "to go."
VIRTUAL GOLDEN -- There are a number of fun ways to explore Golden without leaving your home, including: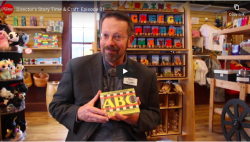 COLORADO RAILROAD MUSEUM
All Aboard—online! While the Colorado Railroad Museum is closed in response to the COVID-19 pandemic, the museum is offering a new series of online content.  Planned regular features will include material for younger children, families—and of course, rail buffs! Here's what the series will include:
A weekly, themed Museum tour focusing on specific artifacts and rolling stock
Children's storytime readings accompanied by a related craft activity you can do at home!
Updates from the Roundhouse crew on the projects they're tackling
Recipes for signature dishes straight out of dining car menus from railroading's heyday!
Visit www.coloradorailroadmuseum.com or their Facebook, YouTube and Instagram pages.
Golden History Museum
In this time of closed museums, Golden History Museum & Park is offering virtual lectures, activities, and more to you engaged and entertained from the comfort and safety of your own home. New activities are happening each week, so check Facebook, YouTube, Instagram, as well as GoldenHistory.org see the latest offerings. Some activities will be live broadcasts while others will be available anytime. 
DINOSAUR RIDGE
Dinosaur Ridge where the world's first dinosaur bones were discovered is opening up all sorts of great activities at a new online education portal.  This coloring sheet with "Tracker" is a good one to start with.  Learn all about the fantastic dinosaurs that once called Colorado home.

FOOTHILLS ART CENTER VIDEOS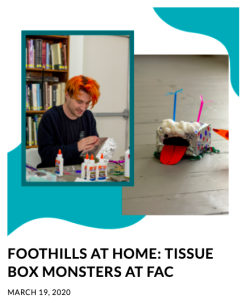 Hang out with the Foothills Art Center and learn about the Members' Show which features artworks created by Colorado artists, or get to know the Foothills Art Center Executive Director in a series of chats. 
COLORADO ENVIRONMENTAL FILM FESTIVAL FILMS
Check out past CEFF films!  You can explore the collection of festival films now available for streaming. Most films are free to stream.  Titles with a $ indicate film is available to rent.  

GOLDEN BEER TALKS
Golden brews more beer than any other city in the world.  Golden Beer Talks is Golden's own grassroots version of TED Talks focused on three favorite local things—Golden and Beer and Talking!   You can Listen  to past Golden Beer Talks and learn fascinating things about – beer!
MINERS ALLEY PLAYHOUSE (MAP)
While the theatre is closed, you can visit the Miners Alley Playhouse blog!  Watch for weekly blog posts that will bring you updates on what MAP and the MAP Staff are doing during this closure.  You'll get behind the scenes looks at set and costume design, notes from directors and music directors on plays and musicals that they are producing, fun news on children and adult educational classes and Miners Alley Children's Theatre performances, and information about the Denver theatre community.  There will also be some fun videos and links to theatre and Golden related things as well.

JEFFERSON COUNTY PUBLIC LIBRARY - ONLINE LIBRARY
Even though the physical buildings are closed, the Jefferson County Public Library website and its digital branch never closes!  The  Online Library gives you access to a wide variety of resources for research, education and just good old-fashioned fun!   Here are their top picks:

JEFFCO MAKES - JEFFCO PUBLIC SCHOOLS
Introducing: Jeffco Makes. An online platform to get you and your family making, baking and shaking! They will be posting three different activities each week. Pick one (or all) that you and your family want to do. 
 
GOLDEN DINING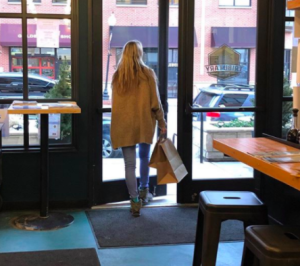 Some 60 restaurants in Golden are offering takeout lunches, dinners and deserts during this temporary COVID-19 shut down of all restaurants in Colorado.  You can still enjoy crusty pizza, tasty hamburgers, fine dining, international cuisine from Mexico, Nepal, Thailand, China, the Middle East, Italy and so much more, all with easy take-out and curbside pickup.  Please support your local restaurants during these challenging days, with all details here.
While restrictions are in place, Golden is here to help with digital cultural activities and dining to-go. And why not spend some of your at home time planning your next adventure in Golden. When restrictions lift, a staycation in Golden will be in order. Check out visitgolden.com for ideas and activities.