GOLDEN FINE ARTS FESTIVAL 
August 19 - 20, 2023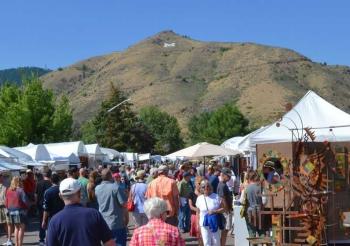 The 33rd Annual 2023 Golden Fine Arts Festival is located on 11th Street from Arapahoe to Maple Streets in Golden.
A Golden icon for three decades, Golden Fine Arts Festival is a prestigious juried art show located in the heart of historic downtown Golden, Colorado.
With its prime location just 20 minutes west of Metro Denver and free admission to the public the event features two full days of art, live entertainment, libations, and food vendors.
ARTSWEEK GOLDEN
Thanks for attending this year's event - stay tuned for 2024 dates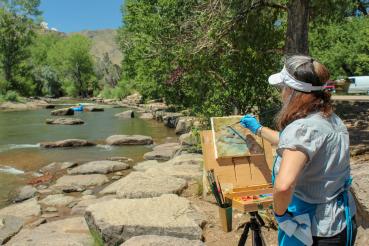 ARTSWEEK GOLDEN is a week-long celebration of the arts featuring the ARTSWEEK GOLDEN FESTIVAL, a juried arts festival with local and national artists exhibiting their works in downtown Golden.
This annual festival, hosted by Foothills Art Center, boasts a week of activities and events throughout historic Golden, including art trivia, aerialist flying through the sky at The Golden Mill, Golden Beer talks, and so much more. 
ARTSWEEK GOLDEN FESTIVAL
Here are a couple of things to keep in mind before you visit:
The festival is on Saturday, June 24 and Sunday, June 25 from 9 am – 5 pm
The festival is located at 12th & Arapahoe, Golden, CO
The festival is FREE to attend; no tickets are required to visit
There is plenty of parking in Golden for you to utilize
ARTSWEEK EVENTS
RSVP's are recommended but not required for some of the ARTSWEEK events.
MORE ABOUT GOLDEN'S ART SCENE

PUBLIC ART WALK
Golden has more than 30 pieces of public art acquired through the Public Art Commission. The Public Art Walk creates memorable spaces along Washington Avenue, near Clear Creek and in outlying areas of Golden. The outdoor art walk celebrates Golden's natural landscapes and is an inviting way to spend an afternoon in Golden.
Pick up a brochure at the Golden Visitors Center or use the virtual map and set out on this scavenger hunt looking for miniature paintings and sculptures where you least expect them. Places like cracks in cement, tree stumps, water drains, and sidewalks. Be sure to check out the newest installations…