TRAVELING TO GOLDEN?
Golden can be accessed by car, trail or rail. There are five major highways (I-70, Hwy 6, Hwy 58, Hwy 93 and C-470) that lead to Golden. No matter if you are coming from the East, West, North or South, Golden is conveniently located at the foothills of the Rockies just 20 minutes from downtown Denver. Map your route to Golden using Googlemaps.
Golden can also be accessed by trail via the Regional Clear Creek trail system or the C-470 Bikeway. Cyclists can also use designated bike routes on 32nd Avenue and 44th Avenue. Golden has a designated north-south light railbike route on Ford Street. Remember rules of the road apply to cyclists.
THE WEST RAIL LINE
(LIGHT RAIL SERVICE)
Visitors to Golden can travel from Denver and DIA to Golden via the West Rail Line or "W" line. The West Rail Line between Golden and Denver Union Station passes through 3 fare zones, so the price for a single, one way ticket between Golden and Denver is currently $4.00. (Express ticket price) Student and senior discounts are available.
Transfers are provided when requested. Transfers can be used between the light rail and bus service. If you travel from Denver to Golden on the light rail, a transfer will allow you to continue your journey into Golden via bus for no additional cost. The same applies if you start on a bus and transfer to the light rail. Bikes are also allowed on the light rail.
Once you arrive in Golden on the "W" line, you can either walk, bike, ride or taxi to downtown Golden depending on the time or day of the week. You can walk or bike the 6th Avenue Trail or travel through town along Johnston Road to Ford Street. The total distance is about 2.5 miles and can take up to 1 hour.
OTHER TRANSPORTATION
Bike rentals are available at local bike shops.
Visitors can also call Denver Yellow Cab at 303-777-7777 for a fee or use UBER or LYFT apps to get around.
COMMUNITY CALL-N-RIDE
SERVICE & CIRCULATOR BUS
The Golden Community Call-in-Ride Bus service includes a call service and circulator bus service with regular stops. One way bus fares, including the Community Call-n-Ride service or circulator bus, is $2.25. Discounts do apply.
The community circulator bus works similar to a regular bus service. The circulator bus makes scheduled stops along a designated loop through Golden every half hour. You can catch the bus at the regularly scheduled times at any of the following stops:
Illinois Street (CSM Campus)
11th & Illinois
10th & Washington (Parfet Park)
12th & Ford
17th & Jackson (Safeway)
24th & Jackson (Golden High School)
Johnson & South Golden Road
Johnson & 6th Ave. (Light Rail Station)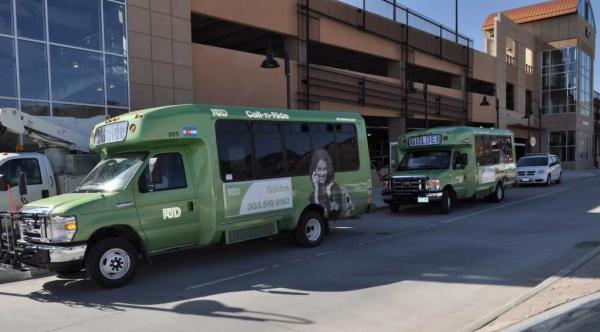 To schedule a ride on the Call-in-Ride service or to ask questions, call RTD at 303-519-9162. Please visit the RTD website to view the full Community Call-n-Ride Bus Schedule.
Travelers to Golden can access downtown Golden via the 16 or 16L "West Colfax" bus. Access the 16 bus schedule at the RTD website. The Bus is a great alternative during evening or weekend hours when the Circulator bus is not in service.