Electric Biking in Golden
E-Biking in Golden presents a thrilling opportunity to effortlessly navigate the city's stunning surroundings while enjoying the charm of its urban and natural landscapes. With its interconnected network of bike paths, scenic trails, and proximity to the foothills, Golden offers e-bikers a seamless blend of outdoor adventure and delightful views. Whether gliding alongside Clear Creek or ascending the scenic byways, e-biking enthusiasts can savor the unique sights and experiences that this vibrant Colorado town has to offer.
17121 S. Golden Road

(720) 524-6736
Electric bike sales, rentals, tours, accessories, and service. Pedego Golden is a fun & welcoming place where you'll be treated like family. We put our hearts into helping you find the perfect electric bike and get the most out of it for…
423 10th Street

(720) 722-1645
Rent a commercial grade river tube with life jacket for all-day whitewater tubing on the Clear Creek or we have award-winning Rad Power Bikes electric bikes in fat tire, city cruiser, and even folding varieties for cruising on miles of…
Trails and Routes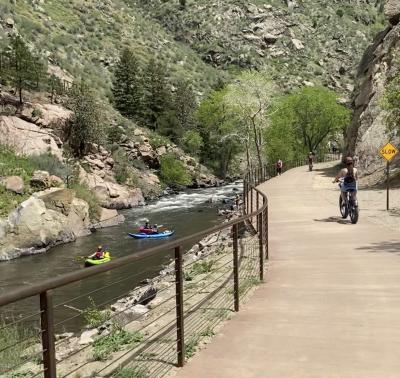 Clear Creek Trail & Peaks to Plains Trail: Embark on a tranquil journey along the paved Clear Creek Trail and Peaks to Plains Trail, following the meandering waters through lush greenery and picturesque parks. This family-friendly path is perfect for a leisurely ride, offering numerous spots to stop and savor the scenery.
North Table Mountain Park: For the adventurous spirits, North Table Mountain Park boasts a network of exhilarating trails with sweeping panoramic views of the city and surrounding mesas. The electric mountain bike's power lets you conquer the challenging climbs, leaving you more energy to relish the downhills.
Golden Gate Canyon State Park: Dive into the heart of the Rockies as you explore Golden Gate Canyon State Park. E-bikes make the journey through this majestic wilderness accessible to riders of various skill levels. Wind through aspen groves, encounter wildlife, and experience the great outdoors like never before. The trails require an electric mountain bike, but you can ride the roads on a regular e-bike.
Historic Downtown Loop: Immerse yourself in Golden's rich history by taking a laid-back cruise through the charming streets of downtown. Stop by local cafes, boutique shops, and art galleries as you soak in Golden's unique character.
Welcome to Golden! Join us on a guided tour with our Pedego experts to show you the fossils of Dinosaur Ridge and the beauty of the Red Rocks. See why Golden is "Where the West Lives" by effortlessly weaving through some of the best bicycle paths Golden has to offer. See the home…
Tour historic Golden/ Peaks to Plains/ Red Rocks 20% Promo Just for You! Enter: 20OFF at checkout Feel the wind in your hair! Gather friends and family and come on out for an ebiking adventure in and around Golden. Ride with ease as a multi-age group or with people of different…
Tips for Electric Biking in Golden
To make the most of your adventure, consider these essential tips:
Know Your Bike: Familiarize yourself with the features and controls of your e-bike before hitting the trails. Understand how to adjust the assistance levels, monitor battery life, and operate the brakes.
Charge Your Battery: Before you head out, ensure your e-bike's battery is fully charged. Carry a portable charger if you plan to cover long distances or explore for extended periods.
Mind the Battery: Manage your e-bike's battery wisely. Use higher assistance levels for uphill climbs and tougher terrains, and switch to lower levels or pedal without assistance on flat stretches to conserve battery power.
Carry Essentials: Pack a basic toolkit, spare tire tube, water, snacks, and a first aid kit. It's better to be prepared for minor mishaps or unexpected situations.
Respect Trail Rules: Different trails have different rules and regulations. Be sure to check trail signage and guidelines before riding. Some trails may have restrictions on e-bike usage, so it's important to be aware and respectful.
Respect Nature: When riding on trails, stay on designated paths to protect fragile ecosystems. Avoid disturbing wildlife and follow the "Leave No Trace" principles.
Share the Trail: Be courteous to other trail users, whether they're pedestrians, fellow cyclists, or hikers. Slow down, signal when passing, and give them ample space.
E-Bike Etiquette: Follow general cycling etiquette, such as yielding to uphill riders, avoiding sudden stops or turns, and using bells or vocal signals to alert others of your presence.