Experience the Best of Golden in the Fall
As the leaves change and the air turns crisper, fall transforms Golden's landscape into a stunning tapestry of vibrant colors as the cottonwood trees along Clear Creek and throughout the city burst into brilliant shades of gold and orange. 
According to a variety of weather forecasts and predictions, it appears Golden will be experiencing peak fall color in mid-to-late October in 2023. The 2023 Fall Foliage Prediction Map from SmokyMountains.com shows the second half of October being the prime period for seeing peak fall color in the Golden area. This Prediction Map combines an advanced weather algorithm that factors in thousands of data points and scientific factors to come up with the most accurate forecast possible.
2023 Fall Foliage Prediction Map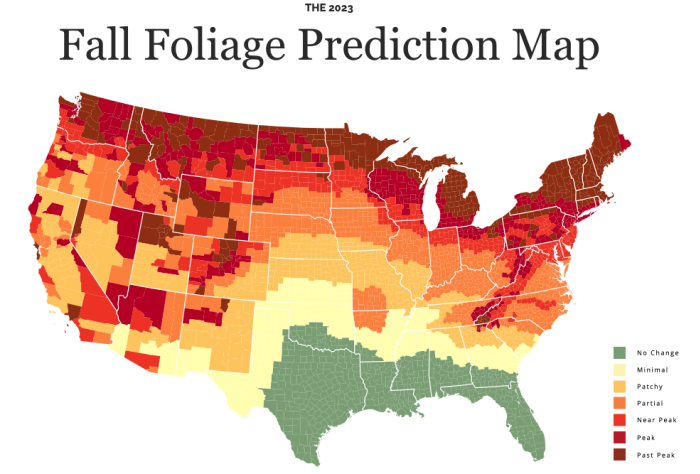 Golden comes alive with a myriad of exciting activities and sights to explore during the fall season! Here's your guide to the best things to do in Golden, Colorado this fall.
Fall Foliage Drives
Take a scenic drive along Clear Creek Canyon Road to witness the breathtaking transformation of the aspen and cottonwood trees into a sea of gold and red.
Head to Lookout Mountain for panoramic views of the surrounding fall foliage and the Denver skyline below.
Drive up to Golden Gate Canyon State Park. You'll need to stop and get a $10 parks pass for the day, but some of the best aspens on the Front Range can be found at Bootleg Bottom, which has picnic areas and trails through the colorful trees. Don't miss the views from Panorama Point – one of the most spectacular viewpoints in Colorado. 

Hiking Adventures
Golden and its surrounding areas offer a plethora of hiking trails that showcase the stunning beauty of the fall season. Here's a guide to some of the best fall foliage hikes you can experience in and near Golden.
Visit Historic Sites
Stroll through downtown Golden's historic district to admire Victorian-era architecture and explore charming shops and galleries.
Brewery Tours & Fall Beer
Golden is renowned for its craft breweries and fall is a great time of year to sample seasonal and specialty beers at local breweries. Make it extra fun by renting e-bikes from Adventure West or Pedego Golden and doing a self-guided brewery tour by bike.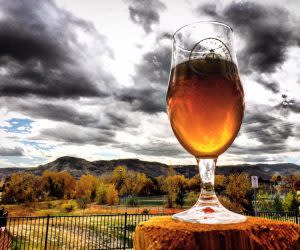 Fall Festivals
Check the events calendar for Golden's fall festivals, including Oktoberfest celebrations, chili cook-offs, Halloween themed events and more, where you can experience Western culture and entertainment.
Art Walks
Explore the town's art scene with the self-paced History Tour and Public Art Tour or the Itty Bitty Art Tour.
Dining Delights
Savor the flavors of fall at Golden's restaurants, which often feature seasonal dishes highlighting locally sourced ingredients.
With its natural beauty, outdoor adventures, cultural attractions, and delicious dining options, Golden is the ideal destination to embrace the magic of fall. Whether you're a leaf-peeper, an outdoor enthusiast, or simply seeking a cozy autumn getaway, Golden has something special in store for you this season. 
Golden's fall festivals offer a delightful blend of picturesque autumn landscapes, vibrant community spirit, and a wide array of exciting events for visitors of all ages.
Denverites love to "go for the gold" in the fall, setting out on day trips as the aspens put on their annual color show. But the gold rush from Denver can mean bumper-to-bumper traffic. A better idea? Golden, Colorado. Avoid…
The historic town of Golden, Colorado has always been a gateway to gold, and never more so than in the fall when it becomes the perfect base camp to see dramatic fall colors. Located only 12 miles from Denver, the quaint, creek-side town…