Golden Gate Canyon State Park
Golden Gate Canyon State Park is the ideal outdoor getaway perfect for a day or wee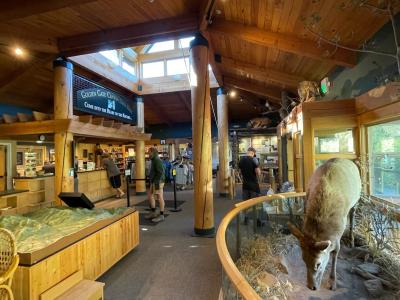 k-long excursion. Only 30 miles from Denver, Golden Gate Canyon State Park's 12,000 verdant acres will make you feel like you're light years away from the hustle and bustle of city life.
Some of the best camping and hiking in Golden, CO, and the entire state of Colorado, is found at Golden Gate Canyon State Park. The Golden Gate Canyon State Park Visitors Center is a great place to stop and gather info for your adventure.
Here's everything you need to know for a memorable trip. 
Camping, Yurts & Cabins
Campers can delight in walk-in-only backcountry campsites that are away from it all, or you can roast marshmallows over the fire ring at one of the park's 132 campsites. 
Cozy up in your rented yurt or cabin, or even a group guesthouse, to have a truly unique stay in the Colorado wild. If you plan on camping, reservations are required and can be made by calling 1-800-244-5613 or online. 
Golden is in close proximity to three great parks: Golden Gate Canyon State Park, Clear Creek Canyon Park and Rocky Mountain National Park. Golden is so close to these Colorado treasures that making it your "base camp" will allow you to enjoy the surrounding mountains while also soaking in nightlife and quality dining!
Scenic Hiking, Biking and Horseback Riding
Every one of the park's 35 miles of trails is open for h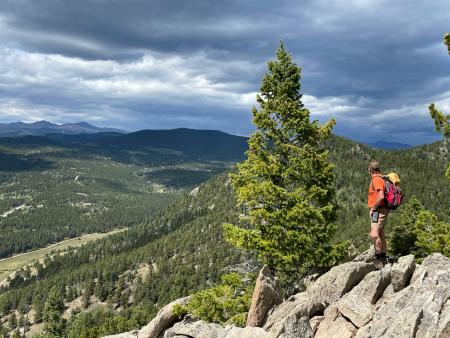 iking all year long. A vast 19 miles of the park's trails are accessible for mountain biking and horseback riding. 
Meander along forested paths or take on steeper, more technical terrain. No matter what your skill, desire, or fitness level, you'll find the outdoor adventure you seek.
Be sure to check out Panorama Point Scenic Overlook, one of the most sought-after vistas in the park. Accessible by car or on foot, this overlook offers views of the Continental Divide that span 100 miles including landmark peaks such as Mount Evans and Longs Peak.
Over 35 miles of trails in Golden Gate Canyon State Park offer pleasures and challenges for everyone. The twelve trails at Golden Gate Canyon are each named after an animal and marked with the animal's footprint. Trail head parking areas are easily accessible from the main roads in the park…
Diverse Wildlife
Moose sightings are not uncommon while hiking through the park, and these majestic creatures aren't alone in the wilderness here. Keep an eye out for bighorn sheep, black bears, beavers, foxes, and Golden eagles, among other animals that call Golden Gate Canyon State Park home. 
There, you'll also come across forests of towering ponderosa pine and trembling aspen trees. Or, you could find yourself wandering in a fresh green meadow or alongside a burbling creek. There's always something new to discover, and it changes throughout the seasons. 
Fishing & Hunting
Fish along the shores of one of the five ponds in the park, where numerous fish species swim in the spring and summertime. Or spend your days hunting. Find the best hunting spots on the side of the park within Jefferson County limits, from Labor Day to Memorial Day.
Seasonal Activities
Fall Foliage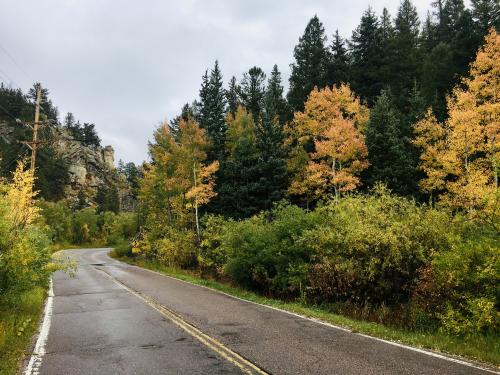 Golden Gate Canyon State Park preserves a huge landscape of rolling evergreen-covered foothills, sprinkled with bright gold aspen groves. Bootleg Bottom has a picnic area and is near the prettiest section of old-growth aspens along the Mule Deer Trail as it winds to Old Barn Knoll. Photographers will love this short hike surrounded by towering aspens. The four-mile Racoon Trail winds through aspen groves and up to the park's highlight, Panorama Point, where there is an expansive view of the nearby snow-covered Indian Peaks. The Horseshoe Trail is another fall beauty that ends in Frazer Meadow as it meanders through groves of aspens heading to an old farm homestead. Elevations in the park range from 7,500-10,400 feet, with colors traditionally beginning in mid to late September and running through October.
Winter Activities
The fun at Golden Gate Canyon State Park doesn't end with the first snowfall. There is still plenty to keep your blood pumping during the winter months. Grab your snowshoes or cross-country skis to head out on the trail of your choice, which remain open throughout the winter. Or, lace up your skates or gear up for ice fishing in the park's various frozen ponds.
Winter adventurers should keep in mind that Mountain Base Road closes to vehicles every year from December 1 until spring weather permits.
Visitors can access the park with an annual Colorado State Parks Pass. For more information on fees and reservations for Golden Gate Canyon State Park, visit the official park website.