LOOKOUT MOUNTAIN
Lookout Mountain is a foothill of the Rocky Mountains. The 7,377-foot peak is located in Lookout Mountain Park, 1.7 miles (2.7 km) west of downtown Golden. Known for its natural scenery, Lookout Mountain has played a major role in area recreation, transportation, water supply and telecommunications over the years. Its earliest known inhabitants were the Ute tribe of American Indians, who used the mountain as a lookout point for the surrounding region. Downtown Denver, only 12 miles to the east, can be seen clearly from the mountain.
The summit is also famous as the gravesite of William Frederick "Buffalo Bill" Cody. The Buffalo Bill Museum and Grave, a facility owned and operated by the City and County of Denver, exists to preserve the memory of William F. "Buffalo Bill" Cody. To this end, it maintains the Cody gravesite and related structures on Lookout Mountain Park; collects, cares for and interprets artifacts associated with "Buffalo Bill" Cody's life and times between 1846 and 1917, and records Cody's ongoing influence on American culture. The museum overlooks beautiful Golden, Colorado.
Visitors and locals enjoy hiking, mountain biking and cycling up Lookout Mountain. Although steep, you get fabulous views of Golden and the front range as well as an intense workout! If you are looking to stay the night near Lookout Mountain, check out the nearby lodging options.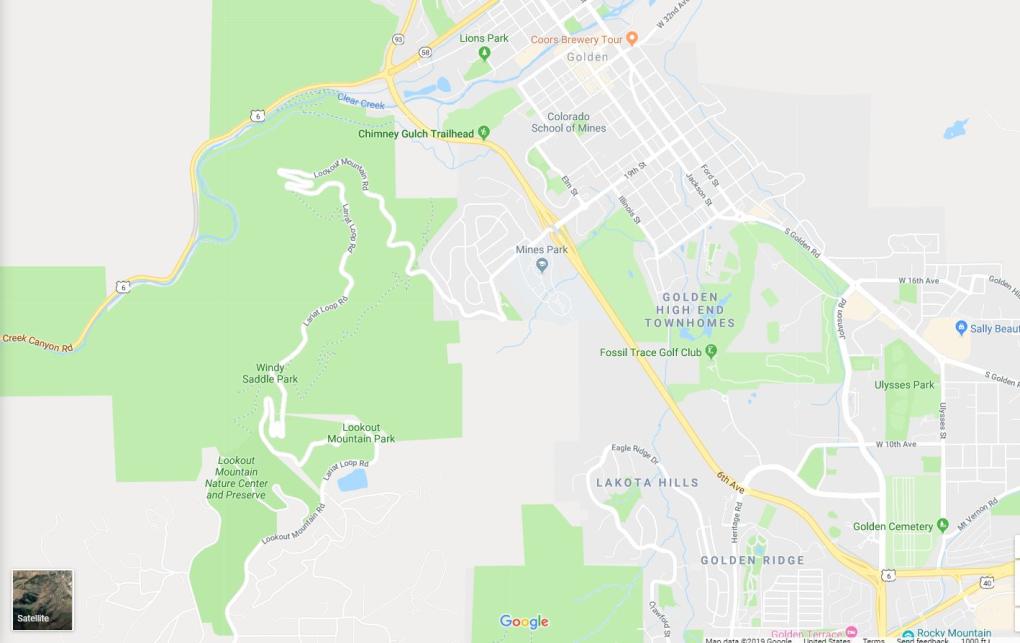 Built in 1913, the Lariat Loop road ascends from Golden up the steep east side of Lookout Mountain. (Well actually up the side of Mount Zion. Many people confuse Mount Zion and Lookout Mountain.) The Lariat trail built by "Cement Bill" Williams is a 4.6-mile switchback of 56 curves including seven hairpins that rise 2,000 feet from 19th Street to Buffalo Bill's Grave. The pylons at the base of the loop were built in 1917, the same year Charles Boettcher, a Denver entrepreneur, built a summer home formerly called Lorraine Lodge on Lookout Mountain for his family that was used for hunting retreats. In 1968, Boettcher's granddaughter, Charline Breeden, donated the lodge that is now known as Boettcher Mansion and 110 acres in Jefferson County. The mansion has been restored and is now a site for special events.
Lookout Mountain Nature Center staff and volunteer naturalists inspire kids and adults to connect with the natural world. Interactive exhibits take visitors on a tour of the flora and fauna of the foothills ecosystem. Kids enjoy a hands-on play room and observation room. The Nature Center offers free naturalist-led programs in every season for individuals, families, and schools and groups. Visitors can also enjoy a walk through the nature preserve while visiting.
This mountain-top oasis offers gentle hiking trails past ponderosa pines and through meadows, affording panoramic views of the Denver metro area. Their 110 acres provide habitat for black bears, mountain lions, bobcats, mule deer, elk and Abert's squirrels. Wildflowers abound in warmer months while peace prevails on snowy winter days. The 1.5 miles of trails are open to hikers, snowshoers, and cross-country skiers, but are closed to bicyclists, equestrians and those hiking with a dog.