The 2023 concert season at world famous Red Rocks Amphitheatre will run from March 31 to October 22, with dozens of big names including Chelsea Handler, Dermot Kennedy, Michael Franti, Big Head Todd, Rainbow Kitten Surprise and Duran Duran headlining on this incredible stage.
Nothing compares to a concert under the stars at Red Rocks.
And the way to do Red Rocks right is to do what the locals do and include nearby Golden in your concert plans. Only a 15-minute drive from the amphitheater, Golden offers a mountain town vibe with more than two dozen restaurants and breweries in a walkable historic area along the banks of pretty Clear Creek.  There are mountain views in all directions.  The people of Golden love to be outdoors so all the restaurants have outdoor tables and the river that flows through the center of town is lined with picnic benches.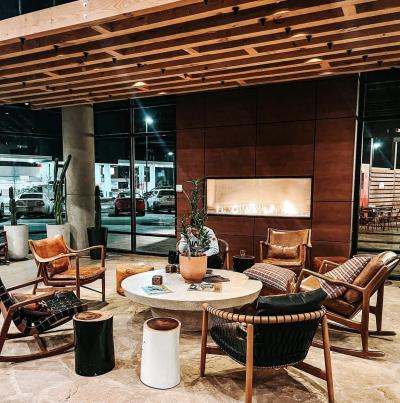 Whether you plan to drive or Uber to Red Rocks, Golden has the largest concentration of nearby hotels, including The Origin Hotel, the official hotel of Red Rocks Amphitheatre, pictured to the left (credit: @denvershewrote). The Golden Hotel, Table Mountain Inn and the Eddy Taproom & Hotel are within easy walking distance of Golden's charming downtown shops, restaurants, hiking trails and outdoor beer gardens. Some of the hotels even include Red Rocks shuttles, ask when booking. 
SPEND THE DAY IN GOLDEN AND YOUR NIGHT AT RED ROCKS
Nothing gets you in the mood better for an outdoor concert than a day hiking or biking around Golden. You can follow the trail from downtown Golden up into dramatic Clear Creek Canyon, crossing the river several times on bridges….or you can hike to the top of all the visible peaks including North and South Table Mountain, Mount Zion and Lookout Mountain.  
WHERE TO DINE BEFORE THE SHOW IN GOLDEN OR AFTER YOGA ON THE ROCKS
Golden's proximity to Red Rocks makes it the perfect place for dinner before the concert OR for brunch after attending Yoga on the Rocks.  Here are some choices:
You can dine beside Clear Creek at the Bridgewater Grill on Bacon Wrapped CO Bison Meatloaf, Coors Beer Battered Cod Fish and Chips, Pan Seared Salmon, and Mushroom Risotto.  Or grab a bite overlooking the Clear Creek Valley at the new Eddy Tap Room and Hotel, where BBQ and milkshakes are a specialty.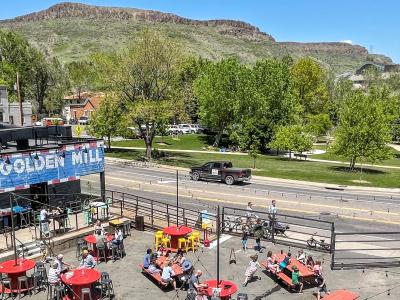 The Golden Mill is the town's "outdoor backyard" with two levels of dining and drinking with views of the creek and the mountains offering sushi, BBQ, tacos and ice cream along with a "pour wall," where you grab an empty glass and pour your own craft beer and wine.  Don't be surprised if there's a live music concert on the patio before your trip to Red Rocks. 
Golden is the biggest little beer town in the world with Coors Brewery sitting majestically beneath the rocky buttes of South Table Mountain.  It is the largest single brewing site on the planet and a tour includes samples of their many different beers.  But Golden is also filled with eight craft breweries and two distilleries, many of which have rotating food trucks.  In town, check out Mountain Toad, Golden City Brewery or Barrels and Bottles, which has a dozen craft beers and a dozen excellent wines on tap. Or if you want to be that much closer to Red Rocks try Over Yonder Brewing. 
Nothing goes better with rock'n roll than pizza and Woody's Wood-fired Pizza is a local legend with one of the best Western views and most delicious pies in Colorado. Of course, some people prefer burgers and Bob's Atomic Burgers is the place to fill up with the ultimate hamburger topped with grilled onions, mushrooms, fried egg, blue cheese, guacamole and green chili. The Trailhead Tap House & Kitchen is the place for Cajun food, and Golden's favorite local comfort food can be found at Cast Iron Tavern. For a caffeinated pick-me-up or delicious charcuterie board perfect for tailgating be sure to stop at nearby Launch Espresso, Food and Spirits.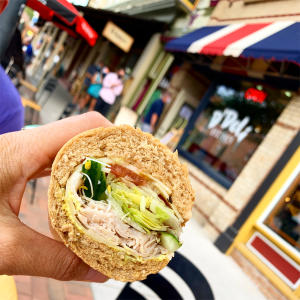 If you want some Old West atmosphere to go with your Red Rocks experience, then head to the New Mexico adobe style architecture of the Table Mountain Grill & Cantina, which celebrates all the flavors of the Southwest. Just down the block, dig into some pub fare, BBQ and Old West history at the Old Capitol Grill, located in the building that served as the first capitol of Colorado Territory.  Or how about some buffalo? The Buffalo Rose specializes in this lean meat (that has less calories than chicken) all served up in a transformed historic building with skylights, open plazas and streetside tables.  Or just grab a buffalo or elk sandwich at D'Deli (consistently ranked as the No. 1 sandwich shop on the Front Range) and head to a picnic table along the creek or bring the goods along with you for a tailgate party in the Red Rocks parking lot.
Can't make up your mind what to have?  Then the Tributary Food Hall & Drinkery is the place for your gang, where each can choose from pizza and pastas to tacos and gyros with a full bar.  
And if something more international is your fancy, try the exotic Sherpa House Restaurant & Cultural Center, which serves up Himalayan fare in a house done up to resemble a traditional home in Nepal.  World class Southern Italian is on the menu at the rustic elegant Bella Colibri,  which honors Colorado's strong ties to Italy and founder Dean Valdez's Italian family, who immigrated to Colorado from Calabria, Italy in the early 1900s.  And this would not be a great Colorado town without a great Mexican restaurant, and El Dorado fits the bill with a family-owned eatery that makes wonderful Mexican dishes from scratch.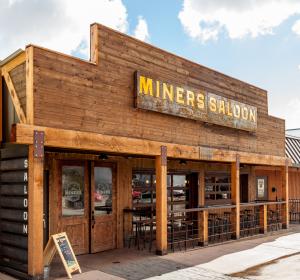 After the concert, you can continue the night at the always eclectic Ace Hi Tavern or check out the Golden Moon Speakeasy, a cool cocktail lounge and distillery tasting room, featuring classic and modern craft cocktails, pre-prohibition style punches and long drinks, all made solely with the spirits produced by Golden Moon Distillery.  The Miner's Saloon has a rustic cozy atmosphere that is reminiscent of Golden's old gold mining days, with 24 beers on tap and also the Brick Room, located directly under Golden's famous welcome arch. 
 For more information on how to "Red Rocks" in Golden, look here.