Golden is Home to Dog Friendly Breweries, Restaurants, Parks, Shops and Trails
You don't have to be a Golden Retriever to feel welcomed in Golden, Colorado.  All dogs will feel at home in this beautiful foothills community, just 12 miles from downtown Denver.  There are more than 100 miles of nearby mountain hiking trails, dog parks, and dog shops, and the historic village has a very dog-friendly policy that allows dogs at outdoor cafes, breweries, restaurant patios, in parks and along the relaxing paved trail that lines Clear Creek through the heart of town. You'll also find that many of the shops, galleries, and boutiques that line Washington Ave. have an array of water bowls and treats out for four-legged friends, many of whom are welcome to accompany you while you shop.
Here are some suggestions for you and your pal to enjoy in Golden.
HIKES: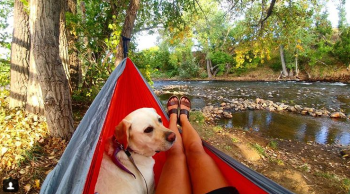 Clear Creek Trail:  All dogs love this paved trail that offers year-round, creek-side walking, with many opportunities for them to get a drink or take a quick dip. The recreational trail stretches from the beginnings of Clear Creek Canyon in the Foothills of the Rocky Mountains, all the way down to the South Platte River in Denver, 19 miles away, offering an often tree-lined path along the banks of the river. A beautiful flat stretch goes right through the heart of historic downtown Golden.  Please remember, dogs must be on a leash at all times on the trail, and please be careful of strong currents along the river if your four-legged friend stops in for a dip. (photo above by @eibeltower101)
Peaks to Plains Trail:   A four mile stretch of this paved trail is now open from the Big Easy Trailhead (12 miles west of Golden on Hwy. 6) heading up the canyon to Tunnel No. 5.  Eventually, the trail will stretch all the way from Idaho Springs to Golden.  Already, an exciting four-mile paved stretch has opened in the canyon from the Big Easy Trailhead to Tunnel No. 5.  There is ample parking at Mayhem Gulch Trailhead, 12 miles west of Golden on Hwy. 6.  Dogs can get a refreshing drink at the many bridges that cross the creek. 
Mathews Winters Trails: There are more than nine miles of trails in this sprawling Jefferson County park located just south of Golden.  The park butts up to Red Rocks Amphitheatre, which also offers a series of connecting trails.  Some shady patches of the trail can be muddy in spots in spring and winter, but because they are open rolling hills with limited trees, the trails are generally dry.  There's a stream at the main trailhead for dogs, but you'll have to bring water for the pups after that.  A particularly beautiful stretch is the 2.8 mile Red Rocks Trail, which climbs up some mild switchbacks, offering spectacular views of towering red rock formations as you approach Red Rocks Amphitheatre.  Another, more strenuous hike is the Dakota Ridge Trail, which climbs up and down along the twisting Dakota Hogback, an unusual geologic formation.  The first dinosaur bones ever discovered were found along this hogback.  The trail leads to Dinosaur Ridge, where you can see 68 million year old dinosaur bones and dinosaur tracks, still visible in the rocks.  There are interpretative displays that tell the history of the area.
BREWERIES: 
All of Golden's craft breweries have outdoor patios welcoming dogs.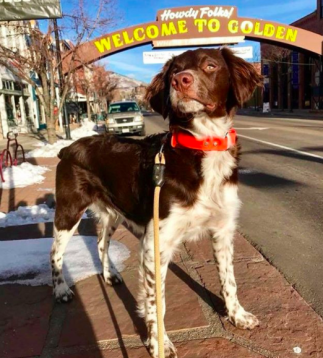 At Golden City Brewery, your dog can snuggle up with you in the brewer's backyard!  This small brewery is located at the brewer's house and the beer garden is literally his backyard.  Barrels & Bottles has a wonderful dog friendly patio out front, where the owners two dogs, Pixie and Oba, frequently hang out. 
There are almost as many dogs as patrons at Mountain Toad Brewery in their big outdoor beer garden with a dirt floor and picnic tables…. and there's always a food truck handy for snacks.  Gluten-free dog owners can gather at Holidaily along with their best pals. The award-winning Cannonball Creek Brewery has a large outdoor dog-friendly patio overlooking Mount Zion, while New Terrain's dog-loving patio has views up spectacular Clear Creek Valley – and its very own trail that leads from the patio up North Table Mountain for a quick dog walk before or after a beer.  Or head down to nearby Tony Grampsas Park, a 2.5 acres off-leash dog park, complete with a stream for them to cool down.
RESTAURANTS: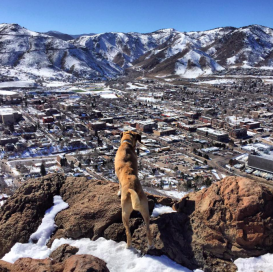 You can dine on a wide variety of cuisines with your pooch in Golden.  Pick up one of the best sandwiches on the Front Range at D'Deli (known for their Colorado Buffalo Ruben or cold elk meat subs) and have a picnic along Clear Creek. 
You and your dog can step back in time and enjoy a table on the patio of Old Capitol Grill & Smokehouse. In the 1860s, this building housed Colorado's first state capitol. Or head to the Trailhead Taphouse & Kitchen for a Colorado Cajun vibe and homemade gumbo, jambalaya, and po'boys…and of course, a place on the patio for your pal.
The Sherpa House has an amazing tiered, tree-shaded outdoor patio with views of South Table Mountain and a splashing fountain, where you can munch on yak stew and authentic dishes from Nepal while your pooch naps in the shade.
Halu Sushi has some dog-friendly outdoor tables, while Anthony's Pizza has a large outdoor patio.
HOTELS:
Several of Golden's hotels are pet-friendly. Furry friends are welcome for an extra fee at the Table Mountain Inn, The Golden Hotel and Origin Hotel Red Rocks. Each hotel offers special pet perks and can serve as a great home base for you and your best pal to explore Golden.
TOYS AND SNACKS:
Your dog will love the Green Paw and Spaw in downtown Golden, and so will you.  It's the best place in town for toys, treats, perhaps a new collar, or even a little post-hike grooming. 
For more info on Golden, follow @VisitGoldenCO on Facebook, Instagram, Twitter and sign up for our quarterly email newsletter here.