To most people living in the United States, Wednesday is "hump" day – the middle of the week with only two more days to go until a fun or relaxing weekend.
But for those of us in Metro Denver? Why wait? Golden is only 20-30 minutes away from most anywhere in Metro Denver, and you can have all your favorite weekend mountain experiences and still be home early to get ready for work on Thursday.

Here are five reasons to break the weekly routine and visit Golden on a weeknight: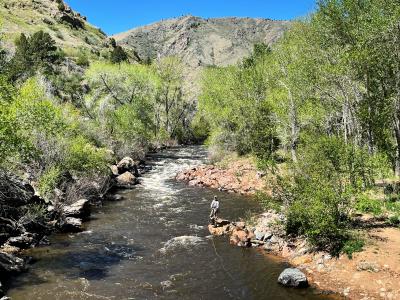 1. A RIVER FLOWS THROUGH IT. Clear Creek flows right through the center of downtown Golden, and is lined with bike and hiking trails that follow the river up into the sheer cliffs of gorgeous Clear Creek Canyon. Why wait until the weekend to hear the pleasant sound of a mountain stream and smell the fresh mountain air? There are 140 free parking spots on the creek along Hwy. 6 just west of Golden, and it's an easy stroll up into the canyon, and then down into the historic town where there are lights, shops, beer gardens, restaurants and live music - on a Wednesday!

2. IT'S COOLER IN GOLDEN. Yes, of course, downtown Golden is cool – but it's literally cooler than most places in Metro Denver. Because it's in the shadow of the foothills, the sun sets earlier here, meaning you experience the Colorado magic twilight hour long before everyone else out on the hot plains of Metro Denver. Golden also sits at a higher altitude – so if you've had a long, hot day at the office or even working at home, cool off the evening in Golden.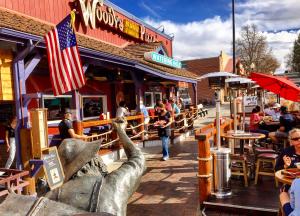 3. YOU ALMOST HAVE TO EAT OUTDOORS. Yes, of course, you can dine inside in Golden – if you insist. But everyone else is going to grab an outdoor table, a rooftop spot, or a seat where you can hear the river or view the sunset. Pick up food to go and dine along Clear Creek at dozens of picnic spots. Because Golden is surrounded by mountains (the volcanic buttes of North and South Table Mountains to the east, the foothills of Lookout Mountain and Mount Zion to the west) you will almost always have a mountain view. But don't forget to bring a sweater! Golden is Denver's closest mountain town, and when the sun goes down, you'll be glad to have an extra layer. Something no one is going to say out on the plains.

4. BURN OFF THE CALORIES, BEFORE OR AFTER YOU EAT. After a full day working online looking at a screen, you deserve a break! But is ordering food in really enough? It's Wednesday! Break out of the box, drive 20-30 minutes and you're in the mountains! There are hiking trails up all the peaks you can see from Golden! Lookout Mountain, Mount Zion, Mount Galbraith, North Table Mountain, South Table Mountain…all have trails up them. And they are so close to home! Hike a peak, see the sunset, and then order whatever you want – guilt free – before heading home.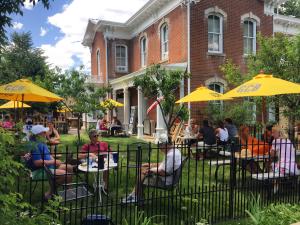 5. THIS IS WHY YOU MOVED TO COLORADO. Wherever you came from, east or west, you never had the opportunity to easily visit a place like Golden on a Wednesday night. Or a Tuesday, or Thursday, or even a Monday. You can always go to the gym…or jog around a local park… or visit a neighborhood restaurant. All great things. But now you live in Colorado! On just a regular, ordinary weekday night you can do something amazing. Take off a few minutes early, come to Golden and watch the sunset. Listen to the creek. Hear the wind blow through pine trees. Visit a beer garden (there are eight of them – all dog friendly with food trucks and sometimes live music). Relax and enjoy being a Coloradan. Whatever is on the screen back home – you can do that later! Golden on a Wednesday evening is why you live in Colorado!