The Perfect Complement to a Morning Workout at Red Rocks is Taking on Calories Along Clear Creek in Golden.
The ten annual "Yoga on the Rocks" experiences at Red Rocks Amphitheatre from June through August have become legendary,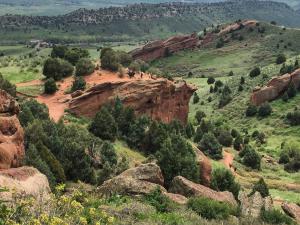 each one offering thousands of people a shared, exhilarating workout at the most awe-inspiring venue in the world.  Even more intimate than a concert here, people bring just their bodies, their minds and a yoga mat.  But they leave with something they will never forget.
And they also leave hungry! 
No one does morning yoga after eating a big brunch.  But after yoga?  Bring on brunch!  And where better than just a few minutes away in the lovely little creekside town at the base of the mountains, Golden, Colorado.
Golden lies in the same picturesque rock fault that created Red Rocks, and this pretty little historic town offers two dozen tasty choices for morning calories – and informal Golden could care less how you are dressed or where you have been.
Want to enjoy views of Clear Creek while you eat? The Bridgewater Grill has a huge patio overlooking Clear Creek, or dip into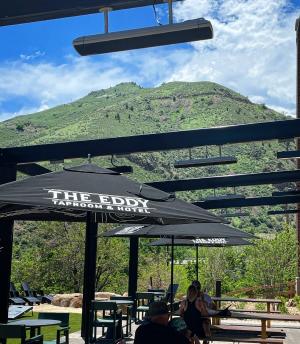 some Cajun with shrimp and grits or an oyster "Poor Boy" at creek-side Sassafras American Eatery.   The Golden Mill is the town's "outdoor backyard" with two levels of dining and drinking with views of Clear Creek and the mountains offering sushi, BBQ, tacos and ice cream along with a "pour wall," where you pour your own craft beer and wine.   Need to burn some more calories before eating?  Walk up the gorgeous creek-side path to the new Eddy Tap Room and Hotel, where you can dine on their delicious American fare or grab delicious BBQ and milkshakes from Truck Eddy, parked out front. 
Other spots to consider: Woody's Wood-fired Pizza is a local legend with one of the best Western views and most delicious pies in Colorado and a perfect informal choice.  Like burgers better?  Then Bob's Atomic Burgers is the place to fill up with the ultimate hamburger topped with grilled onions, mushrooms, fried egg, blue cheese, guacamole and green chili.   
Looking for a post-workout smoothie or a delicious charcuterie board? Launch is just up the road from the Amphitheater and has a great patio. 
If everyone is craving something different, then the Tributary Food Hall & Drinkery is the place for your gang, where each can choose from pizza and pastas, tacos and gyros, meat and cheese, or Kona bowls with a full bar.  
The Table Mountain Grill & Cantina celebrates all the flavors of the Southwest with a flower-decked outdoor patio, while down the block you can dig into BBQ and Old West history at the Old Capitol Grill, located in the building that served as Colorado's first state capitol building or at the Buffalo Rose, in a transformed historic building with skylights, open plazas and streetside tables, often with live music on the patio.  
If you're feeling really informal, just grab a sub at D'Deli (consistently ranked as the No. 1 sandwich shop on the Front Range) and head to a picnic table along the creek.  Golden would not be a great Colorado town without a great Mexican restaurant, and El Dorado fits the bill with a family-owned eatery that makes wonderful Mexican dishes from scratch.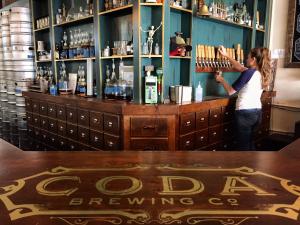 And if you want to build up your post-workout calorie intake in liquid form, just remember that Golden is the biggest little beer town in the world, brewing more beer than any other place on the planet.  Most of that is due to Coors Brewery, but Golden is also filled with ten craft breweries and two distilleries, most of which have rotating food trucks. Try Coda Brewing, just down the hill from Red Rocks on the south side of Golden. Or downtown, check out Mountain Toad, Golden City Brewery or Barrels and Bottles, which has a dozen craft beers and a dozen excellent wines on tap.  Or check out the always eclectic Ace Hi Tavern or the Golden +49 Cidery & Pub, which offers house-crafted beverages paired with food created from a scratch-themed kitchen.   Across the street, the Trailhead Taphouse & Grill has Cajun-inspired food, sandwiches and salads, while up the block you can continue your yoga experience at the marvelous lunch buffet of the Sherpa House, featuring foods and drink from Nepal and India.  
No matter where you dine in Golden, you'll be looking at the same sky and 70-million-year-old rock formations as at Red Rocks – a perfect end to an unforgettable morning at Yoga on the Rocks.