Summer is a perfect time for an afternoon drive. You can beat the heat by setting out on a driving adventure. Load up on snacks, blast your favorite tunes and check out all the cool things in the nearby mountains. Here are four short, scenic drives near Golden, Colorado that make for a perfect afternoon escape. 
The Lariat Loop Trail
In the 1920s, long before I-70 was ever dreamed of, Denver created their Mountain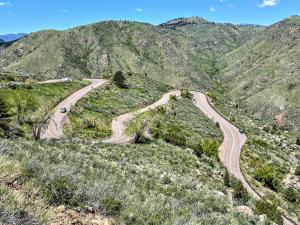 Park system, a series of two dozen parks including Red Rocks Amphitheatre, Buffalo Bill's Grave, and the buffalo herd overlook, all to preserve some of the great beauty spots of the Front Range. The parks were then connected by a circular road that was named, The Lariat Loop Trail. In the early days of motorcars, the Lariat Loop was one of the most popular attractions in the West. And it still can be. The 40-mile loop still exists, combining several now smaller roads into a Colorado Scenic & Historic Byway. The place to begin is in downtown Golden where you can pick up a to-go coffee or picnic and then take the twisting and curving drive up Lookout Mountain. The road gains 1,300 feet in just 4.3 miles, with enough drop-offs and viewpoints to thrill any visitor.
It climaxes at the 7,379-foot summit of Lookout Mountain with spectacular sweeping views in every direction. There is free parking at Buffalo Bill's Grave & Museum, which is worth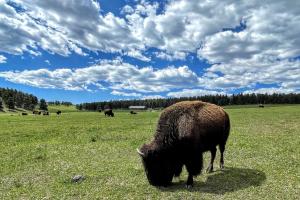 a visit to learn about the Old West's most famous scout and showman. Call ahead to see if the Museum is open. The road continues a few miles to Genesee Mountain Park and the buffalo overlook, where it's possible to see Denver's herd of 40 buffalo with a snowcapped mountain panorama in the background. You can park here and walk along a new paved trail to get an up-close look at this herd of bison. From here, you are also near the Sleeper House – the flying saucer-shaped house that was featured in Woody Allen's movie, "Sleeper." The house is privately owned, but visible from the Lariat Loop Trail. For more than 40 other attractions on the Lariat Loop, go to:  www.lariatloop.org
The Old West and Red Rocks Loop  
From anywhere in Denver, take I-70 west to Colorado Hwy. 58, Exit 265. This is the Golden Freeway that will take you through a scenic backdoor of Clear Creek Valley, right between the North and South Table Mountains. You can exit at McIntyre and follow signs to drive by the Colorado Railroad Museum to get a taste of old steam locomotives and railroading in the West. From the museum, follow West 44th Ave., which will take you past the impressively large Coors Brewery complex (the largest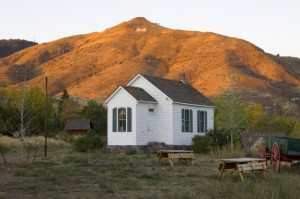 single site brewery in the world) and into downtown Golden, where you turn left on Washington Ave. and find easy parking to look at this historic downtown, the first capital of the Colorado Territory. Walk along Clear Creek on the paved trail on the north side of the creek and you can visit Golden History Park, a historic farmstead and school house from the 1860s. There are many attractions, shops, outdoor cafes and beer gardens in the pretty and walkable downtown. Leave Golden on Hwy. 6 for a few miles and turn right on Hwy. 40, which winds over the Dakota Hogback to Dinosaur Ridge. Here, you can make another stop to view actual dinosaur bones from 70 million years ago, still embedded in rock. It's a short drive from Dinosaur Ridge to Red Rocks Amphitheatre. If the park is open, you can follow signs and drive to the uppermost parking lot, where you will be on top of the stage with views of the two 400-foot high red sandstone monuments that make this a famous outdoor amphitheater. Most days, you can see downtown Denver, 12 miles away, and the white tent roof of Denver International Airport, almost 40 miles in the distance.  There are several trails that wind around the rocks leading from the Trading Post. From Red Rocks, you can either return to I-70 the way you came or continue south to Hwy. 285 which also heads back to Denver.
Hwy. 93 and The Back Road to Boulder  
The most interesting way to drive Boulder from Denver is to head west to Golden, then go north on Hwy. 93. This is one of the last undeveloped stretches of road along the Front Range for two good reasons. Large parts of it have been preserved as open space by Boulder and now offer ranch lands, canal walks and pretty grass fields with the Flatirons as a backdrop. The east side of the road was preserved because it was Rocky Flats, a high security area where the triggers for nuclear bombs were once made. All 70,000 atomic bombs made by the U.S. have parts that were made at Rocky Flats. The bombs are long gone, and Rocky Flats is being restored and brought back as a wildlife refuge. Trails, biking and horseback riding will soon be open in the area.  
In addition to the scenic drive, two attractions along Hwy. 93 are well worth a stop. Eldorado Canyon State Park is one of the world's top rock climbing attractions. The sheer 500-foot high cliffs here are dotted with climbers, seeming to defy gravity. If you're not a rock climber, you'll still love the views, the scenic river flowing through the center of the canyon, and a wonderful one-mile trail that is an old abandoned railroad cut, every inch of it offering incredible scenery into the canyon.
In South Boulder is the National Center for Atmospheric Research (NCAR). The buildings were designed by I.M. Pei, who also designed the pyramid at the Louvre in Paris. NCAR is considered one of his masterpieces and was also used in the Woody Allen movie, "Sleeper." There's also an outdoor half-mile Weather Trail that explains some of the unique aspects of weather in Colorado. From here, you can backtrack down scenic Hwy. 93 to Golden, for a quick stop in one of the town's restaurants or breweries.
You'll also want to look for the colorful dinosaur art installations just outside of Golden. Spot the colorful Triceratops sculptures, located off Hwy 93, near 56th Ave.
Clear Creek Canyon to Central City and the "Oh My God Road"
After a delicious brunch in one of Golden's many outdoor cafes, head up Hwy. 6  through Clear Creek Canyon. This is one of the narrowest, steepest and most dramatic canyons in Colorado, and is internationally known as a rock climbing area. Depending on restrictions, you might see rafters, kayakers, fishermen, and even gold-panners along the way. Stop at Mayhem Gulch Trailhead, 12 miles west of Golden, and hike for a bit on the new Peaks to Plains Trail. One day, this trail will stretch from Idaho Springs all the way to Golden. Currently, there are four miles of creek side paved trails.  
At the junction with Hwy. 119, turn right to Black Hawk, the largest gambling center in Colorado with 10,000 slot machines, poker, Black Jack and roulette in nearly two dozen casinos. From Black Hawk, turn left and climb one mile to the historic mining town of Central City. Once called the "richest spot on earth," Central City in the 1870s had a population of 30,000 and was the largest gold rush boom town in Colorado. On the hills and dirt roads above town, you'll find historic graveyards, old mines and ghost towns, while the town itself is a treasure-trove of beautiful brick and stone Victorian buildings.  
Southwest of the town, look for signs for the Virginia Canyon Road, known to locals as the "Oh My God Road." Legend has it that it got its name because stage coach passengers would look out the window at the sheer drop offs and moan, "Oh My God!" You might too, as you twist and turn on a narrow dirt road with no guardrails and steep cliffs. There are beautiful views of Mount Evans along the way, but key your eyes on the road, go slow, pause on narrow turns, and follow signs for Idaho Springs, another old gold mining town worth a stop. From here, you can take I-70 east for a few miles until the exit for Hwy. 6 and a return to Golden through scenic Clear Creek Canyon, viewing the dramatic rock formations from a different direction.
Scenic drives can feel carefree and fun! Load up your car with friends and family and set out to enjoy an adventurous afternoon together. Head to www.VisitGolden.com for more information on all the fun things to do in Golden!