July 29 - July 31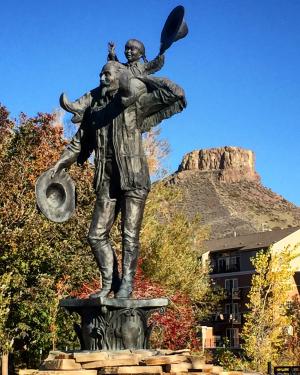 Buffalo Bill Days, Golden's annual salute to William F. Cody, who is buried atop Lookout Mountain, features a western weekend filled with the "Best of the West" parade, muttin' bustin', firefighters' pancake breakfast, car show, arts and crafts, live music, kids' games and more. The original event dates back to the 1940's as a trail ride up to Buffalo Bill's gravesite. This celebration has grown over the years and evolved into a beloved community experience for the whole family. 
The weekend kicks off Friday, July 29 with the arts and crafts festival, children's activities and musical entertainment. Plan to park in the free Clear Creek Parking lot at 304 10th Street, in any of the downtown garages or surface lots, or using the on-street parking, following all relevant signs. You can find more information about parking on our parking page. 
Other "must-see" events: 
Saturday, July 30th 
Pancake Breakfast at the Golden Fire Dept. - 6 - 10 a.m.
Best of the West Parade along Washington Avenue- 10 – 11:30 a.m. 
Buffalo Bill Days festivities and live music in Parfet Park - 10 a.m. – 10 p.m.
On Saturday morning, the entire neighborhood west of Washington Avenue will be blocked off for Buffalo Bill Days Parade staging. This means that a smaller version of the Golden Farmer's Market will take place at Golden High School on this date. Washington Avenue will be closed after 9 AM, so we advise for any visitors to come into the City of Golden from the South and East directions.
We encourage visitors to use the Clear Creek Parking Lot at 304 10th Street, and any of the downtown or surface lots, which can be found here: https://www.cityofgolden.net/live/parking/visitor-parking/.
After the parade concludes at 1 PM, typical paid street parking will open back up in the neighborhood west of Washington Avenue near City Hall and the Library.
Sunday, July 31st 
Car Show at the American Legion Post 21 - 10 a.m. – 3 p.m. 
Muttin' Bustin' in Lions Field - 11 a.m. – 12:30 p.m.
Buffalo Bill Days festivities and live music in Parfet Park - 10 a.m. – 5 p.m.
There are some smaller lots and street parking around the lot where the car show will take place. The Buffalo Bill Days festival will also be taking place in the park throughout this day.
Please plan to use downtown garages, surface lots, and paid street parking on Sunday and follow all relevant signs. You can find more information here: https://www.cityofgolden.net/live/parking/visitor-parking/.  
Overflow Parking
The City of Golden has partnered with Colorado School of Mines to make more parking available during Buffalo Bill Days weekend, Friday through Sunday. If you're looking for more space to park, you can use CSM's "North K" Lot, located between Stermole Soccer Stadium and Clear Creek, and accessed via 11th St. Since Washington Ave. will be closed, there will be signs directing you to the lot from 19th and Illinois to the south.
Finally, the Golden Community Center (GCC) will be closed on Saturday, so visitors who are not using the GCC may use the GCC lot for additional overflow parking on Saturday only.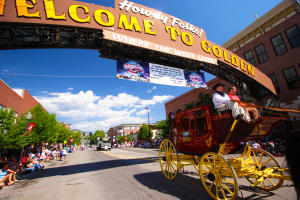 If you enjoy Buffalo Bill Days, be sure to visit the Buffalo Bill Museum & Grave. Located on top of Lookout Mountain, just a short walk from his gravesite, the museum has many of his costumes, guns, hats and posters from the show, as well other artifacts from the many people who appeared in his shows, including his close friend, gunfighter Wild Bill Hickock, and Chief Sitting Bull, who wiped out Custer at the Little Big Horn. Kids (and adults) can try on Western outfits for Facebook photos, and the view from the museum is perhaps the best in all of Denver, taking in both mountains and the Great Plains. 
For more information and a full event schedule, visit goldenbuffalobilldays.com.