Steam trains, dinosaurs, candy shops and cowboys, there's nothing like a trip to Golden for family fun. Kids can walk along Clear Creek and meet the ducks or stop by the Golden History Park and feed some chickens. Thomas the Tank Engine and the Polar Express are regular visitors to the Colorado Railroad Museum, or visit at other times for model trains and a ride on a "Galloping Goose." Golden's historic downtown is filled with shops serving ice cream, donuts, cupcakes and candy, or count the curves (Hint: there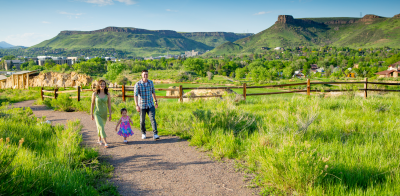 are 56) as you drive up the exciting Lariat Loop Trail to the very top of Lookout Mountain.  Throughout the year, Golden has family friendly parades, festivals, family movie nights and art shows.  
Golden is the type of town where parents and grandparents don't just sit on a bench and watch their kids play. It's filled with immersive activities the entire family can enjoy together.  Here are  some ideas:
TAKE A HIKE OR RIDE A BIKE!  The Lookout Mountain Preserve and Nature Center has interactive exhibits about the deer, elk, racoons and even mountain lions and bears that live in Golden, as well as scenic nature trails. There are hiking trails up all five mountains that circle around Golden, or hike or bike ride for miles up into beautiful Clear Creek Canyon, crossing back and forth over the pretty river on bridges, including a fun suspension bridge.  
HANG OUT WITH BUFFALO BILL!  The famous scout and showman is buried on top of Lookout Mountain with panoramic views of Denver and snowcapped peaks. At The Buffalo Bill Museum & Grave, kids can dress up like cowboys and cowgirls and learn about the Old West. Don't forget to stop in the massive gift shop.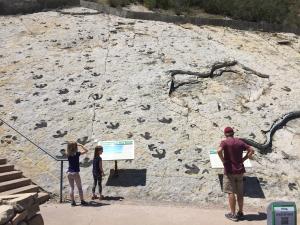 SEARCH FOR DINOSAUR BONES!  The first dinosaur bones were discovered near Golden at Dinosaur Ridge. Today, you can hike or take a bus tour looking for hundreds of real dinosaur tracks along the way.  The Triceratops Trail shows you where the first T-Rex bones were found, or visit the free Mines Museum of Earth Science, where you can learn about the geology that makes Golden special, enter a uranium mine and even see pieces of rock from the moon!
PLAY WITH TRAINS!  The Colorado Railroad Museum has huge indoor and outdoor model railroads where the realistic toy engines sound just like the real thing. There are dozens of genuine cars, locomotives and cabooses on 15 acres ready to be explored. Climb into the cab of a steam locomotive and ring the bell! There are steam-ups, special events and train rides on a crazy contraption called a "Galloping Goose."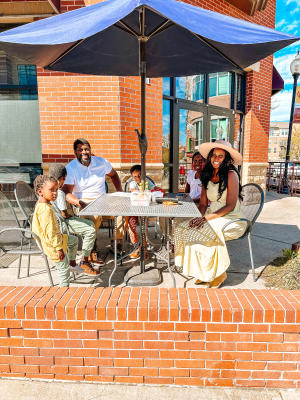 VISIT A FARM!  The Golden History Park has a full historic creekside farm with a working blacksmith shop, barn, farmhouse and schoolhouse.  Bring some quarters and feed the chickens!
HAVE A SNACK OR LUNCH AT AN OUTDOOR CAFÉ!  With 300 sunny days a year, people in Golden live outdoors and there are more than two dozen restaurants with outdoor seating, many with mountain and creekside views. Or pick up a meal to go and have a picnic lunch at one of the picnic tables along Clear Creek. Leave room because downtown Golden has specialty shops selling ice cream, yogurt, cookies, cupcakes, candy and pastries! 
For more ideas on family fun, check out Top Things to Do with Kids in Golden!
Photo credit (Right): @blackadventuremom