Gateway Segment to Clear Creek Canyon Park Adds 1.75 Miles of New Trail, 170 New Parking Spaces and the Restoration of an Historic Wood Flume
The Gateway Segment of Clear Creek Canyon Park, the much anticipated 1.75 miles of new paved biking and hiking trail along Clear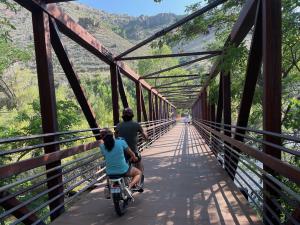 Creek in Golden, Colo. opened this week.  Visitors will now be able to walk, run and bike this spectacular new trail, which clings to rock cliffs as it travels up into scenic Clear Creek Canyon. In addition to adding nearly two miles of trail, the project includes three new bridge crossings over Clear Creek (including an exciting pedestrian only suspension bridge), the restoration of a half mile of the historic Welch Ditch wooden flume, two new trailheads with parking for 177 cars, two new public restrooms, a new lookout/observation point and the widening of Hwy. US 6 to include turn lanes to access parking areas.
"Clear Creek flows through the center of historic downtown Golden and has always been the focal point of the town, but now we can offer a total of more than 5 miles of roundtrip, car-free, paved hiking and biking trail along the creek up into a gorgeous canyon," said Rick Muriby of Visit Golden.  "The new trail is just an easy stroll from Golden's many outdoor cafes, beer gardens, restaurants, food halls, one-of-a-kind shops, live music venues and museums."
The new trail is an important addition to the Peaks to Plains Trail, a legacy project that will one day be a 65-mile paved trail along Clear Creek running from the junction with the South Platte Trail in Denver all the way to the headwaters of the creek at Eisenhower Tunnel. Eventually, the trail will gain 5,600 feet in elevation, connecting four counties and seven cities. The trail already runs from Denver to Golden and will now extend from the plains up into Clear Creek Canyon.  An additional section of 4 miles of paved trail in Clear Creek Canyon opened in 2016-17, 11 miles west of Golden on Hwy. 6.
NEW GATEWAY TRAIL IS THIRD NEW ADDITION NEAR GOLDEN'S CLEAR CREEK IN 2021
The new trail addition and 170-space parking area is the third big project along Clear Creek in Golden to open in recent months. In April 2021, the Golden Mill opened on the banks of the creek. The multi-level food hall offers four dining options ranging from sushi to BBQ, ice cream to international chicken with indoor and outdoor tables, live music, and stunning views of the creek and North and South Table Mountains. In July 2021, the Eddy Taproom & Hotel opened a stone's throw from Clear Creek with 49 hotel rooms, a restaurant, and an outdoor beer garden overlooking the creek.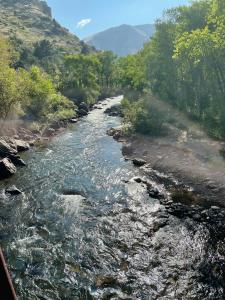 Gateway Trail Project Facts
The new trail will start at the pedestrian Grant-Terry Bridge and follow the creek 1.75 miles into Clear Creek Canyon up to Tunnel 1.  Here, the first pedestrian suspension bridge in Jefferson County will connect to the Clear Creek Trail and offer an additional half mile hiking only trail along a rock cliff following the restored historic Welch Ditch wooden flume.
Some facts about the new trail include:
This segment of the Peaks to Plains Trail includes approximately 22,140 square feet of sidewalk and 47,520 feet (9 miles) of cable on the pedestrian railing. 
The amount of dirt transported to and from the project site could fill 15 Olympic-sized swimming pools. 
5,280 feet of railing was installed in the Gateway Segment, a true mile-high project. 
1,495 linear feet of Type 9 Concrete Barrier was built for this project to create a safety buffer between HWY 6 and visitors on the trail.
This is more than the height of the Empire State building. 
The Tough Cuss Bridge weighs a total of 85,950 pounds. It was transported in three segments and required closing the highway for 12 hours to install. 
128,000 permeable pavers were installed for the Gateway Trailhead parking lot, creating a permeable surface that allows storm water to seep into the ground. 
Many of the walls on this project were constructed with Redi-Rock Blocks which are a lot like gigantic Legos. In total the project used about 5,254 of these blocks.