The perfect day is closer than you think! Golden offers all kinds of summer festivals, events and fun. Be sure to check out the full list of events below to plan your perfect day in Golden.
Golden Super Cruise, first Saturday of the month, May – October.  From 5 – 8:30 p.m., and starting on South Golden Road, the Golden Super Cruise is a longstanding tradition of fabulous cars and good old fashioned cruising fun. 
Dinosaur Express Train, May 28. Railroad tracks meet dinosaur tracks in this day of exciting dinosaur-themed family fun at the Colorado Railroad Museum. Featuring coal fired steam locomotive rides as well as dinosaur-themed activities, the Dinosaur Express Train brings together two childhood favorites in a day-long celebration.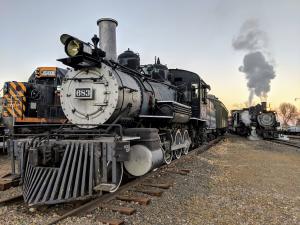 Colorado Railroad Museum Summer Train Rides, Thursdays – Sundays, late May – mid-August, 2022. On Thursdays, Fridays, Saturdays and Sundays, hop onboard for train rides at the Colorado Railroad Museum. Featuring open-air coaches pulled by a vintage diesel locomotive or steam locomotive, summer train rides are a thrill for all and a small fee in addition admission. 
Samsara: The Artwork of Brooke Shaden, May – August 7, 2022. This exhibit at Foothills Art Center is a photographic celebration of the cycle of life and death examining how various cultures honor their dead and process grief.
Golden Bike Cruise, on the last Tuesday of the month - May through September, 2022. This is a family-friendly event featuring pedal bikes, beers and bands. There's also a fun costume theme each month. Upcoming themes include: June 28 - Red, White & Blue + Mustaches, July 26 - Christmas in July, August 30 - Minions, September 27 - Zombies!
Golden Farmer's Market , Saturdays, June 4 – October 8. Featuring farm-fresh produce, gourmet cuisine, refreshing beverages and local vendors and entertainment, the Golden Farmer's Market is  held in the Golden Public Library's West Parking Lot, 10th & Illinois.
Homestead Open House, taking place on the second Saturday of June, July and August from 10 a.m.- 2 p.m. This free event is held outdoors at the Golden History Park and will offer hands-on opportunities to see a blacksmith in action, authentic wood stove cooking, and many other activities. 
Ride the Rockies, Final Day, Breckenridge to Golden, June 17. Ride The Rockies is one of the longest running bicycle tours in the country. The 36th annual Ride the Rockies, which runs June 11-17, starts at Copper Mountain and ends along Colorado's Front Range in Golden.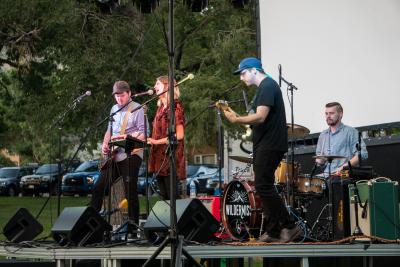 Monthly Movies & Music in the Park, one Friday/month, July 15, August 12 and Sept. 9, Free music and a family-friendly movie are shown one Friday night each month (July-Sept.) in Parfet Park. Bands begin performing at 7 p.m. and the featured movie of the night begins at dusk, around 8:30 p.m. The movies are shown on a giant inflatable screen under the stars.
ARTSWEEK GOLDEN FESTIVAL, July 9-10. Kick off a week-long celebration of the arts in Golden at this two-day juried arts festival that features top quality artwork in a friendly, relaxed setting in Golden. There will be a week's worth of art activities in Golden orchestrated by Foothills Art Center in partnership with Golden arts-oriented organizations.  
The Jeananne Wright Collection: Sew Many Pieces - 3,000 and Counting, July 18 - October 15, 2022. This exhibit at the Rocky Mountain Quilt Museum (RMQM) Main Gallery displays incredible quilts with 3,000+ pieces shown from the personal collection of Jeananne Wright and selected quilts from the RMQM collection.
The Valerie C. White Solo Exhibit: Roots, Refuge, and Nature - Forging Relationships with My Environment, July 18 - October 15, 2022. This exhibit at the Rocky Mountain Quilt Museum shows off the work of Valerie C. White who lives in Denver and has been creating mixed media art quilts for more than two decades. Her work can be found in numerous publications and private collections internationally. Learn more.
Buffalo Bill Days, July 23 - 31. Thousands of people fill the streets of Golden for Buffalo Bill Days. Catch Cody's Wild West, the popular parade, mutton busting, live music, a classic car show, a golf tournament, food and merchandise vendors and, of course, Buffalo Bill and Annie Oakley!   
Mosaics 2022 – As Seen Through New Eyes, July 30 - October 2, 2022. This exhibit at Foothills Art Center is set to push the boundaries of the medium; a national showcase of contemporary mosaic artwork organized by Colorado Mosaic Artists.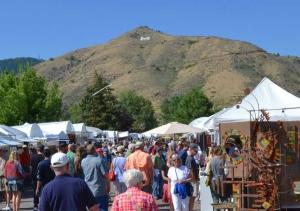 The Golden Fine Arts Festival, August 20& 21. A Golden icon for three decades, Golden Fine Arts Festival is a prestigious juried art show located in the heart of historic downtown Golden. The premier event draws over 35,000 visitors over two days to enjoy art, live entertainment, beer and wine gardens, food vendors, and children's activities. The event is limited to 100 artist booth spaces.  Artists are selected through a competitive jury and traditionally, over half of participating artists travel to Golden from outside of Colorado.   
Golden's Sidewalk Sale, September TBD. Golden is home to a variety of mostly locally owned shops and galleries. Merchants will set out deep discounts all throughout Golden, from local fashions to great deals on outdoor gear. Bargain hunters get ready to "strike gold" with the deals in Golden! 
Day Out With Thomas at the Colorado Railroad Museum, Sept. 10, 11, 17, 18, 24, 25. Hop on board an interactive train ride with a life-sized Thomas the Tank Engine and enjoy access to hands-free activities including live entertainment, scavenger hunt, hay bale maze, stage shows, sing-a-longs and much more! It's full steam ahead to an unforgettable day with a host of train-related activities, including a special appearance from Sir Topham Hatt, the Railway Controller from The Island of Sodor. Capacity is limited and advanced tickets are required. Tickets for the Day Out With Thomas™ event are offered online thru www.DayOutWithThomas.com or by calling TicketWeb toll-free at 866-468-7630. 
Autumn Fest at the Golden History Museum, October 2. Autumn Fest is a free celebration of Golden featuring hands-on activities for the whole family, including crafts, big trucks, and even farm animals. Join us to welcome the fall season at Golden History Museum (923 10th St.). Activities include chalk art, hourly puppet shows (plus hands-on stations to make your own show), 4-H petting zoo, craft stations, BIG TRUCKS (Streets, Fire, and Police Departments), costumed Civil War interpretation, karate demonstration, Westernaires pony rides.