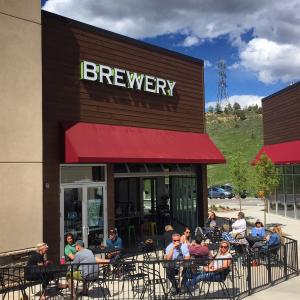 Two things Golden takes seriously? It's hiking trails and happy hours! After all, the city is renowned for both its ales and trails and combining the two makes for a delightful duo. 
For hiking, the hard part is deciding where to go! There are plenty of options no matter what your level of fitness. And Golden hiking trails can be enjoyed year-round if you bring trax or microspikes for any icy or snowy spots. 
After you enjoy the mountain views and air, head to a Golden beer garden or sunny patio. Toast to your outdoor adventure and soak in that post-hike feeling of accomplishment while enjoying Golden's vibrant scene. 
Hikes to Consider:
Golden Gate Canyon State Park.  Just a few minutes drive from town, Golden Gate Canyon offers acres and acres of evergreen forests and a huge network of trails with excellent signage and maps. Don't miss Panorama Point, which has one of the most awe-inspiring views of the Front Range.
Windy Saddle to Buffalo Bill's Grave.  Halfway up the Lariat Loop Trail to the summit of Lookout Mountain, there's a wonderful trailhead at Windy Saddle with a switchbacking trail that climbs through forests to the summit of the mountain.  Here you can visit the Jefferson County Nature Center with exhibits on the elk, bear, and mountain lions who live in this forest, or push on to Buffalo Bill's grave with its outstanding museum on the famous scout and showman.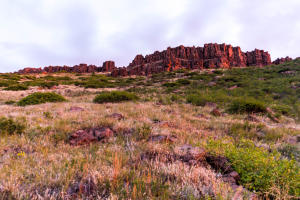 North Table Mountain. One of the chief landmarks of Golden is this broad, flat-topped mesa that rises hundreds of feet above the valley and is ringed by cliffs with a half dozen hiking and biking trails crisscrossing the area.  The classic hike or bike trip is a moderate 5.9 mile loop trail that will take you around -- and over -- the mesa top, with 360 degree views of Golden, Denver and the Front Range.  A parking area on Colorado Hwy. 93 just north of town has maps; trails head off clockwise or counterclockwise around the mountain.  It's a mixed-use trail with some steep climbs and single-track sections for bikers.  Once on top, look for herds of deer and consider heading to Lichen Peak, which is the highest spot on North Table Mountain.
Clear Creek Trail.  Everyone's favorite all weather, year-round trail follows Clear Creek from the center of historic downtown Golden up into the foothills.  You'll pass the Golden History Park, as well as the Golden History Museum and Golden Library. There are lots of sculptures and even a slide the kids can swoosh down. There are benches and big rocks where you can stop to watch the fly fishermen and kayakers enjoying the creek.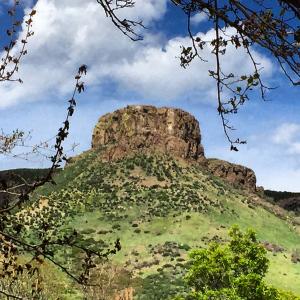 South Table Mountain.  This short, steep hike pays off big dividends since it has the best view into downtown Golden far below.  The volcanic butte is where the first T-rex skeleton was discovered, and is the famous western landmark on the old Coors logo (Coors Brewery is located at its base).  The view from the top looks south along the Foothills and you can see everything from Pikes Peak in the south to Longs Peak far to the north.
Visit our breweries page to plan your post-hike happy hour!