There's nothing quite like a ski vacation in Colorado.  The only challenge can be getting from Denver International Airport to the slopes and back.  Traveling on I-70 to the ski areas requires gaining almost 6,000 feet in elevation, driving through Eisenhower Tunnel (the highest automobile tunnel in the world) and gambling on weather and traffic delays on this often crowded highway.  This can lead to a high stress day after a long flight arriving or with an early flight home.
A simple solution?  Begin or end your trip in Golden, Colorado.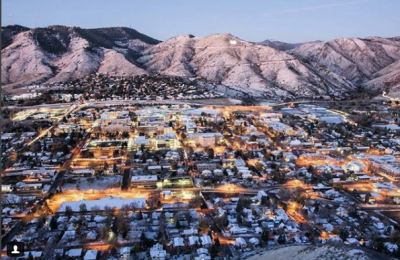 Located conveniently near I-70, Golden is where the mountains meet the plains.  This historic town has the same feeling as a mountain village but is roughly the same elevation as Denver, giving it a much milder year-round climate.
An overnight stay in Golden at the front end of a ski vacation means you can get a fresh start in the morning, beat traffic and can be at the slopes in a little over an hour.  At the end of the trip, you can have a delightful night in Golden with no stress to catch your flight home the next day at nearby Denver International.
Golden is close to Loveland, Eldora, Keystone, Arapahoe Basin, Breckenridge, Copper Mountain, Vail, Beaver Creek and Winter Park, and offers all the charm of a Rocky Mountain town.
Here's what to do in Golden during a ski getaway vacation:
Acclimate to the altitude. Before you schuss down those towering peaks, you may want to enjoy a stay at only 5,675 feet. Drink plenty of water, walk the charming town of Golden, and enjoy a relaxing night at one of the town's hotels.  From wonderful bed & breakfasts like the Dove Inn to downtown hotels like the Southwestern adobe Table Mountain Inn and the creekside Golden Hotel to convenient hotels near I-70 such as the Origin Hotel, Red Rocks, the official hotel of Red Rocks Amphitheatre, and the newest hotel The Eddy, Golden offers a wide variety of accommodations.
Dine out.  Historic Golden is experiencing a restaurant boom. Be sure to check out: the Buffalo Rose with a sprawling bar, concert hall and restaurant; Morris & Mae Food Hall with six food stations including a Mac n Cheese Cafe and Gold Mine Sweets and Espresso;  and Bella Colibri with rustic elegance and five star Italian cuisine.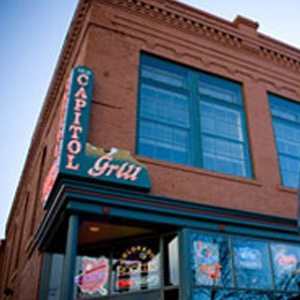 Among Golden's restaurants, you can find everything from farm-to-table fare at Abejas to amazingly popular pizza at Woody's.  Dine at an authentic farmhouse from Nepal at The Sherpa House, in an Arabian Nights dream at the Ali Baba Grill; or in the first capitol building of the Colorado Territory at the Old Capitol Grill & Smokehouse.
Have a beer.  Golden is the biggest little brew town in the world, producing more beer than any other spot on the planet.  In addition to Coors, the largest single site brewery on earth (you can, of course, tour it and sample their products!) there are also nine craft breweries; three craft distilleries; and many tap houses with a full assortment of Colorado craft beer and spirits.
Time your drive to avoid traffic. Spend the night in Golden and get up early to beat the morning rush. Enjoy an amazing latte at Launch or a fresh burrito from Bonfire Burritos. Sitting in traffic on I-70 is a drag so why not avoid it?
Gear up with better deals. You won't find sky-high resort prices in Golden. So grab those gloves, ski pants, rentals or any missing gear from one of Golden's ski shops like Powder 7 or Bent Gate Mountaineering.
Visit Golden's many museums and attractions. Parents can easily break up a long trip with a fun overnight in Golden. Little ones will love a visit to the Colorado Railroad Museum or Buffalo Bill's Museum & Grave. Browse the best in local art at Foothills Art Center or step back in time at Golden's History Museum & Park.
Avoid the hectic airport rush. After-ski traffic can be a nightmare. And the only thing worse is when you're fighting it to try to make a flight. Instead, book your final night in Golden. Walk the creek, enjoy the town and when you're ready to head to the airport, do so without the stress of mountain traffic.                                                     
Settle into your ski vacation or ease out of it with an overnight stay in Golden.