Spring Break is around the corner with most schools along the Front Range closed either the third or fourth weeks of March. And while most kids might long for a beach getaway, a Golden 'staycation' can offer all kinds of nearby family fun – much of it for free!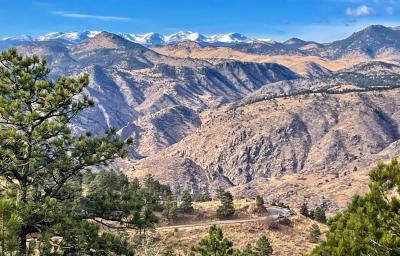 Late March and early April in Golden are often filled with sunshine, perfect for exploring all the town and nearby trails have to offer. Golden is surrounded by mountains and offers a mountain town vibe, yet it's elevation of just 5,675 feet means that it shares the same sunny, dry climate as Denver - and it's only 20 minutes away!
So get started planning your Colorado staycation in Golden! Here are some fun ideas whether you visit for the day or make it an overnight escape. 
Hike, Bike or Walk in the Colorado Sunshine. It's hard to hike in the mountains in March, but Golden is filled with year-round trails that offer a chance to stretch your legs or even pedal a bike, especially in springtime. The two treeless volcanic buttes just east of Golden (North and South Table Mountain) receive lots of sun and are usually snow-free. North Table Mountain is circled by a five mile hiking or biking trail, South Table Mountain offers the best views into historic Golden. Or you can follow the nearly level and mostly paved Peaks to Plains  bike and hiking trail from Golden up into gorgeous Clear Creek Canyon. Hike along the river to the suspension bridge (1.75 miles from downtown) and come back along the historic water plume route with spectacular views into the canyon.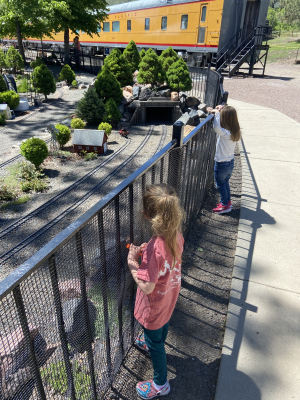 Ride a Train. Golden is home to the Colorado Railroad Museum, which has the state's largest collection of historic narrow-gauge locomotives and rail cars. During Spring Break, you can ride a real train on a half-mile circle around the museum's 15 acres of fun. The museum has gigantic indoor and outdoor model railroads and lots of cars and locomotives to climb aboard. Kids can ring the bell of a steam locomotive and adults will enjoy the beautiful location in Clear Creek Valley
Learn About our Rocky Mountains.  Golden is a major gateway to America's largest mountain chain – the Rocky Mountains. And it's also one of the world's great mountaineering centers. Downtown Golden is just minutes from technical climbing in Clear Creek Canyon and Eldorado Canyon State Park – places that attract climbers from around the planet. Both have wonderful spring hiking trails for amateurs that let you get up close and personal views of these daring athletes. Golden is also home to the American Mountaineering Museum, the only museum of its kind in the nation, which has exhibits on climbing everything from Colorado's 54 Fourteeners (peaks that climb to 14,000 feet and above) to Mount Everest and K2. Want to learn how to climb yourself?  Earth Treks  or The Spot both offer indoor climbing with classes and Bentgate Mountaineering in Golden will provide you with all gears, ropes and shoes you need.
Learn About the Mountain Lions, Elk and Bears that live in Golden – and the Dinosaurs that Were Once Here too!  The Lookout Mountain Preserve & Nature Center on top of Lookout Mountain has exhibits and dioramas on the various wildlife that live in Colorado. You can view "night cam" videos to see who was wandering around the center last night, and then hike along the same nature trail used by bears! If you think bears have sharp teeth, make a visit to nearby Dinosaur Ridge, the No. 1 dinosaur track location in the nation. In the museum, you can hear about the gigantic beasts that once roamed Golden. The first T-Rex bones were discovered in Golden, and you can see a T-Rex bone still in rock if you walk Golden's TriceratopsTrail, a 1.5 mile gravel trail with interpretive signs and wonderful views.  
Inspire with Art - Encourage creativity this break by exploring Golden's art scene. Take in the unique pieces displayed at Foothills Art Center's Members' Show, enjoy Golden's Public Art Walk or the Itty Bitty Art Tour, check out the colorful dinosaur sculptures north of Golden along 93 or stock up on art supplies at one of Golden's small businesses and plein air paint along the creek together.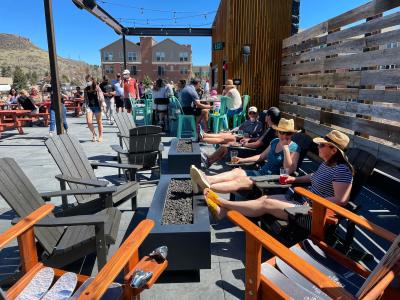 Feeling Hungry?  Enjoy an Outdoor Patio With a View! Golden is completely surrounded by mountains, buttes and views, so it's the perfect place to sit on a patio, listen to some music and see and be seen.  Some of the best patios?  The huge deck and fountains of the Sherpa House, the center of the action patio at Woody's Pizza, the outdoor deck of Mountain Toad with food trucks and dogs welcome, Charlie's backyard at Golden City Brewery (the brewer lives in the house – you are literally in his backyard with food trucks and beer – or grab a sandwich at D'Deli), the long deck along Clear Creek at the Golden Hotel where you can watch the river run by, the Buffalo Rose patio, which has live music on the weekends, the outdoor patio of Tributary Food Hall & Drinkery with its many different food stations, or the big view beer gardens of Cannonball Creek, New Terrain and Over Yonder, each with their own distinct flavor and backdrops.  Or sit on the rooftop of the Golden Mill and look down on pretty Clear Creek.  Whatever type of food you enjoy, you can find it in Golden.
Mother-Daughter Mani/Pedis at a Golden Spa - Spring break is a great time to soak up quality time with your kids. What better way to dive into meaningful conversation than getting a mani/pedi together at a gorgeous spa. Woodhouse Day Spa in Golden is both luxurious and affordable. Plan to refresh those nails together and treat yourself with something new from their gift shop afterwards.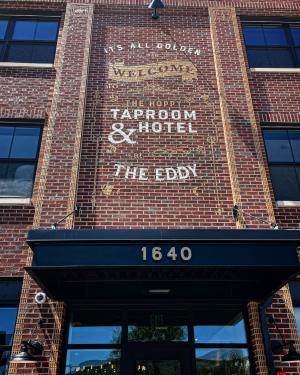 Make a Night of It – Golden's downtown hotels offer excellent accommodations in the heart of town within easy walking distance of all restaurants, breweries, distilleries and bars.  The Golden Hotel, Table Mountain Inn and the Eddy Taproom & Hotel feature excellent restaurants and a perfect place to call home while you explore Golden. The Origin Hotel (the official hotel of Red Rocks Amphitheatre) is just up the hill with restaurants and a brewery next door. 
For more information on Golden activities, dining and shopping, head to visitgolden.com.