There are 24 hours in the day, but only a few of them earn the designation, "happy" hours.  And there is no better place to spend these "happy" hours than in Golden, Colorado.  Many of the historic town's bars, breweries, restaurants and distilleries offer special prices and deals that make it the perfect place to unwind and relax outdoors with a beverage and a mountain view.
Here are just a few of the Happy Hour specials in Golden:
WOODY'S WOOD-FIRED PIZZA -- Did we say happy "hour?" There's lots of happy "hours" at Woody's, but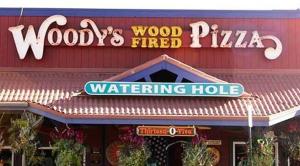 it's especially good from 3-6 pm daily for a happy hour featuring 16 local tap beers and a premium well, plus their famous Bloody Mary made with "Drunken Pig" bacon-infused vodka and candied bacon.   Another few happy hours are available for those sitting at the bar, Mon.-Fri., for a special that includes two slices of wood-fired pizza and an ice cold Coors for $5.99.  And Woody's all-day, every-day buffet (11 am-11 pm) is just $13.29 for unlimited wood-fired pizza, the constantly restocked salad bar and scratch-made beer cheese soup.  Yum.
STATE 38 DISTILLERY -- How's free sound?  Come to Golden's award-winning distillery, take a FREE tour to learn how they make five agave-based spirits (plus small batch whiskey) and then enjoy TWO free tastings.  Tues.-Sat., from 4-6 pm.
BRIDGEWATER GRILL -- Here you can not only be outside, you can hear the pleasant sound of Clear Creek as a flows past the restaurant – all while you enjoy $3 domestic beers, $4 premium beers, $5 house wines, and tasty snacks like crispy Brussel Sprouts with Pancetta, or Rosa's Pork Green Chili, 3-6 p.m. daily.
EL DORADO MEXICAN RESTAURANT -- It's always a fiesta here from 3-6 p.m., Sun.-Thurs. where you can enjoy two-for-one bottled beers and house margaritas, along with mountain views from the patio.
TABLE MOUNTAIN GRILL & CANTINA -- These deals are so good; there are two daily happy hours, from 2-6 p.m., and from 9-11 p.m.   Enjoy a dollar off all microbrew tap and bottle beers, margarita specials, nachos, BBQ sliders, street tacos for $2.75, garlic Asiago fries, and the chef's featured burger of the day.  Dine either on the flower decked patio, or in their amazingly colorful Southwestern bar.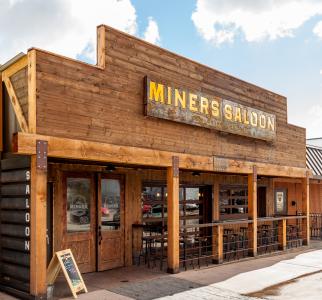 MINERS SALOON -- This modern day version of an old miner's saloon would have been especially popular with grubstakers in the 1880s, because from 3-6 p.m. daily you can get $1 off all beers and $2 off all wines and cocktails.  With 24 tap beers and another 25 bottled beers, there's plenty of choice.  The menu of small plates includes house made venison, boar and buffalo sausage.  The old saloon is a perfect place to sit by the huge open windows, breathe mountain air and relax at the end of the day.
TRAILHEAD TAPHOUSE & KITCHEN -- Home-made gumbo, po boys, and jambalaya are the specialties here, matched every Mon.-Fri. from 3-6 p.m. with drink specials, 16 tap beers, and tasty treats.
Golden has plenty more happy hours to try! Check out VisitGolden.com for a complete listing of Golden restaurants.