Ever wonder where all these gorgeous photos of Golden, Colorado were taken?  Well, here's a little secret we'll share:  the top 10 spots to take photos in Colorado's first capital city.
1. The Welcome Arch, of course.  The 58-foot long arch has been saying "Howdy Folks!" since 1949 and is one of Golden's great icons.  The lighting on the arch changes all day, and with the different seasons.  Be careful when photographing the arch on Washington Street and always check traffic.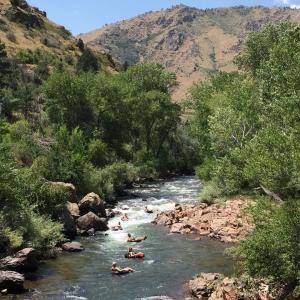 2.  Clear Creek.  Where to start?  There are so many gorgeous viewpoints of this river that flows through the center of town.  The easiest is on Washington Street Bridge, where you can frame the creek in the foreground with Mount Zion and its big Colorado School of Mines "M" in the background.  But all the pedestrian bridges further up the creek offer good viewpoints looking down on passing rafters and kayakers.  Or climb down on the shoreline rocks and get real low to take a beauty shot of the fast rushing water.  There are now hiking and biking paths for six miles in Clear Creek Canyon, just a short drive west on Hwy. 6.  Park at Mayhem Gulch parking lot for pictures of sheer rock walls, rock climbers and spectacular scenery.
3. The 1878 Pearce Ranch homestead.  Along the banks of Clear Creek, the Golden History Museum has re-created this 140-year-old homestead, moving the farmhouse, barns and outbuildings where eight children were raised to this new scenic location.  There are classic shots of the barn with South Table Mountain in the background, and the farmstead is beautiful under snow, or with pink spring cherry blossoms. Don't forget to bring some quarters so you can
feed the chickens.
4. Coors Brewery.  On the Coors Brewery Tour, everyone's favorite shot of the world's largest single-site brewery is the room with the giant copper kettles where the mash is created and turned into beer.  But equally fun is shooting videos of the packaging room, where long conveyor belts carry thousands of cans and bottles of beer, as they march along en route to being slotted into six packs.  
5. Beer gardens. Prefer craft beer?  No problem!  Golden has seven craft breweries, all with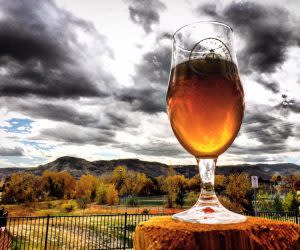 picturesque beer gardens.  At Golden City Brewery you sit literally in the brewer's backyard (buying your pints from the half door of the carriage house.  New Terrain Brewery's beer garden looks down into the pretty valley of Clear Creek.
6. Colorado Railroad Museum.  Usually, the best opportunities to photograph steam locomotives
are when they are chugging in or out of the station, or when they pass a water tower.  On most historic railroads, this happens only once or twice a day.  But at the Colorado Railroad Museum, it happens every half hour!  That's because the museum has a half mile circular track, so you are constantly getting prize winning photos and videos of the steaming, hissing giant engines, with bells ringing and whistles blowing, as it goes around and around again.  The colder the weather, the better!  Cold air makes the steam billow even higher into the sky.  There are usually "steam-ups" with locomotives once a month; more often in the summer.  Check their website for schedules.
7. Buffalo Bill's Grave. Documenting the final resting place of the West's most famous scout and showman certainly has historical significance, but better photos are available from the west side of the parking lot, which looks out on a string of snowcapped peaks. Just a mile down the road at the Lookout Mountain Nature Center, there are even more beautiful mountain views in both directions, as well wonderful trails to hike on. Or continue a few miles more to I-70, exit 254, which has a bison overlook.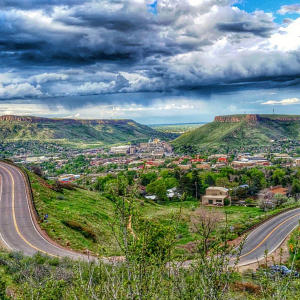 8. Lariat Loop Trail.  The most photogenic way to get to Buffalo Bill's Grave from downtown Golden is up the historic Lariat Loop Trail.  This was one of the first paved scenic roads in Colorado, designed in 1914 by Frederick Law Olmsted, Jr., the son of the famed landscape architect who created Central Park in New York. The road snakes, twists and turns, climbing 1,300-feet in 4.3 miles to the 7,379-foot summit of Lookout Mountain. There are scenic pull-offs all along the road, with dramatic views down into Golden and Clear Creek Valley below.
9. North & South Table Mountains.  Most mountain towns in Colorado are lucky if they have one scenic overlook. Golden has three! Flanking the town are North Table Mountain, South Table Mountain and Lookout Mountain. While you can drive up Lookout, you'll have to hike or bike to get to the summit of the other two. And they're worth the effort! South Table is the closer of the two to town, and offers fabulous views looking down onto Golden. North Table Mountain has a five-mile loop that goes around this volcanic mesa, or you can climb over a lunar landscape of rock to the very top, which is called Lichen Peak, and offers unrestricted views of the Foothills to Boulder and beyond. North Table Mountain is also home to Golden Cliffs, where you can shoot the ultimate "Golden lifestyle" photo as there are usually plenty of climbers and slack liners practicing their craft.
10. Fossil Trace Golf Club. Animals have been visiting this gorgeous public golf course for 64 million years.  If you play, bring your camera because you'll want to take a picture of the Triceratops footprints at the 12th green. Dinosaurs once walked and left tracks between the 11th and 15th greens, and all through the course there are gorgeous views of sandstone rocks that jut up with North and South Table Mountains as a backdrop. Don't play golf? Then come to the golf course's public restaurant and bar, Schnepf's, for the same views. Or walk the Triceratops Trail, which passes the course and has informative signs, dinosaur footprints and views.
Good luck capturing the beauty of Golden! Of course, no matter how great a shot you get, Golden always looks best in person! Follow Visit Golden for the latest Golden events and more Golden photos, and be sure to tag us on social media, @VisitGoldenCO on Facebook, Instagram and Twitter.