As the pandemic winds down, Golden, Colorado is gearing up with loads of new restaurant openings, attractions, hiking trails, beer gardens, performances an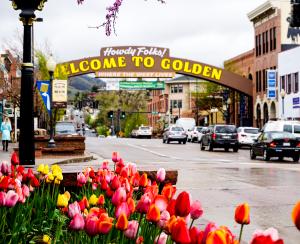 d a new creekside hotel … all getting ready for some socially distanced spring and summer fun in 2021. Here's what's happening in Golden...
NEW!
Opening June 1, The Eddy Taproom & Hotel will be a sensational new addition to Golden with 49-rooms designed for outdoor enthusiasts, but filled with modern luxuries. Located on the former site of an historic brick mill, the hotel is sits across from the entrance to Clear Creek Canyon, just a minute walk from the gorgeous Clear Creek Trail and a short stroll from the restaurants, breweries and shops of downtown Golden. A variety of different room configurations are available from Kings to double-doubles with adjoining room combinations possible for families. With a private dining room and two rooftop patios, the hotel is perfect for weddings, employee retreats, small meetings and family reunions.
And then there's The Taproom and outdoor lawn! With gorgeous views over Golden and the foothills, the outdoor lawn promises to be a wonderful place to relax after hiking and cycling adventures around Golden, while the Taproom will offer Colorado-centric craft beers and foods using local Rocky Mountain ingredients including farm fresh produce, beef and game, all harvested by Colorado farmers. 
Truck Eddy, the hotel's food truck, will offer all types of BBQ, from Kansas City favorites to lip-smacking Austin-style, with a variety of sumptuous milk shakes to add to the delights that can be purchased from the truck and enjoyed on nearby picnic tables or on the outdoor lawn. For more info visit:www.theeddygolden.com
THE GOLDEN MILL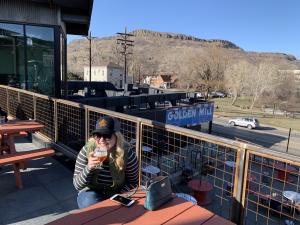 Opening in April 2021, the Golden Mill is a revitalization of the old historic mill building along Clear Creek and slated to become Golden's "backyard gathering place" with five food stations, "Old Reliable," a 40-tap self-pour pour wall highlighting home-grown brews, wines, ciders, cocktails and sake, and a rooftop deck with sweeping views of North & South Table Mountains.  Golden's second food hall will have five dining options:  Rolling Smoke BBQ is the real deal, where all meats are cooked on hardwood fires offering true smoked meats; Happy Cones will have their second metro Denver location with New Zealand ice cream (a delicious blend of the freshest ice cream with a scoop of the fruit of your choice blended in a machine from the New Zealand berry farms to create a concoction that is 2/3 ice cream and 1/3 fruit – with vegan and dairy free options available); and three restaurants from local chef Jesusio Silva who brings 33 years of cooking experience to: Tacos al Chile, offering wonderful and tasty street tacos; Republic of Chicken, which offers five tasty international ways of preparing chicken including Thai, Nashville and Korean; and Sushi Tora, which will make you forget you're on a rooftop overlooking Golden as you savor delectable sake cocktails and seafood sushi at sunset.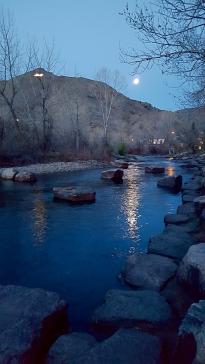 THE PEAKS TO PLAINS GATEWAY SEGMENT NEARS COMPLETION
The Gateway segment of one of the most exciting trail projects in America will be substantially finished in Spring 2021, adding 1.75 miles of new trail to the Peaks to Plains Trail, extending the existing Clear Creek Trail through downtown Golden 1.75 miles further up into Clear Creek Canyon Park. The new trail segment will include three new bridge crossings over Clear Creek, two restrooms, parking for 160 cars at two trailheads, and a stone and timber stairway climbing to a half-mile of newly restored trail along the historic Welch Ditch Wooden Flume. 
The Clear Creek Trail through downtown Golden has already been voted by the readers of Westword as "the best trail in Metro Denver."  The new paved bike and hiking trail will extend the existing trail another 1.75 miles up into Clear Creek Canyon, all the way to Tunnel 1.  Some 1,600 dump trucks of dirt and rock had to be removed to create the new segment, which will offer amazing views of the river and canyon as it clings to cliffs, zig-zagging along the river following the old railroad route of 1872. 
The vision of the Peaks to Plains Trail is to create a 65-mile trail that will one day connect the South Platte Trail in Denver through Golden, up Clear Creek Canyon to Idaho Springs and eventually to the headwaters of Clear Creek at Loveland Pass. Once completed, it will connect four counties and seven cities, with a total elevation gain of more than 1 mile.   
Golden is the perfect place to discover this historic trail project today, which already stretches from the Grant-Terry Bridge in Golden east to the South Platte River.  Another four-mile segment of the trail is open from the Big Easy Trailhead (11 miles west of Golden on Hwy. 6).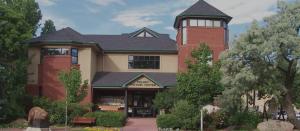 RE-OPENED!
GOLDEN VISITORS CENTER -- Located on the banks of Clear Creek at the Washington Ave. bridge, this is the perfect place to begin your adventures in Golden.  The information center has knowledgeable staff to help you find the perfect restaurant, hiking trail, biking route, shop or activity in the area.  There is a complete set of trail maps and guides to more than two dozen Jefferson County parks as well as hundreds of brochures on things to see and do, eat and drink or shop and buy in the area.  The center reopened on March 25, 2021 with limited hours from Thursday-Sunday.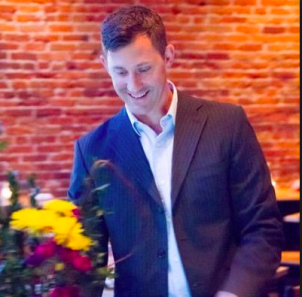 ABEJAS -- Award-winning Abejas restaurant reopened on March 5, 2021 with indoor, socially-distanced dining available Wed.-Sat.  Longtime friends and Brandon Bortles and Barry Dobesh (the B's, as they are known together) chose the name Abejas to convey the meaning behind the bee. Bees are industrious, symbolizing agriculture, nature, and the fresh provisional menu behind Abejas.
Brandon and Barry wanted to stay true to the historic location of Abejas in downtown Golden when designing the restaurant. The Abejas location once housed a Piggly Wiggly Wholesale Grocery Store, amongst other businesses. The interior of the restaurant features reclaimed barn wood, corrugated metal, old doors, all from an historic ranch in Golden that was being sold. The rustic interior and application of the locally reclaimed material go hand-in-hand with the aspiration to locally source as much of the menu as possible. The two owners have strong relationships with local farmers, breweries, and suppliers in their immediate community.
COLORADO SCHOOL OF MINES MUSEUM -- Golden's treasured and undiscovered free museum has reopened.  Originally opened in 1874 by Professor Arthur Lakes (the first man in the world to discover dinosaur fossils on nearby Dinosaur Ridge) the museum has more than 15,000 square feet of rocks, minerals, fossils and other fascinating Earth Science-related objects.  Walk through an indoor cave and discover minerals that glow.  Gaze at the sparkling Miss Colorado Crown, containing over 600 gemstones and 21 diamonds. Transport yourself to Golden's geologic past through museum exhibits and then see the real thing by hiking the Bob Weimer Trail, where you can look at authentic tracks made by triceratops dinosaurs eons of years ago.  Social distancing and masks are required.
NEW EXHIBITS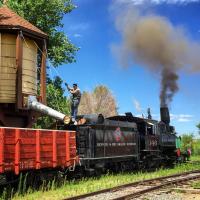 COLORADO RAILROAD MUSEUM
Starting in May, you can hop aboard for Train Rides, Thursdays – Sundays. (Currently offered on Saturdays only). Throughout 2021, you can also check out two special exhibits. Railroads and the African American Experience, and Across the Fruited Plain: Migrating West to Colorado by Rail. Both exhibits highlight the many diverse people of Colorado' rich railroading heritage.
For more info, follow @VisitGoldenCO on FB and Instagram and check out www.visitgolden.com.