31ST ANNUAL GOLDEN FINE ARTS FESTIVAL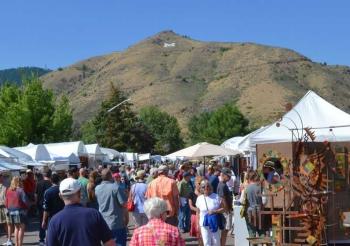 Save the Date! The 2021 Golden Fine Arts Festival is set for August 21-22, 2021!  The Golden Chamber of Commerce looks forward to hosting the annual event and will follow all Covid- guidelines. Click here for more information.  
A Golden icon for three decades, Golden Fine Arts Festival is a prestigious juried art show located in the heart of historic downtown Golden, Colorado.
With its prime location just 20 minutes west of Metro Denver and free admission to the public, this premier event traditionally draws over 30,000 visitors over two days to enjoy art, live entertainment, beer and wine gardens and food vendors.

PUBLIC ART COLLECTION
Golden's public art collection is renowned internationally and features some of the best bronze statues in Colorado. The over 30 bronze statues are located throughout the City. Also, keep an eye out for bright and beautiful murals throughout downtown.

ART in Golden
Golden is home to several art galleries all with a different focus. Wings of Eagles - Native American art, Spirits in the Wind Gallery - Art of the new West, and Foothills Art Center - art exhibitions, public programs, and community partnerships.