Guest blog post by Colorado Checklist
Golden, Colorado is the ultimate Colorado destination for a weekend trip that provides visitors with gorgeous Rocky Mountain views and state of the art cultural, historical, and recreational opportunities. Once you drive down Washington Avenue and see the "Welcome to Golden" sign, you know you're about to experience a unique community with local charm and a plethora of places to visit!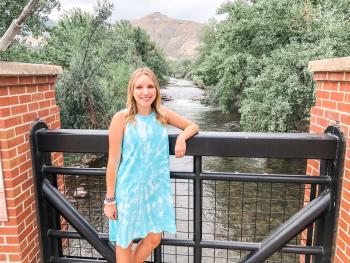 My name is Presley Fowler, and I am the creator and blogger behind Colorado Checklist. I grew up in Golden so it is certainly- and always will be- home to me. I've watched Golden grow into an amazing mix of local businesses and experiences that speak to all tastes. Whether you're a Colorado resident or visiting from out of town, I hope my "Weekend in Golden" itinerary enhances your trip to Golden! 
Our first stop on a beautiful Saturday morning is the Golden Farmers Market which runs from 8 a.m. to 1 p.m. on Saturdays from June through October (October 10th is the final Golden Farmers Market for 2020). The Golden Farmers Market hosts a variety of local farmers and vendors, and I always leave with a new Colorado-made product I can't wait to try. The organizers have taken extra precautions to strategically space out the booths this year and monitor capacity at the market, so everything is socially distanced and safe. 
After exploring the market, I always like to walk into the downtown area by taking the path along Clear Creek. It's one of my favorite walks because of the sights and sounds. Plus, Clear Creek is considered the heart of Golden. If you stand along the bridge on Washington Avenue over Clear Creek, you can see Coors  Brewery to the east and the widely known Colorado School of Mines "M" on Mount Zion to the west. Make sure to stop and take a photo with the aerial view of Clear Creek from this spot!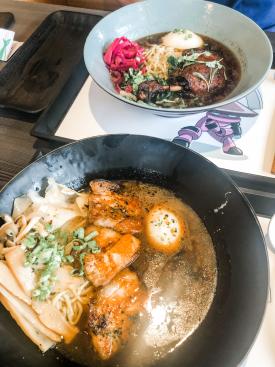 Washington Avenue is known as the main drag in Golden, bursting with local shops and eateries. Everything is walkable and pedestrian friendly. Make sure to explore the side streets that intersect with Washington Avenue because you don't want to miss the gems just around the corner! The food scene in Golden has grown and evolved and there is truly an option that everyone will like. We ate lunch at Nosu Ramen which is located on 12th Street. Nosu Ramen opened in 2020 and is one of many restaurants that tapped into creativity to keep the atmosphere safe for indoor and outdoor dining during the pandemic. Nosu has a ramen option for the meat lovers, seafood suitors, and vegetarians alike! I tried the pork ramen which is the most popular dish on the menu. So tasty!
Once our bellies were full and appetites satisfied, we decided to get our steps in and walk around downtown Golden to explore the shops. Whether you're looking for a souvenir, outdoor gear, home goods, or a unique local product- the shops in Golden have it all! Some of my favorites include Blue Moose Trading Co. (great for Golden and Colorado mementos), Marrygrams (a brick & mortar with the best wall of greeting cards you'll ever see and plenty of fun gifts), and Truly Bohotique (a boutique featuring local artisans and designers). Shopping local strengthens the community of Golden and means everything to the local business owners who work hard to keep the small business community thriving.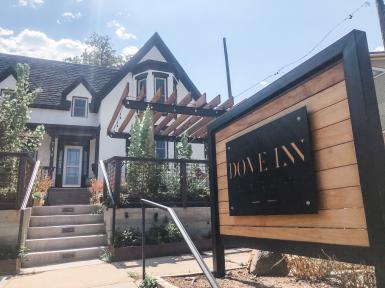 After some local shopping, we walked to our home for the evening -- The Dove Inn. I've had this place on my "want to stay" list forever, and from the moment we walked in I knew we were going to love it! This boutique bed and breakfast is the perfect combination of contemporary and historic. It's a beautifully renovated Victorian home built in Golden in 1866. There are ten guest rooms, an indoor community space and kitchen, and a peaceful outdoor terrace area. We stayed in The Columbine Room which was cozy and cute. Our room had a wall of exposed original brick I just loved. Everything about The Dove Inn is alluring and I can't wait to plan another stay.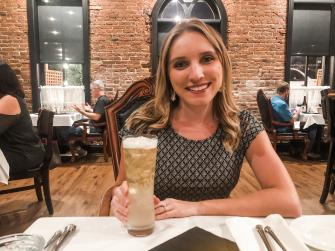 From The Dove Inn, you can easily walk back into town for whatever your evening plans include. In just five minutes, we were at our dinner reservation at Bella Colibri, an upscale Italian restaurant in an intimate setting that makes for a wonderful date night spot or night out to celebrate. If you are looking for delicious and high quality Italian food in Golden, Bella Colibri is your place. The menu includes a variety of savory pastas, and I recommend trying out one of the many Italian cocktails or wine options available. Don't forget to order a homemade cannoli to top off the evening!
After a fun-filled Saturday in Golden, we headed back to The Dove Inn to kick back and relax for the night. In the morning, The Dove Inn features a serve-yourself style breakfast of granola and pastries with a coffee and tea bar including cold brew coffee on draft. Yes- cold brew on draft! That was just what we needed before we checked out and hit the trails for a morning hike at North Table Mountain Park. 
There are multiple trailheads at North Table Mountain, so it's worth doing your research ahead of your hike to see which trailhead is best for the type of hike you're looking for. We parked at the west trailhead which is off Highway 93. Parking is limited and most of the trail is exposed to the sun, so it's best to go earlier in the morning. The initial incline to the top of the mountain is pretty steep, but once you are up top you'll feel a great sense of accomplishment and smooth sailing is ahead. The trails at the top are fairly flat and the best part is you can see all of Golden from up there!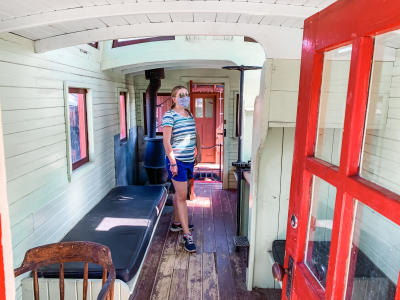 After our hike, we wanted to dig into some Colorado history which brought us to the Colorado Railroad Museum. This museum preserves the history of railroading in Colorado and boasts more than 100 different trains to explore in an outdoor setting. From steam engines to passenger cars, and even cabooses, you get the chance to get up close and personal to learn about each train and step inside to see what some of the interiors looked like! You could truly picture what each train was used for when it was in operation. The interactive aspect of this museum made it an enriching experience. Plus, the museum has hand sanitizer stations outside of many of the trains so you can confidently enjoy your time there.
To cap off a wonderful Golden weekend, we drove just a few minutes east of the Colorado Railroad Museum to grab a beer at New Terrain Brewing. This popular spot has an indoor taproom and outdoor beer garden with picnic tables and a food truck surrounded by peaceful mountain views. New Terrain has some seriously creative brews concocted with curiosity and passion. Wheat, cream ale, IPA, sour, stout- you name it, New Terrain has it and it's likely to be a combination of flavors you won't find at another brewery! 
What a blast of a weekend! We jam-packed our two days in Golden with a variety of outdoor and indoor venues and we made the most of every stop. If you're looking for other ideas for your weekend trip in Golden, reach out to me at @coloradochecklist or Visit Golden at @visitgoldenco on Instagram. Enjoy your stay!