SATURDAYS, May 30  – OCT 3, 2020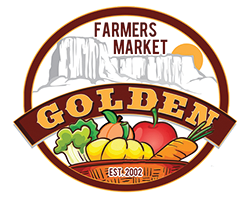 Local produce, wines, hand-spun cheeses, and freshly baked bread are just some of the many products you will find at the Golden Farmers Market. Conveniently located near Clear Creek, the Market is where you can find Colorado's finest foods while also enjoying Golden's natural beauty.
Golden Farmers Market runs from 8:00 AM to 1:00 PM, every Saturday, May 30 – October 3, 2020, except for Saturday, July 25 (Buffalo Bill Days) and is held in the parking lot just west of the Golden Library on 10th and Illinois streets in historic downtown.
Presented by the Golden Chamber of Commerce, the Golden Farmers Market is SNAP certified and accepts Double Up Food Bucks Colorado.
WHAT YOU'LL FIND THERE
The Farmer's Market includes picnic tables with umbrellas, free parking and activities for kids. Garden décor, specialty treats, flowers and plants, and hard to find items fill up many of the booths. Enjoy and purchase fresh fruits and veggies, frozen fish and meats, fresh breads, canned condiments and sweets, locally-made wines, plus wonderful pasta and unique cooking ingredients.
ACTIVITIES
Enjoy weekly demos from Jefferson County Master Gardeners, who will cover topics such as container vegetables, kids' terrarium making, hanging baskets, rock gardening, bulbs, and more.
Free parking is available in Golden's free parking garages just a few blocks from the market.
The Golden Farmers' Market is now accepting Supplemental Nutrition Assistance Program (SNAP) benefits, previously known as food stamps.  Please visit Jefferson County SNAP Program for more information.
Golden is also participating in the SNAP incentive program, Double Up Food Bucks Colorado.  Double Up Colorado helps increase access to fresh, Colorado-grown fruits and vegetables. When recipients of Supplemental Nutrition Assistance Program (SNAP) shop at participating farmers markets, they can now have their purchase matched with a voucher worth up to a $20 per visit to put toward Colorado-grown fruits and vegetables. For more information about Double Up Colorado – in both English and Spanish – please visit Double Up Food Bucks.