Bring your mom to Golden for a Mother's Day she'll never forget. Only 15 minutes from downtown Denver, Golden feels a world away with its nearby mountains and small town charm. Make a day of it and be sure to:
Eat
Treat her to a delicious brunch at one of Golden's wonderful restaurants. Several have special Mother's Day offerings including Bridgewater Grill, Schnepfs, Table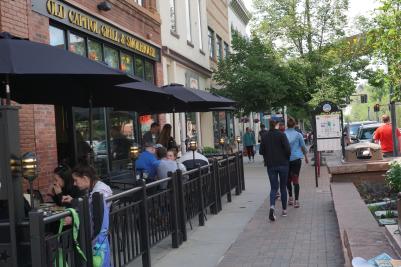 Mountain Inn's Cantina, Abejas, and more. if it's a lovely spring day, pick up a picnic from Cheese Ranch or D'Deli and spread out in Parfet Park or along Clear Creek.
Shop
Browse Golden's  charming, locally owned shops. Sample all the sweet smelling lotions at Spinster Sisters, try on artisan jewelry at Baby Doe's or Creekside Jewelers, browse the artwork at Spirits in the Wind, pick up a game or craft at Golden Goods, or snuggle a stuffy from Avenue Gifts.
Create
Pull up a seat at Mountain Lux's candle bar and have a great time creating something uniquely yours! Mountain Lux allows you to create your own candle with custom fragrance and enjoy wine, beer or other refreshments while bonding with mom.
Experience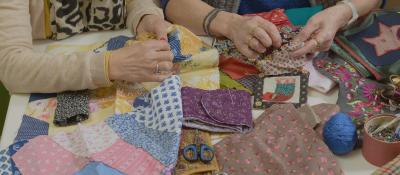 Step back in time at the Golden History Museum & Park where you can feed the heritage chickens and walk amongst a 1800s homestead or browse museum exhibits on Golden's history. Get excited for summer hikes with a visit to the American Mountaineering Museum. Check out Hawaiian quilts on display at the Rocky Mountain Quilt Museum or stroll through the galleries at Foothills Art Center.
Sip
Stop for a coffee and sit on the patio at Café 13, Pangea or the Windy Saddle. Savor a glass of vino at Indulge or a craft beer at one of Golden's six craft breweries many that feature beer gardens with corn hole and gorgeous mountain views. Sample craft cocktails at State 38 or Golden Moon.
Hike or Bike
Check out these family friendly Golden hikes to enjoy with Mom. Or visit Golden's Bike Library where you and mom can check out free bikes to pedal around Golden.
No matter what you decide to do, enjoy your adventure in Golden with Mom. Be sure to bring her back again. In Golden, we celebrate moms all year long!