Hayrides, Wild West Oktoberfest, Fall Foliage & 150 Years of Coors
Golden, Colorado really lives up to its name in Autumn! Whether you're looking for foothills hikes, close-by culture, easy evenings out or a reason to raise a glass, Golden is a go-to spot for autumn adventure. Here's an overview of what's happening in Golden in the fall:
Music & Music in the Park, Plus Fireworks, Sept. 1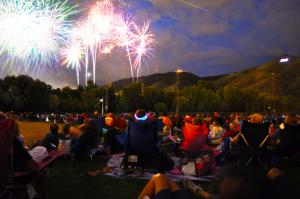 The final Movies & Music in the Park event runs on Sept. 1 at Parfet Park located at 10th Street and Washington Avenue in downtown Golden and features free music by Ghost Town Drifters and a family-friendly movie, Ghostbusters: Afterlife. Bands begin performing at 7 p.m. and the featured movie of the night begins at dusk, around 8:30 p.m. The movies are shown on a giant inflatable screen under the stars. After the movie, there will be a fireworks show since Golden's Fourth of July celebration was cancelled. 
Golden Sidewalk Sale, September 9
Bargain hunters and shoppers, head to the Golden Sidewalk Sale to shop Golden and support local business. Pick up some bargains and support your favorite local merchants – it's a win-win! More info here. 
BIG NEWS! More Itty Bitty Art in Golden
Last summer, Golden unveiled an extremely popular public art project as "Itty Bitty Art" was installed in surprising places along Washington Avenue and Clear Creek Trail. Beginning sometime in September, this beloved project will expand into Parfet Park in downtown Golden, where several new pieces of Itty Bitty Art will be installed offering locals and visitors the perfect reason to visit Golden to search for these tiny pieces found in unexpected spots. Pick up a guide at the Golden Visitors Center or visit the website for more info.   
There will be no shortage of fall fun with these Golden festivals. Mark your calendar for:
New Restaurants to Open
In October, the Atomic Cowboy (Denver Biscuit Company/Fat Sully's Pizza) will open their doors in a historic location on the corner of Washington Avenue and 11th Street. These Denver-born eateries promise even more delicious options in downtown Golden. 
Live Theater at Miners Alley Playhouse 
Miners Alley is an award-winning local playhouse with three shows scheduled. Avenue Q: The Musical runs August 11 – September 17; The Cherry Orchard runs October 13 – November 5; and A Christmas Story runs November 21 – December 31. There are plenty of great restaurants within a block or two from the venue so plan for dinner and a show and just an all-around fun night out in Golden.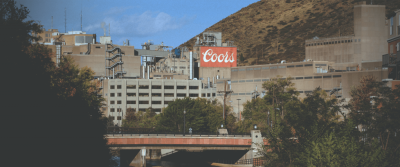 Cheers to 150 Years of Coors!
On September 30th, Coors will celebrate its 150th anniversary. More info.
Tour Golden by Foot, Hayride, e-Bike and More
There are so many ways to check out Golden in the fall. Golden History Tours offers a variety of guided walking tours – even Haunted Ghost Tours in the fall – where you'll hear all amazing stories of Golden's storied past. If you're more focused on getting to know Golden's bar scene, Golden History Tours offers a Wild West Pub Crawl or you can reserve a spot with the Golden Hayride and cruise along in a hayride as you check out the beer scene. Or, if you prefer to tour on your own, you can check out the self-paced History Tour and Public Art Tour or Itty Bitty Art Tour of Golden or check out an e-Bike from Adventure West and pedal (or pedal-assist!) your way through town. 
Golden Farmers Market
The Golden Farmers Market runs through October 7, 2023 and fall is one of the best times in Colorado to stock up on local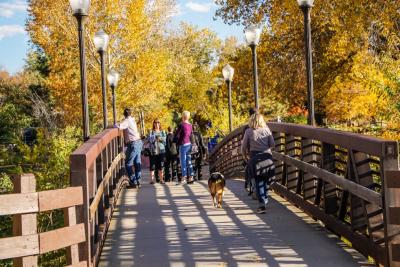 produce and flowers.
Fall Foliage by Foot
Denverites love to "go for the gold" in the fall, setting out on day trips as the aspens put on their annual color show. But the gold rush from Denver can mean bumper-to-bumper traffic. A better idea? Golden, Colorado. Avoids crowded highways and chart a gorgeous drive – or hike – through splendid fall colors around Golden and in Golden Gate Canyon State Park. You'll miss the crowds, save time and can even enjoy leisurely post-fall foliage fun at Golden's acclaimed restaurants, beer gardens and outdoor patios. Check out some ideas for hikes and drives here. 
And – it's never too early to mark your calendars for Golden's beloved holiday events. More details coming soon…