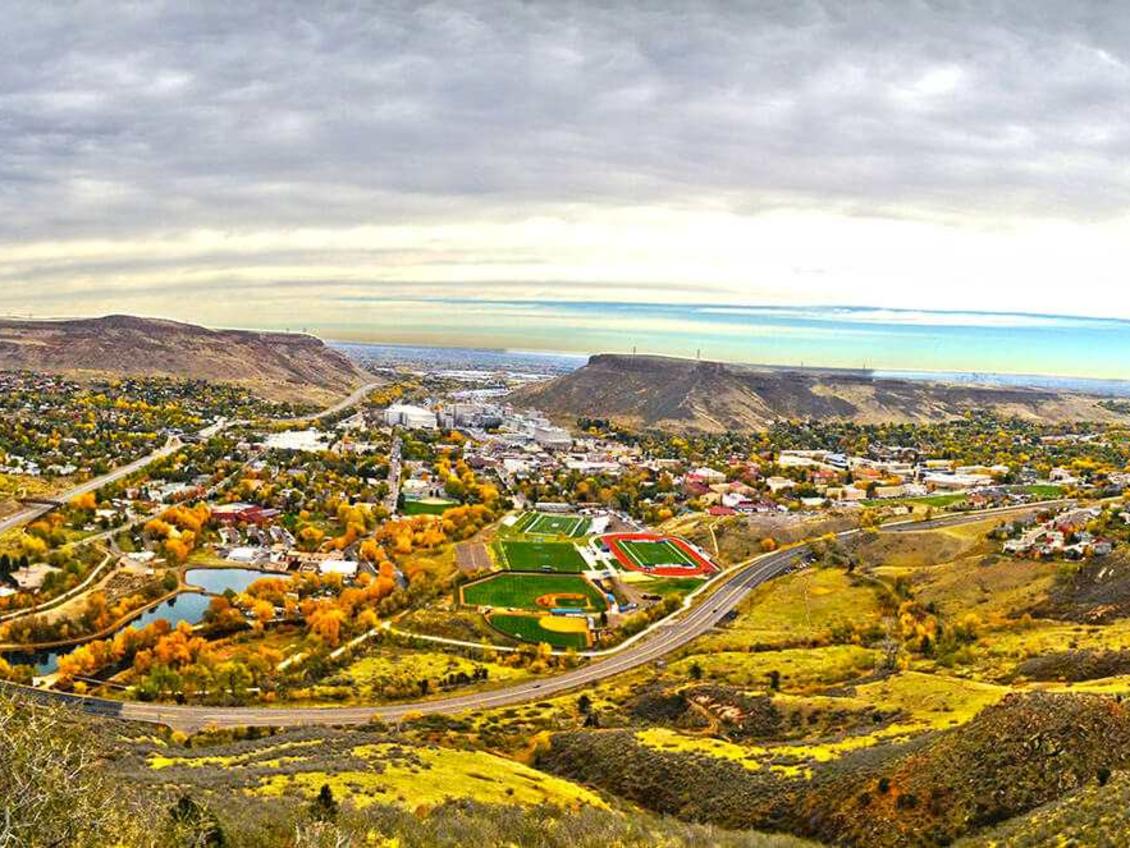 Who doesn't love to "go for the gold" in the fall, setting out on day trips as the aspens put on their annual color show. But the gold rush can mean bumper-to-bumper traffic. A better idea? Chart a gorgeous drive – or hike – through splendid fall colors around Golden. You'll miss the crowds, save time and can even add post-fall foliage fun at Golden's acclaimed restaurants, beer gardens and outdoor patios.
Here are a few scenic driving trips and hikes to get your fall colors fix from Golden.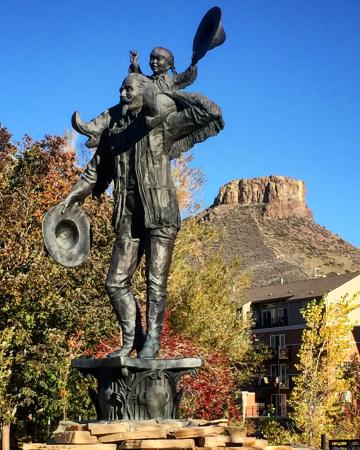 The Lariat Loop Trail.  
In the 1920s, Denver created their own Mountain Park system of two
dozen parks including Red Rocks Amphitheatre, Buffalo Bill's Grave, the buffalo herd overlook, Evergreen Lake and others. They were connected by a circular road that was named, The Lariat Loop Trail, which was one of the most popular attractions in the West. Today, the 40-mile loop still exists as a collection of small roads that have been linked into a Colorado Scenic & Historic Byway. 
Start in downtown Golden and fuel up at an outdoor café lining Washington Avenue or get a to-go picnic lunch at The Cheese Ranch, D'Deli, or Café 13, and then begin the adventure by driving the twisting and curving road up Lookout Mountain. This nail-bitter gains 1,300-feet in just 4.3 miles, with enough drop-offs and viewpoints to thrill any visitor. 
The 7,379-foot summit of Lookout Mountain offers spectacular sweeping views in every direction. There is free parking at Buffalo Bill's Grave & Museum, where you can also learn about the Old West's most famous scout and showman.  
The road continues to Lookout Mountain Preserve and Nature Center, where you can wander the family-friendly hiking trails through aspens and evergreens, and enjoy fantastic views of snowcapped peaks in the distance.
Next stop is Genesee Mountain Park and the buffalo overlook to see Denver's herd of 40 buffalo. From here, you can continue following the 40-mile trail of backroads through mountainsides of aspens to Evergreen Lake, then down pretty Bear Creek Canyon to Morrison and Red Rocks Amphitheatre, where a scenic short drive takes you back to Golden, with its many outdoor, dog-friendly beer gardens to celebrate and toast your day in the foothills of the Rockies. 
Gateway to Gold Scenic Loop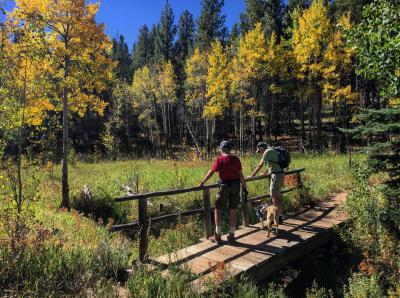 There would be no Denver metro area if it not for the fantastic gold mines that were discovered in Central City and Black Hawk. Tens of thousands of miners followed the main route from Denver to the gold fields, which required leaving from Golden and traveling up Clear Creek Canyon. Today, you can drive the same route the railroad took, driving west on Hwy. 6 for an exciting excursion through tunnels, along cliffs above the roaring creek, and beneath towering sheer rock walls. 
Eventually, a bike and hiking trail will stretch from Golden all the way to Idaho Springs and beyond  -- a 65-mile trail along the banks of Clear Creek. A new1.75 mile-stretch, the Gateway segment, just opened further extending the paved bike/hike trail from downtown Golden into Clear Creek Canyon and offering outstanding views as you walk along the rushing creek.
Traveling along Hwy. 6, Mayhem Gulch is a good place to stop for a walk. Keep your eyes peeled for big horn sheep who live in the canyon and for rock climbers, who scale almost every cliff in sight.
In a few miles, turn north on Hwy. 119 (the "Peak to Peak Highway") towards Black Hawk and Central City.  Black Hawk has become a huge resort area with 18 casinos, as well as hotels, restaurants and bars. But turn left off Hwy. 119 at Gregory Street and you can pass right through the resort area and drive two miles to Central City.  It's another world. Once called "The Richest Square Mile on Earth," Central City looks much like it did in the 1870s. There's beautiful Victorian architecture, colorful lampposts and flower baskets, and mountainsides of aspens and mining history. Take Eureka Street out of town to the old Cemetery, and follow Hwy. 3 (Upper Apex Road) through valleys of aspens and history. You'll see dozens of old mines along the way. At Apex Valley Road, turn right and this will take you back along a creek lined with aspens to Hwy. 119. 
Head north on 119 and you're soon in Golden Gate Canyon State Park. You'll need to stop and get a $9 parks pass for the day, but some of the best aspens on the Front Range can be found at Bootleg Bottom, which has picnic areas and trails through the colorful trees. 
Don't miss the views from Panorama Point – one of the most spectacular viewpoints in Colorado.  You can return from the Park to Golden on the Golden Gate Canyon Road which takes you almost to the front door of the award winning Cannonball Creek Brewing Company. Downtown Golden with its wide selection of shops, restaurants and breweries is just a couple minutes away. 
Hiking Under a Canopy of Cottonwoods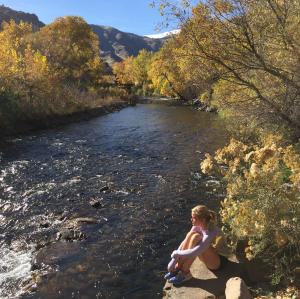 Don't forget that aspens are not the only tree that turns gold in autumn.  Their cousin, the cottonwood (both trees are members of the poplar family) turn just as colorful.  However, because of their lower elevations (cottonwoods live at 5,000-8,000 feet), the cottonwood turns later in the season and can have beautiful color for all of October and even up to Thanksgiving. 
Golden's most popular walk (selected by Westword as the best walk on the Front Range) is the Clear Creek Trail, which offers all forms of recreation, from strolling to biking. The Trail was just extended and now stretches well in to Clear Creek Canyon and all the way down to the South Platte River in Denver, 19 miles away, offering a tree-lined path with horseback riding, biking, hiking – and even gold panning along its banks. Golden's back streets are also lined with colorful cottonwoods, as are many parks downtown. 
There's a reason this town is named "Golden," and you'll find out why wherever you go in Golden this fall.
For information:  visitgolden.com