This holiday season, tell your holiday visitors to "Take a Hike!" Golden hikes are a perfect way to entertain out-of-town visitors and burn off some of those decadent holiday meal calories. Afterward, celebrate the season with a drink or meal, pop into a locally-owned store to pick up a unique holiday gift and soak in the holiday spirit of Denver's closest mountain town.
Only minutes from Denver, Golden feels like a world away – especially during the holidays. The town is ringed by high buttes and mountains, all offering short hikes with gorgeous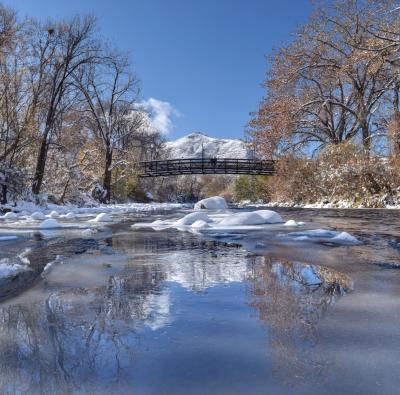 views. And its delightful downtown offers an authentic taste of a small town holiday and family fun. There are gorgeous lighting displays along Clear Creek, one-of-a-kind shops, an art market featuring great gifts from 100 Colorado artists, delicious restaurants and cafes and, of course, a slew of craft breweries and distilleries.
Here are five holiday hikes in Golden, Colorado paired with a perfect post-hike drink or meal to celebrate the season, friendship and to toast to more Golden adventures in 2023!
1. Golden Gate Canyon State Park.  Just a few minutes' drive from town, Golden Gate Canyon can be a winter wonderland with snow-frosted trees, or it can be a mild, dry hiking haven with spectacular views of the Indian Peaks Wilderness Area in the distance.  It all depends on the weather.  With acres and acres of evergreen forests and a huge network of trails with excellent signage and maps, this is a perfect beauty spot to take out-of-towners for some fresh air.  Don't miss Panorama Point, which has one of the most awe-inspiring views of the Front Range.
Refreshments: You'll surely work up an appetite after an invigorating hike in Golden Gate Canyon, so afterward, head to Woody's Wood Fired Pizza. This longtime Golden favorite offers local beers and spirits as well as fantastic pizzas, wings, sandwiches and a full salad bar. 
2. Windy Saddle to Buffalo Bill's Grave.  Halfway up the Lariat Loop Trail to the summit of Lookout Mountain, there's a wonderful trailhead at Windy Saddle with a switchbacking trail that climbs through evergreen forests to the summit of the mountain. Here you can visit the Lookout Mountain Nature Center with an exhibit on the elk, bear, and mountain lions who live in this forest or push on to Buffalo Bill's grave with its outstanding museum on the famous scout and showman.  Don't miss the Buffalo Bill gift shop!  It's filled with wacky and wonderful Old West Christmas gifts.
Refreshments: After checking out Buffalo Bill's Grave, how about a Bison Burger and a Coors Original from Old Capitol Grill & Smokehouse in downtown Golden? You'll enjoy your post-hike celebration in the historic building that once housed the state's territorial capitol.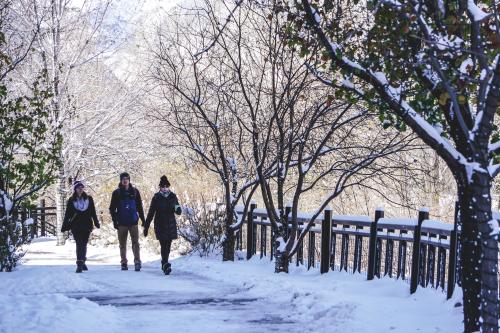 3. North Table Mountain:  You don't have to drive after this hike because the trailhead begins in the parking lot of New Terrain Brewing Co.  Just behind the brewery is a spur trail that leads to the main five-mile trail around this ancient volcanic outcrop of rock.  There are limited trees here, so it's a good choice in winter with generally clear trails.  At the top is a lunar landscape of rock with horizon-filling views of downtown Denver in one direction and the foothills in the other. 
Refreshments:   Why of course, sit on the outdoor patio at New Terrain, survey your hike and have a Rambler, a malty American amber ale with tastes of caramel and peach. If you're gluten, free, head to Holidaily, Colorado's only dedicated gluten-free brewery. Try a Favorite Blonde Ale and you'll learn that gluten-free beer can taste amazing.
4. Clear Creek Trail:  Everyone's favorite all-weather, year-round trail follows Clear Creek from the center of historic downtown Golden up into the foothills.  The trees along the creek are lined with thousands and thousands of twinkling holiday lights.  You'll pass a historic farm museum (stop and feed the chickens) see ice flows that back up along the creekside, and continue on into pleasant evergreens.  If you want more hike, cross the creek and climb to the aqueduct, which is a popular rock climbing area.  You can follow the aqueduct back into Golden for a loop trip.
Refreshments:  Since this trail is a family favorite, how about a post-hike frozen yogurt treat for the kids and a gourmet Turkish coffee for Mom & Dad from the family-owned Goozell Yogurt & Coffee? Or if you want to warm up with a cocktail, head to Golden Moon Speakeasy which is tucked away on Washington Avenue, next to the Windy Saddle. Featuring classic and modern craft cocktails, pre-prohibition style punches all made solely with the spirits produced by Golden Moon Distillery.
5. South Table Mountain:  This short, steep hike pays off big dividends since it has the best view into downtown Golden far below.  The volcanic butte is where the first T-rex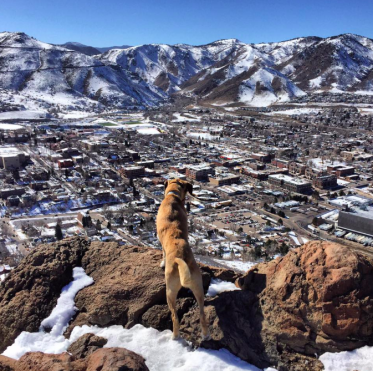 skeleton was ever discovered and is the famous western landmark on the old Coors logo (Coors Brewery is located at its base). There are no trees on this rocky landscape, so the trail is generally dry except after a recent snow.  As in any winter hike, lookout for icy patches, which are always possible.  The view from the top looks south along the Foothills and you can see everything from Pikes Peak in the south to Longs Peak far to the north.
Refreshments:  Try Barrels & Bottles, the only craft brewery in town that gives equal attention to beer AND wine with two dozen craft beers and two dozen tap wines available.
Cheers to a great Golden adventure with family and friends this holiday season! For more information on Golden, be sure to follow @VisitGoldenCo on Facebook, Instagram, and Tik Tok and check out www.visitgolden.com for the latest news.