FOUNDED IN 1859
Founded in 1859, Golden is an idyllic former gold rush town nestled between North and South Table Mountains and the spectacular foothills of the Colorado Rocky Mountains. Originally named "Golden City" it became the capital of the federally recognized Colorado Territory in 1862. The Territorial legislature met here until 1867 in a handful of different buildings, most notably the Loveland Block at the corner of Washington Avenue and 12th Street. When Colorado became a state in 1876, locals were outraged when Denver snagged the title of state capitol, but the loss of name distinction did nothing to slow Golden's growth.
THE LAST "FLAT PLACE"
At the city's center lies Clear Creek, once known as Cannonball Creek for its cannonball sized river rocks used in the Armory Building. Golden City became known as the last "flat place" before the Rockies, and it soon became a supply center for miners headed to find gold in the western mountains.
Several factors influenced the town's growth: miners' supply needs, agriculture and industries. With Golden as a former gold rush town, industries popped up to support the incoming miners and their families. Coors Brewery set up shop in 1873 also contributing to the population growth. Golden's agriculture flourishes in the rich soil of Clear Creek Valley and has been the center of Golden's commerce since the City was founded. The rich clay deposits found at Fossil Trace Golf Club are another factor for the city's growing popularity.
TRADITION
Golden maintains its authenticity through long-standing traditions like Buffalo Bill Days and Olde Golden Christmas. Its small town feel can be experienced during the summer street festivals, farmers' market and meandering down Washington Avenue any time of year.
SOURCES
Golden Old and new, Cathleen Norman, c 1996
Golden, Colorado "A Look at Golden's 156 Year History" for Visit Golden.com by Joy Meadows, Katie Converse.
http://www.cityofgolden.net/live/golden-history/,
City of Golden, Jan. 25, 2016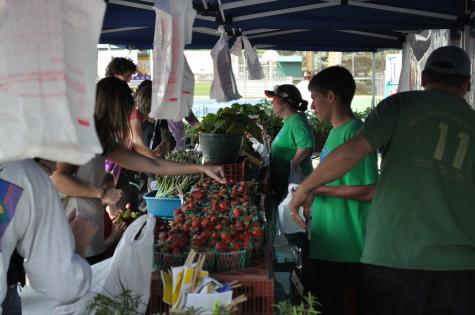 GOLDEN HISTORY WALKING TOUR
Discover Golden's history on the free downloadable Golden History Museum Walking Tour. Put together by the Golden History Museum, it directs you to 16 historic spots in Golden. It winds one-and-a-half miles past beautiful homes, stone buildings, gardens, a re-created historic farm and school yard, and - most popular with kids - a historic chicken coop filled with heritage chickens you can feed for a quarter. To access the free tour, go to: https://www.goldenhistory.org/learn-do/walkingtour/ You can printout your own copy of the various stops, or navigate using your smartphone and the customized Google map available at the link. 
Golden History Tours walks you through one of Colorado's most historic towns! Their tour takes you through the heart of Golden, Colorado, complete with true stories of the Wild West from hijackings to shootouts. Running 2-3 hours, a Wild West tour is a great way to make a day out in Golden. They offer various types of tours including a Brewery Crawl History Tour and a Guided Wild West Walking Tour. Looking for a unique experience? They can also provide private and custom tours for your group! Reserve your spot on a tour today and relive the west with them!