The historic town of Golden, Colorado has always been a gateway to gold, and never more so than in the fall when it becomes the perfect base camp to see dramatic fall colors.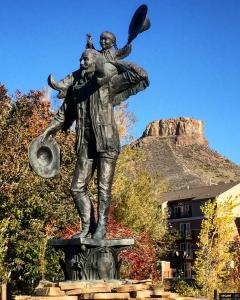 Located only 12 miles from Denver, the quaint, creek-side town offers brilliant colors from aspens and cottonwoods -- both in-town and in the nearby foothills. And speaking of yellow, gold, burnt orange, amber, and red, don't forget that Golden brews more beer than any other city in the world. Combine your leaf-peeping with an afternoon beer at seven craft breweries, all featuring dog-friendly outdoor beer gardens. Or stop for lunch at a restaurant with an outdoor deck on Washington Ave.
Here are five great places to see fall colors in Golden:
Golden Gate Canyon State Park. Located just 14 miles west of Golden, the 12,000-acre state park preserves a huge landscape of rolling evergreen-covered foothills, sprinkled with bright gold aspen groves. There are miles and miles of hiking trails. Bootleg Bottom has a picnic area and is near the prettiest section of old-growth aspens along the Mule Deer Trail as it winds to Old Barn Knoll. Photographers will love this short hike surrounded by towering aspens. The four-mile Racoon Trail winds through aspen groves and up to the park's highlight, Panorama Point, where there is an expansive view of the nearby snow-covered Indian Peaks. You can also drive to Panorama Point if time is short. The Horseshoe Trail is another fall beauty that ends in Frazer Meadow as it meanders through groves of aspens heading to an old farm homestead. Elevations in the park range from 7,500-10,400 feet, with colors traditionally beginning in mid to late September and running through October.
Clear Creek Trail. Long after all the aspen leaves have fallen in the mountains, down on the plains, a "second fall" awaits as the cottonwoods along Clear Creek turn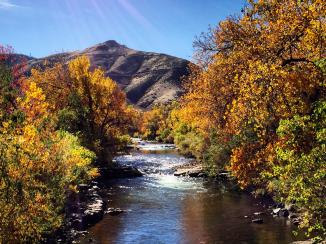 brilliant yellow. Golden's most popular trail is the Clear Creek Trail, a paved bike and walking trail that hugs the banks of Clear Creek under a canopy of cottonwoods and offers all forms of recreation. The mostly level recreational trail stretches from the beginnings of Clear Creek Canyon in the Foothills of the Rocky Mountains, all the way down to the South Platte River in Denver, 19 miles away. It offers a tree-lined path with fishing, kayaking, biking, hiking – and even gold panning along its banks. Perhaps the prettiest stretch begins at the Golden Visitor Center on Washington Street and ventures far up into the canyon to the west, but is never more than a few minutes walk to the shops, breweries, bars, art galleries, and restaurants in downtown Golden.
Chimney Gulch Trail is the ultimate Golden hiking climb – the "on foot" hiking equivalent of the famous bike ride up Lookout Mountain. The trail gains 2,000 feet in elevation in 2.5 miles. It starts near downtown Golden, crosses streams, and passes through evergreen forests as it climbs steadily to the summit of Lookout Mountain. Here, moderate or advanced hikers have a choice – continue on to Lookout Mountain Nature Center to learn more about the flora and fauna of the area, or swing over to Buffalo Bill's Grave & Museum, to learn about the most famous frontier scout in the West. Chimney Gulch Trailhead is accessed from Lookout Mountain Road west of Highway 6. There is plenty of fall color from cottonwoods, scrub oak, and low aspens along the way.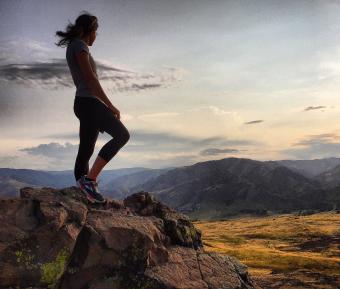 White Ranch Park. White Ranch Park is the largest park in Jefferson County's Open Space, with more than 20 miles of trails. Ute and Arapaho Native Americans once camped and hunted on this land. In 1865, James and Mary Bond built a homestead and farm here. They were bound for California but settled on this land after their young son was accidentally killed under the wheels of their wagon. Their house still stands on the park grounds. While the elevation is too low for aspens, there are cottonwoods, scrub oak, and red sumac, as well as field grasses that turn a blaze of colors and offer a very different fall look than just the traditional aspens. The 4,300-acre park is located 2.7 miles from downtown Golden.
North Table Mountain Trail. Hikers or mountain bikers can enjoy 5 miles around North Table Mountain, often with gorgeous cliff views of the Golden Valley. This moderate to advanced trail is easily accessible off of Highway 93 just north of Pine Ridge Road. Afterwards, stop at New Terrain Brewery, which has its own access to the trail. True, there's not many trees on this route, but there's plenty of gold sunshine streaming down on this wild-looking, volcanic mountain of rock, and you have outstanding views of the autumn colors dotting the Golden landscape and nearby foothills.
For family-friendly leaf-peeping check out our blog: "The Golden Rule: Take the Kids to See Fall Colors in Denver's Closest Mountain Town."
And if you're looking to try some seasonal craft beer or cocktails, read: "Say Cheers to a Golden Fall with Autumn Ales and Seasonal Craft Cocktails."
You can find a full schedule of events and more info at VisitGolden.com.