The Game Doesn't Start Until 4:30 P.M. Mountain Time – Here's How to Pre-Game in Golden!
Super Bowl LV promises to be a beauty of a match up, but with a late 4:30 p.m. start, that leaves almost an entire Sunday with nothing to do.  Super Bowl parties are out of the question in 2021, but no worries, there's plenty of safe, socially-distanced activity for football fans in Golden.   
The starting quarterbacks would love to spend time in this historic town surrounded by mountains and buttes.  Kansas City quarterback Patrick Mahomes could walk his two beloved dogs, Steel and Silver, along the Clear Creek Trail, and then fill his love for hamburgers at Bob's Atomic Burgers .   Tampa Bay's quarterback Tom Brady doesn't drink coffee, but he might start his day at Kona Bowls in the Tributary with a Beach Monkey Smoothie -- Banana, cacao powder, cacao nibs, peanut butter, flax seed, almond milk,  and Ghirardelli Drizzle.  Then he and his four dogs, Lua, Scooby, Fluffy and Onyx, could take a lovely walk around North Table Mountain and enjoy the views.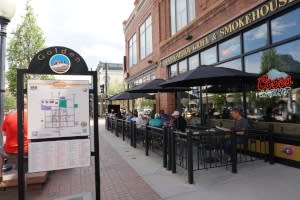 Here are some suggestions of what fans of the two teams can do:
KANSAS CITY CHIEF FANS
Food:   Well, of course you have to get BBQ for the game, and Golden offers lots to choose from. The Old Capitol Grill & Smokehouse is where to go to have history with your pulled pork.  The brick building that houses this BBQ emporium was the first capitol building of Colorado territory! Back then it was a frontier saloon.  Today, it mixes great pub fare and BBQ.  
The Buffalo Rose has been a center of food and entertainment since the days of frontier scout and showman Buffalo Bill Cody (who is buried on nearby Lookout Mountain).  This is place for some Wild West fare like the Wild West Burger, pulled lamb sandwich, Bison ribs, and Arroz con Pollo, as well as signature cocktails and craft beers. 
You can use Kansas City BBQ style on just about any meat or fish, but what about yak?   The Sherpa House recreates a farmhouse from Nepal with menu offerings from India and Nepal and for something completely different, try Yak stew, naan bread cooked in a traditional clay oven, curries of lamb and chicken Daal Bhat.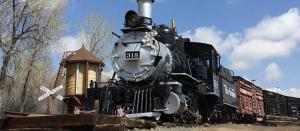 Activities: In 1870, Kansas City was the biggest metropolis in the west and Denver was about to become a ghost town, but the Kansas Pacific Railroad opened in August 1870, linking Denver to the Union Pacific transcontinental railroad.  The rest is history.  A history you can enjoy at the Colorado Railroad Museum, where you can see the state's largest collection of locomotives, cabooses and passenger cars.  Climb up in the locomotive cab, ring the bell and enjoy massive indoor and outdoor model trains.  Denver wouldn't exist without the railroads and our link to Kansas City. 
It was in Kansas while serving as a buffalo hunter for the railroad that Buffalo Bill Cody earned his nickname.  He went on to become the most famous scout and showman of the West, and a museum honoring his exploits is located near his grave on top of Lookout Mountain.  Buffalo Bill asked to be buried here because from the top there are spectacular views of snowcapped peaks to the west and all the way to Kansas (some will say, on a clear day :) to the east.  But since the Chiefs beat the Buffalo Bills on Oct. 19, 2020 with a score of 26-17, what a place to bring good karma to your team.  
Walks:  Okay, no one is ever going mistake Clear Creek for the Missouri River, but for those fans from Kansas who love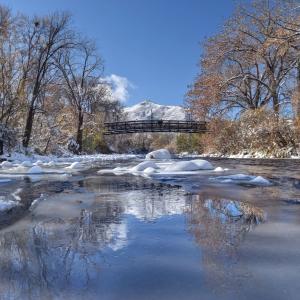 the Missouri and have a hankering for a river walk before the game, your best bet is the Clear Creek Trail in Golden.  And unlike the Missouri, the paved Clear Creek Trail curls up into a steep mountain canyon, while the banks are lined with cottonwoods and pines.  Westword calls it the best walk on the Front Range.  There's no better way to ward off pre-game jitters than a wonderful walk where all you hear is the rushing of the creek beside you. 
TAMPA BAY BUCCANEERS FANS
Food:  Okay, you're not going to find fresh grouper in Golden, and if you want "catch of the day" clams, octopus and squid, well, you're 100 million years too late.  Just 100 years million ago, Golden was on the edge of an inland sea just as large as Tampa Bay with beaches and palm trees.  And 18-foot long crocodiles and 30-foot long, four-ton flesh eating dinosaurs.  So maybe it's just as well that the sea has moved on.
But seafood hasn't.  At Sassafras, you can dig into Catfish Po' Boy, green tomato, Cajun gumbo, or shrimp and grits with a full bar and brunch specials, while you people watch the Clear Creek bike path and listen to the sounds of the river splashing by. 
The Bridgewater Grill is another creekside dining beauty where you can relax on the porch to the pleasant sound of the river while nibbling on dishes like Blackened Ahi Tuna Street Tacos, Pepper Seared Pacific Salmon BLTA, Smoked Trout Dip, Coors Beer Battered Cod Fish and Chips, Sautéed Trout and more. 
At Vice Kitchen Wine Whiskey you can try Golden Breaded Trout or a Salmon BLT, along with  Buffalo Ribeye and Beef and Bison burgers, while the Trailhead Taphouse & Kitchen is a great place to go for jambalaya and gumbo. 
Activities:  RED ROCKS AMPHITHEATRE   is the only completely natural Amphitheatre on the planet and is more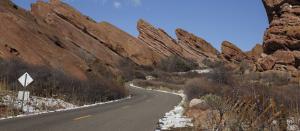 famous for hosting rock concerts than for the rocks themselves.  Everyone from the Beatles to Bruce Springsteen has played here with up to 160 concerts a year before the pandemic.   
But the rocks themselves are 250 million years old and have a fabulous backstory.  They were once the beach of a great inland sea 100 million years ago.  At that time, Florida was completely under water, only emerging about 23 million years ago.   Back at Red Rocks, the sand beach compressed into stone and colored red by iron and the rocks were uplifted 72 million years ago when the Rocky Mountains were formed. Being softer sandstone, they were pushed up at an angle.  A wonderful one-mile trail on the north end of the park has geological markers and climbs, up, through and around the colorful stone, explaining the geological history of the area.  
At nearby DINOSAUR RIDGE you can visit the spot where in 1877 Professor Arthur Lakes from the Colorado School of Mines in Golden discovered some of the first major dinosaur fossils dating from 150 million years ago.  There is a small museum, gift shop and parking area, easily accessed from Golden on Rooney Road.  You can hike the 1.5 mile long "Dinosaur Freeway," or take guided walking or bus tours and there are informational markers along the way explaining the geology and animal history.  You'll see hundreds of dinosaur tracks (charcoal dust is rubbed in the tracks to make them more visible), view dinosaur fossils still embedded in rock, and learn how this former ocean bottom is now part of a mountain 6,000 feet high.  Who knows?  Maybe some day Tampa Bay will be a 6,000-foot tall mountain?  Here you can discover how that could happen.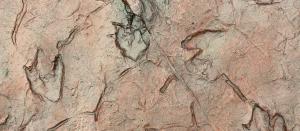 Walks: To walk the TRICERATOPS TRAIL, park on the east side of Hwy. 6 near the 19th St. exit (the main exit for downtown Golden) and follow the bike trail that parallels the highway south to the Triceratops Trailhead.  Here, a gravel path winds through a former clay mining pit along the western edge of Fossil Trace Golf Course.  It takes a little imagination to realize that 68 million years ago, these large vertical sandstone rocks were once the bottom of a marshy area along a river.  Over eons of time, mud formed on top of sand, and then more sand on top of that.  The sand turned to rock, the mud became clay, and the whole thing was pushed up vertically when the Rocky Mountains were formed 72 million years ago. Confused?  Well, early settlers were not.  The clay found here was very valuable and mined to make bricks, which built Denver's East High School and the Colorado Governor's Mansion.   
Along the trail you'll see the first Triceratops tracks every discovered, and what is possibly a very rare T-Rex track.  The Triceratops found here was the first horned dinosaur ever discovered and has inspired imaginations since because it was a virtual four-legged tank weighing up 13 tons.  They would have made incredible linemen for either team.  The trail also provides wonderful views of the whole Clear Creek Valley and Fossil Trace Golf Course, ranked as one of the most beautiful public courses in Colorado.  The Geological Viewpoint is one of the top views in Golden.
GOOD LUCK TO BOTH TEAMS AND ALL THEIR FANS FROM GOLDEN!