Golden, Colorado sits in an area of spectacular natural beauty, surrounded by rocky buttes and evergreen-covered mountains.  But there's more than nature to this historic town.  On the Clear Creek Trail and up and down Washington Ave. there are more than two dozen public art works, beautiful statues and murals that capture the spirit of the West.
You can pick up a free Golden Public Art Walking Tour Brochure at the Golden Visitors Center (located along the banks of Clear Creek at Washington Ave.) and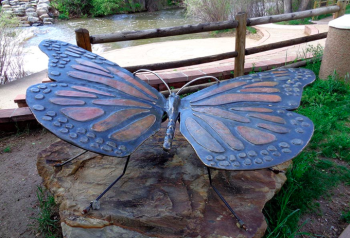 take a delightful stroll past these wonderful art pieces. 
Golden was the first territorial capital of Colorado, so many of the statues capture the city's Old West history.  There's "Howdy Folks" at 10th and Washington that depicts Buffalo Bill Cody with a young child on his shoulders.  The famous frontier scout and showman Buffalo Bill is buried on top of nearby Lookout Mountain, overlooking Golden.
Many people like taking their photo with "The Monarch," a life-size statue of a buffalo located, appropriately, in front of the Buffalo Rose Bar & Restaurant.  Across the street is "The Cowboy," depicting a bronco buster with his saddle, while down the block along the creek bank is "Winter Wind on the Mesa," a colorful life-like statue of a Native American maiden.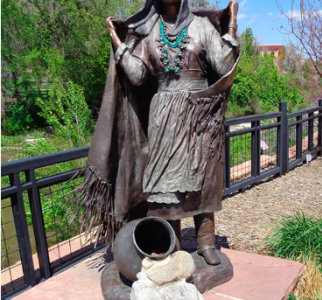 Golden is above all else, a river town with Clear Creek flowing right through the center, and along the Clear Creek Trail, a paved pathway that follows the creek in both directions for several miles, there are statues depicting the creek's impact on Golden, from statues of kayakers to fishermen, butterflies, and giant cutthroat trout.
It was mining that created Golden, and "The Golden Touch" on Washington Ave. depicts a lucky miner with his burro, the "old timer" clenching a huge hunk of gold in the air. 
Today, Golden is the biggest little beer town in the world, producing more beer than anyplace else in the world, and this fact is celebrated with a statue of Adolph Coors, who founded Coors Brewery here in 1873.  Today, Coors is the largest single site brewery on the planet.  The statue can be found directly in front of the Old Capitol Grill & Smokehouse, which is located in the building that served as Colorado's first state capitol.
Finally, it was near Golden that the world's first dinosaur fossils were discovered, a fact that is remembered with the Triceratops Trail, a one-mile trail from the Colorado School of Mines that winds through Golden offering glimpses of dinosaur footprints and fossils. The trail leads to the Fossil Trace Golf Course, one of the most beautiful public golf courses in Colorado. Several of the holes are located adjacent to Triceratops footprints. In the Fossil Trace club house, you can see a public art statue of a Triceratops head and realize how huge these dinosaurs were.
Golden is also filled with many colorful murals, some of them nearly a block long, depicting natural and historic scenes from the city's past. And of course, the

Foothills Arts Center has special exhibits throughout the year featuring everything from local Colorado artists to internationally famous works by people like Ansel Adams and Toulouse-Lautrec.  
After you enjoy your art walk, there are more than two dozen restaurants, breweries, beer gardens and distilleries in Golden, many of them surrounded by large shade trees with creek and mountain views. It's a colorful way to spend a day, enjoying nature and outdoor art, followed by a craft brew in a pleasant outdoor beer garden.