The old adage is that "a penny saved is a penny earned" – and in nearby Golden, Colorado, you can save time - and money - with all the free fun located only 20 minutes from downtown Denver. Golden is home to an abundance of free activities, free attractions, and even world-class recreation you can experience - you guessed it! – free! Heck, even the first two hours of parking are free.
Here are a few of our favorite free activities in Golden.
Self-Guided Walks & Tours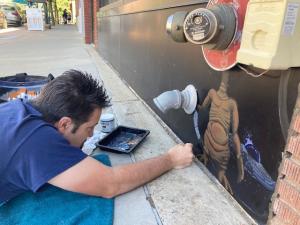 The Itty Bitty Art Tour. This is a fun and free activity for families.  Pick up a brochure at the Golden Visitors Center and set out on this serendipitous scavenger hunt looking for miniature paintings and sculptures where you would least expect to find them. Places like cracks in cement, tree stumps, water drains, and sidewalks. Kids will love searching for miniature trains, butterflies, spacemen, waterfalls, climbers, dinosaurs, and other creatures they might find crawling out a sidewalk crack or a stump. There's a miniature world in Golden, so come out and try to find it!
Golden Public Art Walking Tour: Pick up a free Golden Public Art Walking Tour Brochure at the Golden Visitors Center and take a delightful stroll past more than two dozen public artworks, beautiful statues, and murals that capture the spirit of the West.  There are cowboys, gold miners, wild mustangs, aspen trees and so much more, all in vivid colors.
Triceratops Trail: Golden was once teeming with dinosaurs and you can revisit this prehistoric history on Triceratops Trail, a 1.5-mile gravel hiking trail that winds between large, vertical walls of sandstone and into reclaimed clay pits. Along the trail are stops highlighting clay mining and dinosaur, bird, mammal, insect, and invertebrate tracks and traces, as well as several walls full of plant impressions.
Golden History Walking Tour: Created by the Golden History Museum, the free, downloadable tour takes you on a mile-and-a-half walk past 16 historic spots in Golden, including past beautiful homes, stone buildings, gardens, a re-created historic homestead, and a schoolyard. 
Attractions with Free Admission
The Mines Museum of Earth Science: Located on the Colorado School of Mines' campus, the Mines Museum is home to one of the state's two Goodwill moon rocks collected during the Apollo 17 mission and offers an extraordinary collection of rocks, minerals, gems and specimens. Don't miss their simulated uranium mine or the gift shop. 
Golden History Museum & Park: Step back in time to a mountain homestead when you visit the three-acre Golden History Park, which features a one-room schoolhouse, log cabins, a blacksmith shop, and a chicken coop with heirloom-breed chickens. Across the creek is the Golden History Museum, with exhibits on the city's rich evolution from a mining supply town to being home to innovative and world-famous companies.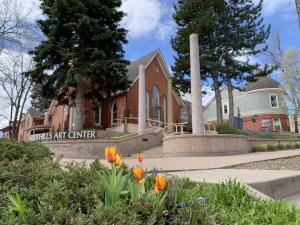 Foothills Art Center: Housed in an 1872 Gothic-style church, an 1892 Queen Anne-style manse, and a Victorian-era mansion built in 1899, and surrounded by a sculpture garden, Foothills Art Center offers an engaging rotation of exhibits and classes to inspire the community.
The Boettcher Mansion & the Lookout Mountain Nature Preserve: In the heart of the Lookout Mountain Nature Preserve, the Boettcher Mansion provides a rare combination of historic authenticity and modern convenience. Tour the mansion and enjoy the historically accurate interior and Craftsman-style furnishings. The Lookout Mountain Nature Preserve has hands-on exhibits about the wildlife that lives in Golden, including a special night cam that has captured mountain lions and even bears.  There are nature trails all through the park with interpretation.
Free Recreation
Hikes & Trails: By far, the most popular free activity in Golden is to walk along the paved Clear Creek which extend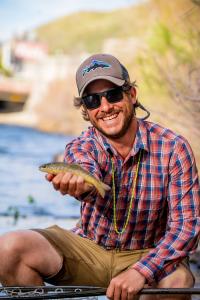 s from downtown more than two miles up into Clear Creek Canyon with two free parking lots along Hwy. 6. Or take a hike or bike ride in the foothills. All of the peaks around Golden – Lookout Mountain, Mount Zion, and North and South Table mountains have trails to the top with spectacular 360 views. Get out and enjoy the area's abundance of natural beauty located only 20 minutes from downtown Denver.
Cool off in the Creek: Clear Creek runs right through the heart of Golden and offers something for everyone. Whether you enjoy kayaking or stand-up paddleboarding, fly fishing or a creekside run followed by a quick swim, Clear Creek is a great place to cool off on a day when you can't seem to escape the heat. 
Golden Parks: Golden offers an abundance of beautiful and fun parks. Parfet Park is located in downtown Golden next to the Visitors Center and Clear Creek. It has a fun and unique slide that starts at the top of the park and drops sliders creekside next to three crawlable fish statues. Lion's Park has one of the best playgrounds in town and offers covered pavilions, perfect for a picnic. It's also located right next to Clear Creek giving parents lots of options for entertaining kids. If you are traveling with your furry friends, check out Tony Grampsas Dog Park for some wooded off-leash fun. 
Free Events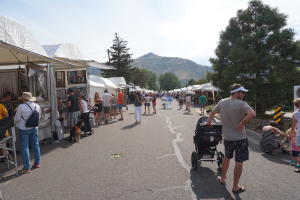 Year-round, there are plenty of free events in Golden, including the upcoming Golden Fine Arts Festival in August and Golden Candlelight Walk, Olde Golden Holiday Parade, and Jingle on the Avenue in December. Visit our events calendar at visitgolden.com to search for free events coming soon!
For more information on what to do in Golden, check out www.visitgolden.com.