In October, the Golden Glass Orb Hunt returns to Golden offering an adventurous and free way to find one-of-a-kind works of art hidden in Golden every weekend.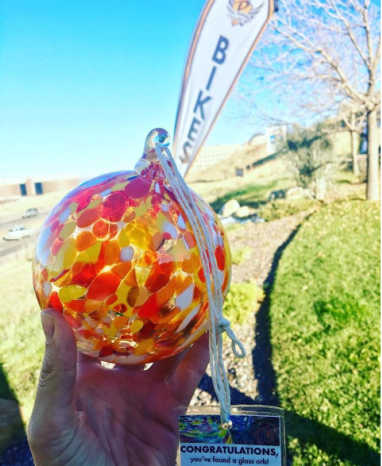 Starting on October 4th and happening every Friday, Saturday and Sunday in October, Visit Golden and Foothills Art Center will place three gorgeous glass orbs somewhere in the city (9 total each weekend). Placement will happen at random times each day. Although no clues will be posted, Visit Golden and Foothills Art Center will share Instagram updates when the orbs have been found. Follow along @visitgoldenco and @foothillsartcenter.
Colorado artist Dottie Boscamp handcrafted these colorful one-of-a-kind glass orbs. Each orb is marked with a special tag and instructions for entering to win the Grand Prize. Orbs can be found on public land anywhere within Golden city limits, you can view the map here and the city is highlighted in gold.
Glass orbs will not be hidden on private property, a driving range, in the creek, the middle of an established trail, or other places that would be unsafe for hunters.
If you find an orb, please share a picture of the treasure and where you found it to Facebook, Instagram or Twitter with #GoldenGlassOrbHunt. This will also enter you to win the grand prize package. Or you can bring your orb into Foothills Art Center to enter to win as well. Foothills Art Center is open Monday, Tuesday, Thursday, Friday, Saturday: 10 am - 5 pm, Wednesday: Closed, Sunday: 12 pm - 5 pm.
More info is found on the Visit Golden website.