Article contributed by twenty-something, Madeleine Schaaf
Colorado seems to have a never-ending list of things to do and see. It can be overwhelming to scroll through the pages and pages of "things to do" with activities spread across the state. For students short on time and tight on budget, here is a guide to the perfect day, all in one place: Golden, Colorado.
Kickstart your day with an insanely delicious burrito from Bonfire Burritos. If you're in the mood for something lighter, head to Kona Bowls for a refreshing acai bowl. 
For a post-breakfast hike, Mt. Galbraith is a fantastic place to go. The Mt. Galbraith Loop via Cedar Gulch Trail is a moderate 4.9-mile loop that offers amazing views of Golden and the surrounding foothills. Early birds can beat the heat (and the crowds) while still enjoying the beautiful mountain views.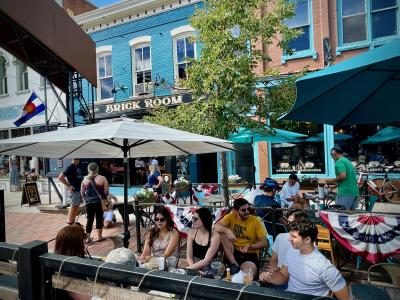 If hiking isn't your thing, there is plenty to do in Golden without having to lace up your boots. Try grabbing a coffee from a local coffee shop like Windy Saddle or Cafe 13 and browsing the downtown stores; because who doesn't love a fun beverage while shopping along a charming all-American main street? One of the unique things about Golden is its variety of local shops. If you love to shop, there are numerous boutiques, like Toad and Co or Truly BoHotique, which offer fun and unique pieces sure to elevate any outfit. Rewind Consignments has everything from new, trendy options to classic, vintage finds; you never know what you're going to find there. 
Enjoy lunch at a local staple like Woody's Woodfired Pizza (pro tip: try the buffet, it's nice to your stomach and wallet). Another delicious and affordable lunch option is D'Deli. A fun lunchtime activity is driving to the top of Lookout Mountain to take in the view, grab a sandwich to-go and make it a picnic.
After lunch, it's time to relax. Unwind with a yoga class at Rise Yoga and Wellness. They have excellent introductory offers for new guests (if you want to try out a class for free, they are offering community classes Saturday mornings on the Eddy Hotel lawn through September 2nd). If you aren't in the mood for a yoga class, treat yourself to a relaxing massage at Health at Hand.
Pics or it didn't happen, right? Don't forget to take advantage of Golden's many photo ops on your day out. Stop by the iconic Golden welcome arch for a quick photo shoot. Another fun place to stop for photos is along Clear Creek, try heading to a pedestrian bridge for a good shot of the water. Lastly, the Golden mural on the side of the history museum is the perfect place to snap an aesthetic pic. 
Is it a day out in Golden without stopping for a drink? Indulge Bistro and Wine Bar has an expansive wine menu as well as a selection of craft cocktails and beers. For a great deal, visit during Happy Hour (3-6 daily), as their menu has something for everyone. The Golden Mill is another fantastic place to stop in for a drink. Be your own bartender at one of their two self-pour tap walls; with over 50 beverages to choose from, you're sure to find something you love. If breweries are more your vibe, check out the Short Tour at the Coors Factory where you can get three samples for just ten dollars (online reservation required).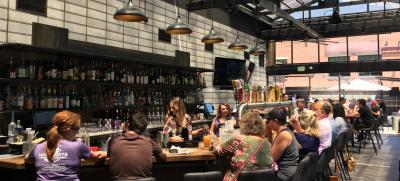 Wrap up this perfect day out with a delicious dinner at one of Golden's long list of restaurants. From food hall options like the Tributary or Morris & Mae to the best Nepalese food you've ever tried at Sherpa House, there is no shortage of delicious cuisine in Golden. You can even catch live music by a local band with your meal at a favorite like Goosetown Station or the Buffalo Rose. If you time your dinner right, you can enjoy one of our famous Colorado sunsets while you dine.  
We can't think of a better day out in Golden, can you?
Two things Golden takes seriously? It's hiking trails and happy hours! After…
To most people living in the United States, Wednesday is "hump" day…
The 2023 concert season at world famous Red Rocks Amphitheatre will run from March 31…