Give kids a break from screens & supplement online learning by exploring history, geology, art, culture & outdoor education in Denver's closest mountain town.
Throughout Colorado, school is back in session and this year, that looks different for the many families receiving online instruction due to the pandemic. Why not infuse a little educational fun into your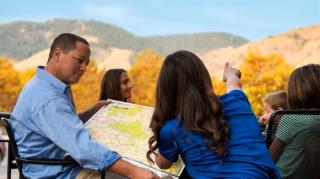 curriculum with a "Golden Field Trip?"
Conveniently located in Metro Denver, Golden feels like a world away with its safe, historic downtown, museums, cultural attractions and abundance of parks, trails and recreation. It's the perfect field trip destination where you can combine a bit of Colorado history/art/culture with an invigorating walk or bike ride. Top if off with a Golden lunch break and remote learning has never been so fun!
This school year is different. Make Colorado your classroom by adding a series of Golden Field Trips to your curriculum. Here are a few to consider: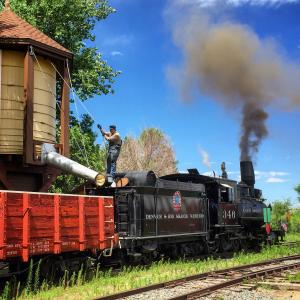 Colorado Railroad Museum: The Colorado Railroad Museum has more than 100 locomotives, diesel engines, passenger cars and freight cars on 15 beautiful acres at the base of North Table Mountain. Kids can climb up stairways, walk through the cars, pose in front of the massive snowplow, ring a locomotive bell, see the roundtable, visit the roundhouse, ride an actual train, hear steam whistles, run a model railroad with a full circus, peer in the windows of hundreds of miniature buildings, build Thomas the Tank Engine layouts, and more. Docents and museum employees are on hand to explain all the "ins and outs" of railroading, while there are exhibits and historic markers to help kids learn about the important role railroads have played in Colorado – and America's - history and social development. You can even check out a Family Backpack filled with fun activities that will help make your visit special or request an "I Spy" or "Where in the World is Spike" handout to make a game of searching the rail yard.
Dinosaur Ridge & Triceratops Trail: Dinosaur Ridge is world famous as one of the most important dinosaur track sites in the United States. Featuring four trails, you can walk through and experience 150 million years of history. They have a plethora of educational material and opportunities, from audio tours and Family Field Guides to regularly scheduled "walks with a Geologist." You can also take a short drive to Triceratops Trail, a 1.5 mile trail gravel hiking trail through a landscape frozen in time from 68 million years ago, when the world's largest flesh-eater – the 40-foot long, 15-ton Tyrannosaurus Rex – walked this very same ground. Check this link for more info and to plan a field trip to both locations sure to delight dinosaur lovers of all ages!
Golden History Museum & Park: Learn more about the legendary people who built Golden, the city's rich evolution from a mining supply town to being home to innovative and world-famous companies and check out the town's epic events when you tour the museum. Admission is free and the museum is open Thursdays – Saturday. The Golden History Park is open daily, and features a real 1800s homestead, barn, chicken coop and two-seat outhouse. Also, see the 1876 Guy Hill schoolhouse served the needs of Golden Gate Canyon families until 1951.
Foothills Art Center: Located in historic downtown Golden, Foothills Art Center leads and inspires the community through art, education, and cultural excellence with engaging exhibitions and dynamic arts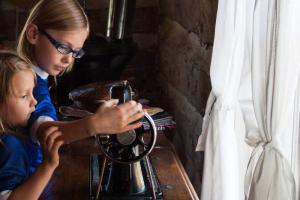 for learners of all ages. What's more, thanks to a generous donor, FAC offers free admission in 2020. Check the website for upcoming exhibits and hours.
Buffalo Bill's Grave & Museum: Located high above Golden, on top of Lookout Mountain with spectacular views in all directions is the final resting spot for the Old West's most famous scout and showman. His "Buffalo Bill's Wild West" toured from 1883 to 1913, performing in more than 1,000 cities in 12 nations with a cast of 640 cowboys, Indians, vaqueros and rough riders.  It took a special train of 52 box cars to move his show around the planet, which included transporting the third largest buffalo herd left on earth. Kings, queens and presidents attended his shows and it is estimated that more than 25 million words were written about Buffalo Bill during his lifetime, making his silver goatee, buckskin jacket and wide Stetson hat more recognizable and famous than anyone in the world. Your family is sure to have a fun time learning about one of the most famous figures of the Old West and his ties to Colorado.
Self-Guided Golden Historical Walking Tour: Golden, at one time was as large as nearby Denver. And it was more important. Because it was closer to the mines, Golden was selected as the first capital of the Colorado Territory. Civil War generals Grant and Sherman stayed in Golden, and many historic figures of the time visited the town. But when Denver got the railroad, it boomed and became a big city. Golden remained a small town, but one with a big history! Now, you can discover that history on the Golden History Walking Tour. Created by the Golden History Museum, the free, downloadable tour directs you to 16 historic spots in Golden as it winds  one-and-a-half miles past beautiful homes, stone buildings, gardens, a re-created historic farm and school yard, and - most popular with kids - a historic chicken coop filled with heritage chickens you can feed for a quarter. More info here: https://www.goldenhistory.org/learn-do/walkingtour/ Get a printout of the various stops,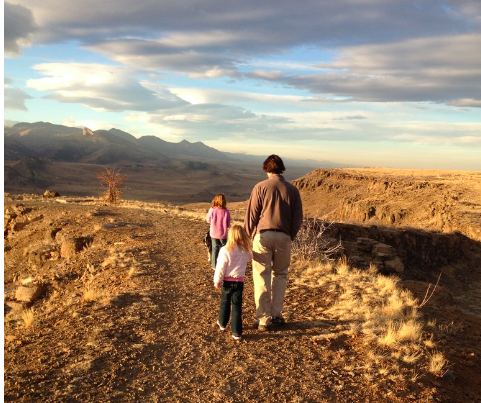 or navigate using your smartphone and the customized Google map available at the link. 
Self-Guided Golden Public Art Tour: Golden sits in an area of spectacular natural beauty, surrounded by rocky buttes and evergreen-covered mountains.  But there's more than nature to this historic town. On the Clear Creek Trail and up and down Washington Ave. there are more than two dozen public art works, beautiful statues and murals that capture the spirit of the West. Pick up a free Golden Public Art Walking Tour Brochure at the Golden Visitors Center and take a delightful stroll past these wonderful art pieces, reading about each one as you enjoy a lovely day in Golden.
American Mountaineering Museum: The Bradford Washburn American Mountaineering Museum is the only museum in the nation dedicated to the heroism, technology and spirt of mountaineering. See the clothes worn by the first Americans to summit Mount Everest and learn practical tips on how to climb a Colorado 14er. Advance reservations required to visit the museum.
Rocky Mountain Quilt Museum: Explore the scope of quilting, from bed coverings of the 1800s to contemporary art pieces. The museum hosts quarterly exhibits, tailored tours, and programs for adults and youth. 
Enjoy an Ice Cream Cone or Sweet Treat: After your Field Trip, enjoy a sweet treat at Golden Sweets, Goozell Yogurt, Gold Mine Cupcakes or Amore Gelato and Kona Bowls in Tributary Food Hall. Who said remote learning was so bad?
Family Hikes: Physical and outdoor education are an important part of school and you can certainly enjoy both in Golden. Here's a list of fun family hikes to consider: https://www.visitgolden.com/blog/post/family-hikes-in-golden-rule/
For more information on adding a Golden Field Trip to your remote learning curriculum, check out visitgolden.com.