Remote work doesn't have to be from your glum home office; work from a Golden patio & enjoy creek side walks & gourmet snack breaks between video calls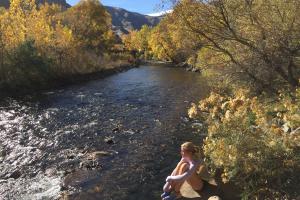 Another video call from your basement home office today? Working from home has its challenges so why not zoom into Golden? Located only 15 minutes from downtown Denver, Golden is easy to get to and is the perfect spot to set up your remote workspace for a day.
Sit on the patio of the creek side Visitor Center, at a local coffee shop, or in the patio seating along Washington Avenue or 14th Street where you can enjoy mountain views with a cup of Joe and breakfast burrito from a local cafe. Position your laptop "just so" or pick your favorite Zoom background and nobody will ever know that you're working in a small town paradise of Golden. Don't let the babble of gorgeous Clear Creek give you away!
When you zoom to Golden and work remotely, you make the most of remote work. In Golden, a work break means more than folding laundry or trudging into your kitchen to snack on leftovers. A  zoom to Golden work break means a quick bike ride along Clear Creek, a stop i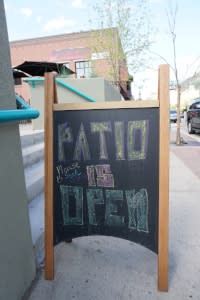 nto a local mountaineering shop, a sunlit stroll to grab a gourmet cupcake or ice cream cone. Heck, maybe even an IPA in a beer garden. It's the perfect way to shrug off your zoom fatigue and restore your sanity.
Here are a few favorite spots to work remotely in Golden:
Back Patio of the Golden Visitors Center – there are socially distanced tables and chairs and free WIFI from the Visitors Center, which is located at 1010 Washington Ave.
Along Washington Avenue or 14th Street – the city expanded street side café space along both Washington Avenue and 14th Street. Pick a seat and order food from a downtown Golden restaurant to enjoy while you work. 
Café 13 or Connects Workspace – Located in the historic Armory Building, Cafe 13 has a shaded and popular patio. Or inquire about a more professional and permanent remote working spot at Connects Workspace also in the Armory Building. You can even "test drive" Connects with a work free for one day promotion to work on their website
Windy Saddle, Higher Grounds, Goozell Yogurt & Coffee or Generous Coffee – Golden has wonderful downtown coffee shops where you can work remotely and enjoy the downtown Golden vibe. Most have outlets – as well as espresso drinks - to recharge you and yo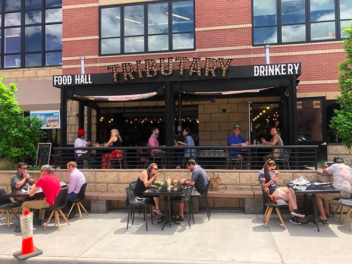 ur computer!
Launch Espresso. Food. Spirits or Bean Fosters - These local's favorite coffee shops are located outside of downtown and close to nearby hiking trails, making a quick hike break even easier.
Creekside Patio of the Golden History Museum – Another serene spot with creek views, the Golden History Museum's patio has bar stools set along a high counter. Bonus - the famous Golden postcard mural is your backdrop and perfect for remote video calls.
Golden's WiFi hotspot behind the Library and along Clear Creek – pick a seat along Clear Creek and watch the kayakers paddle by while you work with free WiFi from the City.
Calvary Church Plaza – Although in use on the weekends, during the week, Calvary Church allows people to enjoy the tables on its recently renovated outdoor plaza.
Park it at a Golden Park – Golden is home to 17 community and neighborhood parks, where you can spread out a blanket and enjoy working in the great outdoors. (For recharging and coffee breaks, head to a Golden coffee shop.)
For more information on Golden, visit visitgolden.com.
####